Day of activities and trip report by Pam F.
Photos by Ken L.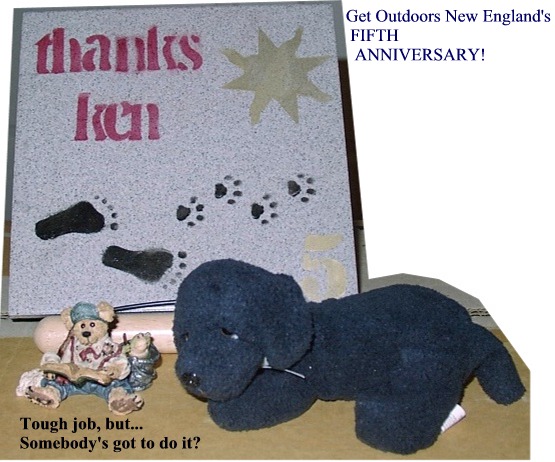 To celebrate GONewEngland's 5th Anniversary we started off with a hike to Mt Uncanoonuc. This was originally planned to be a snowshoe hike, but due to the lack of snow, the shoes were not needed. We took the 2 1/2 mile stroll from my house to the trailhead. It was a nice, warm sunny day. The hike was a little challenging in spots with icy patches. We dined on the rocks at the top of the mountain and enjoyed the sunshine...it did not feel like February!
Next on the agenda was the potluck dinner. We had a nice variety of appetizers, entrees and desserts, all quite yummy and plentiful. Thanks to everyone who participated. Kudos to Ken for an outstanding job of creating, organizing and maintaining GONewEngland over the past five years.

The Lunar Surface

Gary M. was nice enough to bring his telescope and provide us with some great views of the stars, moon, and planets, and his knowledge. Thanks Gary.


Jen stargazes from her chair
After stargazing we continued on with tea, coffee, hot chocolate and another dessert.
| | |
| --- | --- |
| Jen with Shadow | Shadow, my black lab, enjoyed all the extra attention nicely provided by all the guests...he sends his regards. |
A thank you from Your Webmaster to all who attended the Fifth Anniversary Day of Activities! It's been a wonderful five years, and I'm looking forward to the next five---and many more!
Boxford State Forest - January 12, 2002

Activity and Photos by Ken L.
Report by Lara S.
Here we are ready to begin our walk through Boxford State Forest. (A cup of hot coffee will be awaiting us after the hike, right?????) The park was easy to find, just off Route 114 at the North Andover-Middleton town line.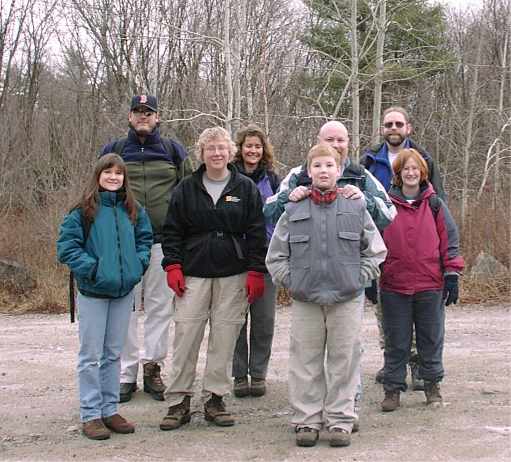 Lara, Jim, Jan, Donna, Ben, Jack, Your Webmaster, Jen
The trails seemed to be there only for us. There were only two cars in the parking lot besides ours when we set out around 10 AM. Although you cannot tell by the pictures, we actually did see a fleeting glimmer of sun along the way. The crisp cool air made for a perfect afternoon of hiking. (Although Iím a little biased, as almost any day in my opinion makes for a perfect day to hike).
As we began our walk, we deliberately stepped on the icy spots to hear the crunching sound, perhaps, reminiscent of childhood walks.

We also found a more modern treasure here. A geocaching box. Jan was the brave one who offered to take the first peek inside. Surprisingly, nothing jumped out at us as we peeped over her shoulder. The box contained a wide variety of interesting articles, including a St. Patrickís Day button and other such souvenirs. We contributed a GoNewEngland business card and replaced the treasure box to entertain the next group of geocachers. See Kenís note for more information about geocaching.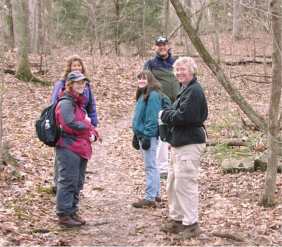 Over half way and we are still smiling.
Here we are almost back to the parking lot. The thought of the nice big cup of hot coffee was still on my mind, and I expressed it out loud enough that eventually it became contagious. Donna, a fellow coffee-drinker, began thinking of her cup as well.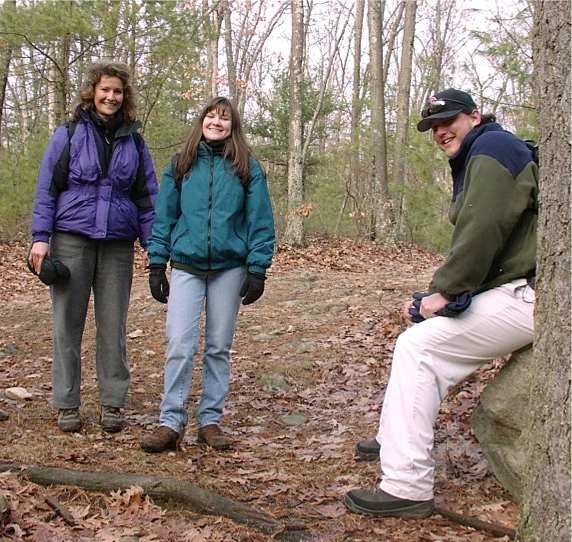 This was my first outing with GoNewEngland, and my first hike in Massachusetts. I wasnít disappointed. Such a great way to spend a Saturday afternoon!
Mt. Uncanoonuc - January 5, 2002

Activity and Trip Report by Pam Fortier
Photos by Jan Giles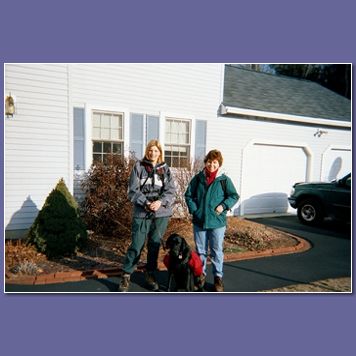 Pam, Shadow, and Susan
Jan G., Sue, Shadow, and I walked the approximately 2.5 miles to the trail, stopping on the way at the coffee shop for beverages and pastry, which makes the walk more enjoyable. The weather was pleasant---not too cold.


A stream along the way
Most snow and ice has long melted except on the mountain, but we found some slippery spots on the way up---nothing major.
After having a pleasant lunch on the top of the mountain, we headed down. Going back down was another story. The icy spots that weren't bad on the way up slowed us on the way down. We took side trips off the trail to avoid icy patches. It was a balancing act, and the new waist leash I have for Shadow actually helped my balance. Next hike here will most likely be on snowshoes.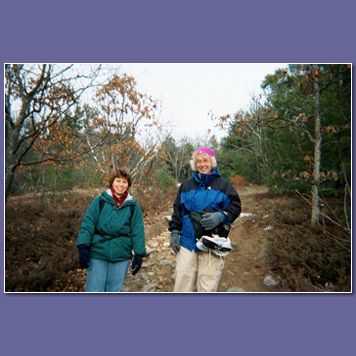 Susan and Jan on the way down
(the first time - we took the wrong trail back)



L: Susan might avoid the ice way over there,
but her foot found a big stick!
R: Susan slipped on the ice on the way back up



L: Good thing we went back up - Jan forgot the picture from the top
L: It's the real trail home
We enjoyed an excellent meal of Mexican appetizers after the hike---except for Shadow of course who stayed at home with a Milk Bone.
Penguin Plunge - January 1, 2002

Activity and Trip Report by Jan Giles

Q: What is the COOLEST thing a GONewEnglander could have done on New Year's Day? A: Jump into the Atlantic Ocean!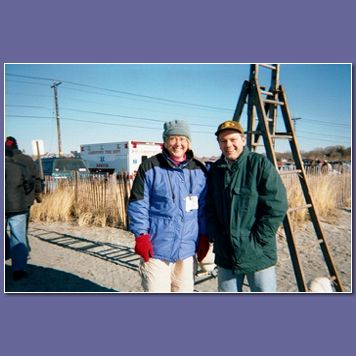 Jan and Randy
Randy and I headed down to Jamestown, RI to join several hundred other courageous but crazy people for the Penguin Plunge at noontime on January 1. Air temperature: high 20's. Wind chill: yes! Water temperature: 41.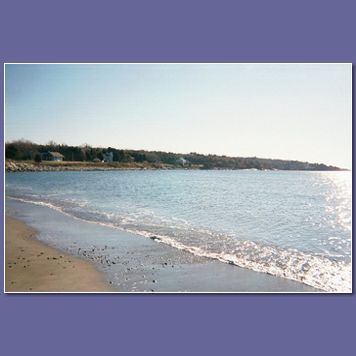 View North
By the time we arrived at 10:30 am, beach parking was nearly full. You would have thought we were at a football game with all the tailgate parties and, shall we say, colorful people. We milled around, talked to people, and gawked at some of the more outrageous characters.




The Fur Guy, the Fat Patriot,
and the Painted People
A few minutes before noon, we peeled down to our bathing suits and joined about 600 people to run down a chute into the water. I'd say spectators outnumbered us about 3 to 1.


Waiting in line
By the time we actually began to move, I had lost the feeling in my hands, though we were all jumping up and down, running in place, screaming, etc. The water was warmer than the air, but it quickly became apparent that no matter how far I ran in, the water never rose above my knees, and I think ice balls were beginning to form inside my shoes. At that point, I just threw myself in so I could get the heck out! I lost sight of Randy before long. I hear he swam all the way out to the Coast Guard cutter and back ;-)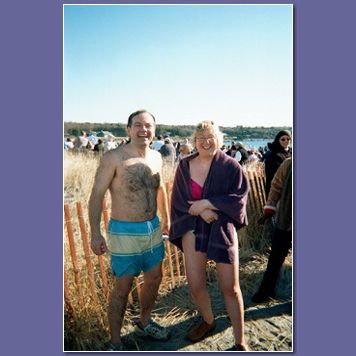 Randy and Jan ----- all wet!
We met up again on the beach and discovered that we really did not feel too chilled. However, it felt great to dry off and get those warm clothes back on again!
After lunch in Jamestown, we headed home. Randy and I agree this should be an annual GONewEngland event. Not only did we survive, we had a ton of fun.
Hope to see a lot more of you there next year!
Boxford State Forest - January 1, 2002

Activity by Ken Leonard
Navigational Assistance by Michael S. -- THANK YOU!
The Boxford State Forest is a large parcel of land in the Boxford/Middleton/North Andover area of Massachusetts. It's not far at all from the more well known Harold Parker State Forest, but the Boxford SF isn't nearly as crowded. It may not offer as many ponds, as many acres, and as many amenities as the Harold Parker State Forest, but the Boxford SF holds its own for enjoyable hiking, biking, equestrian, and X-C ski trails.

Our New Year's Day hike was met with beautiful sunny skies, a small breeze, and temps that were a tad on the chilly side but were helped by the sun.

Fourteen of us and three wonderful pooches made the trip around the Boxford SF, and, thanks to Michael who had a great map and helped navigate, Your Webmaster was able to check out a new area he hadn't seen yet - very nice!

Standing: Michael, Bill, Michelle, Tom, Pam, Dawn, Michele, Dave, Arnie, Marie, Jack, and Your Webmaster
Front: Barbie (and Chloe somewhere in there), Shadow, Annette, and Tammy The Wonder Dog
The first thing we checked out was the old missile silo. That's right - the Boxford SF was to be a nuke site, but the funding was cut, and now it's mostly state land. The old silo is just a pit, and it's filled with water.

Tom tossed some rocks out onto the ice, and they made a really neat sound as they bounced and skittered about the surface.
We wandered in the woods a ways, and we eventually came across what's left of the old Russell-Hooper Farm. There are a few interesting things to see there, so take the time to wander around, and don't forget to head to the top of Bald Hill. Why? Just because it's there.


Tom, Annette, and Tammy The Wonder Dog
From there Michael guided us to the area of the Boxford SF that I'd never seen. We went past Crooked Pond and up through some old growth pine woods. It was dark, spooky, and, well, just great!

At Crooked Pond...
Pam, Annette, Michele (with Shadow and Tammy)
Tom (with a huge for-the-camera smile), Barbie (and Chloe)

Hiking into the woods

Pam, Annette, Barbie
Shadow, Tammy, Chloe
Towne Pond was also on the agenda, but it was getting a bit late, and Tammy and Chloe were beginning to wind down. So we elected to head back out to the cars, and we'll get to Towne Pond another day.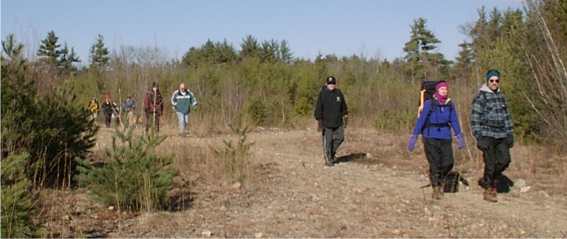 This was the right way to kick off the New Year!
Oh -- our trek can be seen on the map. At left center is the parking area (at Forest St. and Sharpner's Pond Road). Go from the parking area to 1, 2, 6, 7, 8, 8A, 9, 10 (and up onto Bald Hill, then back down), 11, 12, 13A, 13, 14, 15, 16, 17, 25, 24, 23, 22, 21, 20, 19, 18 (we were going to head out to Town Pond here, but didn't), 31, 8, 7, 6, 2, 1, parking area. Connect the dots! :-)