Jan, Butch, Marilyn, Pam, and Randy
Randy and I had so much fun last year that we decided to jump in the ocean again, but to take our adventure further north! The size of our plucky band more than doubled: plungers were Randy, Pam, Marilyn, Butch, Jan, and a handful of assorted strangers on the beach. Photographers/towel racks were Barbara and Sal. The air was a balmy 39 degrees.
We waited and waited for hordes of Hampton Polar Bears to appear for the noontime jump, but they never showed; it seemed they'd given up on making it an annual event.
We had to provide our own fun and motivation in the form of amusing costumes (Randy) and a spur-of-the-moment GONewEngland cheer (Jan). Here goes...
GONErs, GONErs, lost their minds,
Gonna freeze their wet behinds!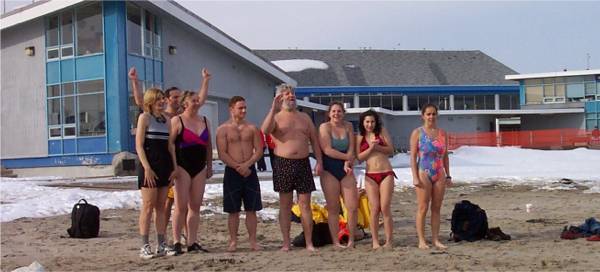 The countdown...
We counted down to noon and raced into the water.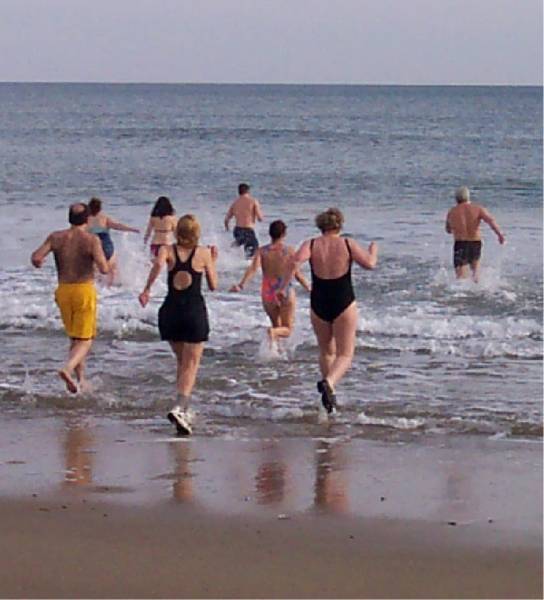 ...and there go the penguins!
Crikey, it was COLD! I learned that you can get an ice cream headache from doing this sort of stunt. I also learned that when you come out:
Though not a one will suffer frostbite,
Just try to get your knickers on right! :-)


Coming back out
Before leaving the beach, we had the opportunity to plug GONewEngland when interviewed by a local reporter. Then we headed to Yoken's Restaurant in Portsmouth for seafood and hysterics (the laughing kind). You can (sort of) dress Jan up in dry clothes, but you can't take her anywhere!
We hope to see *lots* more people next year at our 3rd Annual New Year's GONewEngland Plunge! We suspect costumes and/or body paint might be in evidence next year, and Jan promises to wear something interesting and symbolic on her head.
Try it, you'll like it!