Tuckerman Ravine - April 19, 2003

Activity and photos by Tom S.
Trip report to come later...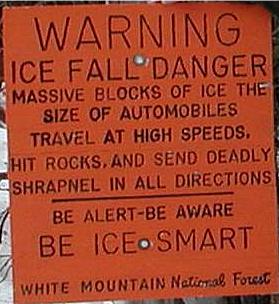 Anyone getting any second thoughts...?
Annette rests nonchalantly under a massive block of ice...

...and Randy goes skiing (also nonchalantly) under Annette's massive block of ice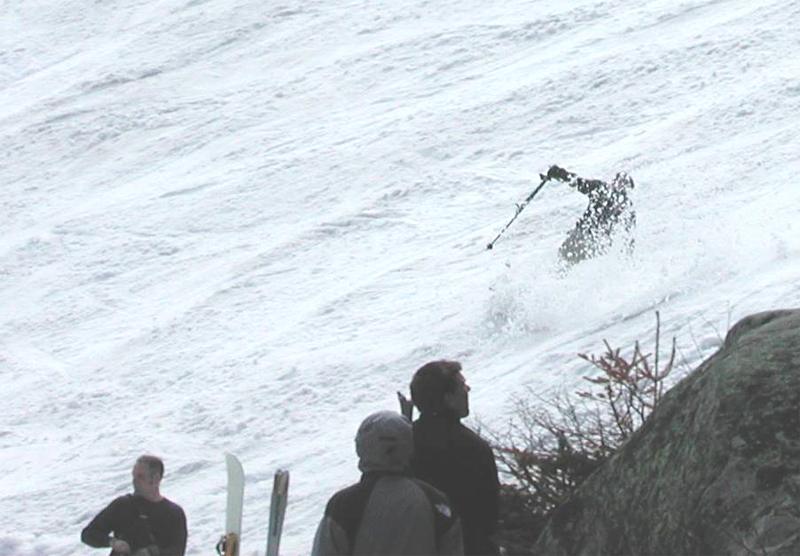 Randy comes to a complete stop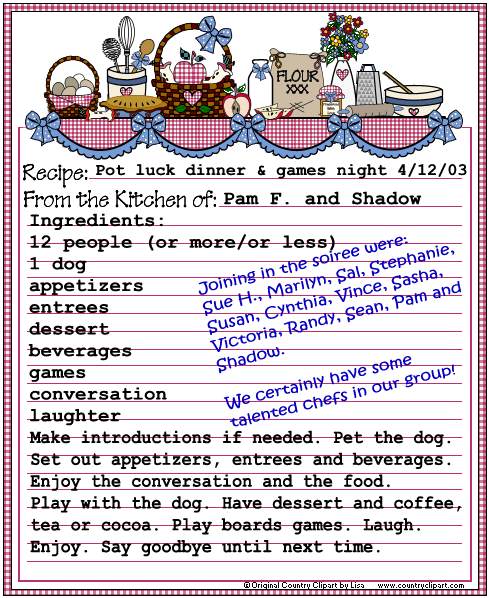 Whitewater Rafting in Lowell, MA - April 6, 2003

Activity and report by Jan G.
Photos to come later...
Q: How fast was the Concord River flowing?
A: Someone said 200,000 cubic feet per second, or something like that.
Q: How many cubic feet did you swallow?
A: Let's see, 200,000 cubic feet per second times 60 seconds per minute divided by 5 GONewEnglanders times how many minutes equals, oh, never mind!
Yep, we got wet! But did we have fun? YES! Was it a unique (sometimes scary) adventure? YES!!
We met at the boathouse by the Merrimac River under cloudy, rainless skies. Joining me were Carolyn, Katherine, Krista, and Jonathan. We donned our wetsuits, jackets, life vests, and helmets and were driven to the Concord River. We had our own raft, with Steve from Zoar as our guide. Lowell Land Trust describes the event:
Participants navigate twice through three sets of [Class III and IV] rapids, 'Twisted Sister', 'Three Beauties', and 'Middlesex Dam(n)', on a one mile reach through the heart of the city. The Concord River drops 50 vertical feet through the city of Lowell and is the location of the earliest mill sites in the area. Trips on the river conclude by being lifted up 17 feet through an 1850s lock chamber which is a National Historic Landmark located in both the Lowell Heritage State and Lowell National Historic Park.
Our first pass through Twisted Sister dumped all five of us in the river; doing the first rapids raftless was a different experience for each of us, and I'm glad we got a second chance to do it right! Three Beauties and Middlesex Dam were harder, but we stayed inside the raft and conquered! By the time our soaked selves climbed into the raft for the second go, the sun was shining and the temperature had soared to the sixties—what a terrific afternoon. Helmets were handy (aside from the dunking) for dealing with the many branches hanging low over the river. Afterward, we watched ourselves on video (Zoar films all the trips) and had a good laugh. Ask me and I'll be happy to show it to you—how could I not buy one?
As is often the case with GONE outings, we concluded with food! We made a beeline to The Brewery Cafe in Lowell for some good food and eagerly-anticipated beer to wash down the remaining taste of the Concord River. We got better acquainted and ended the evening on a relaxed note. Thanks, everyone! Hope to see you again soon.
Wachusett Meadows - April 6, 2003

Activity by Ken L.
Photos by Ken L. and Lorelei W.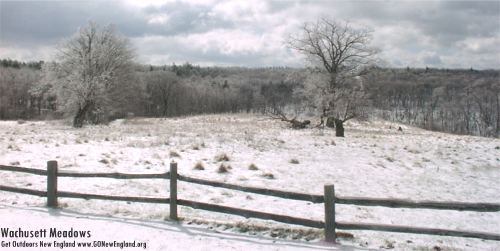 The theme of our visit to Wachusett Meadows? ICE! We'd been having some icy weather over the previous few days, and Wachusett Meadows was encased in a thick crust of heavy, wet snow that had frozen pretty solid. It was tough walking in the parking lot! But it made for a very beautiful hike.
| | |
| --- | --- |
| | Unlike last time where we were greeted by some sheep, the Mass Audubon folks have picked up two nearly twin kitties to help chase varmints out of the Visitor's Center. They're not too human-friendly yet, having recently been rescued from a shelter, but they aren't shy about saying hello through the window from inside the building. |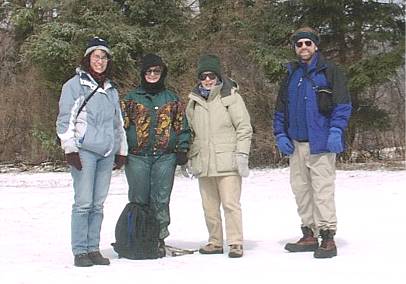 Lorelei, Sheila, Ginny, and Your Webmaster
Four of us ventured forth on the slippery snow. I was envious of Sheila's footwear---she had some footwear to strap to the bottom of her boots to give her extra traction, quite necessary for the first part of the day. Fortunately later on the sun came out and warmed the place up, and footing got better as the snow softened.
It turns out that Sheila and Ginny get outside quite a bit, and they enjoyed coming out from the western part of the state to see what central Mass has to offer.
| | |
| --- | --- |
| The woman in the Visitor's Center told me about the old Crocker Maple. Unfortunately it could not withstand an ice storm from earlier in the winter, and the tree has collapsed. This was the first place we visited, and it's rather sad to see the tree gone. | |
Heading through the woods behind the old maple, we made our way around to a few glacial erratics. Sheila noticed that one of the big rocks looked a little loose, so she held it until we could get by.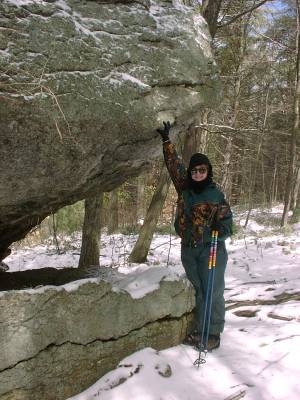 From there it was to the top of Brown Hill, where there's a spectacular view. In the summertime you can sit on a bench under the big birch tree and watch rabbits and hummingbirds.


View from Brown Hill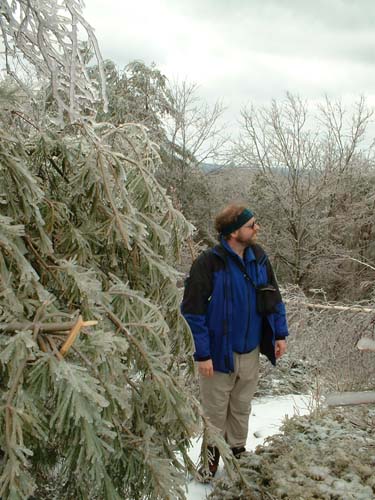 Your Webmaster pondering the icy terrain
| | |
| --- | --- |
| | After Brown Hill we wandered through the woods to Otter ond...uhhh, make that Otter Pond. The beavers have been busy, carving into the bigger trees near the pond now. We watched some phoebes flitting atop the water looking for some munchies. |
Some of the various icy touches that Nature had for us to see...
| | |
| --- | --- |
| Crokus finding a chilly surprise | Ice fallen from the branches above |
| | |
| | Ice on the leaves and branches of a bush |
| Mt. Wachusett | |
We returned to the parking lot for a snack, then it was back out for the other side of the 1,024 acre parcel. Yep, both Lorelei and I wound up with useless cameras---hers ran out of film and mine out of juice. So we didn't get to take pictures of the other things we saw, including some deer, ducks, and---finally---some sheep, including one that was two weeks old and two that were just a week old, seemingly as curious about us as we were about them. But no more pictures---you'll have to come out with us next time to catch these surprises and more!
Delightful location, delightful company, delightful day!

North Pack - March 22, 2003
Activity by Ken L.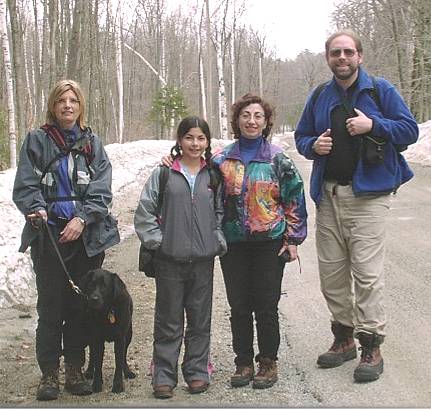 Pam, Shadow, Victoria, Sasha, and Your Webmaster
It was a relatively nice but cloudy early spring day when we hit the trail to climb North Pack just north of Wilton, NH, which is a relatively short hike to a hill with a great view. During the summer it's often nicely breezy, during the fall it's delightfully colorful, and during the late winter and early spring it's...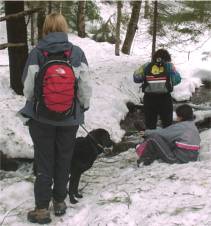 ...obviously impassable. We started out on the trail not expecting so much snow, which was well past the knee in depth--not to mention the water on the trail. It was fortunate that this trail had been used now and then, so there was a thin stripe of packed snow we could walk on, at least at the beginning.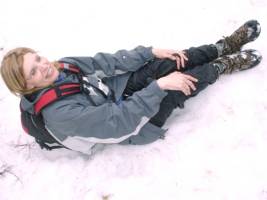 Still it was too much for some people to keep their footing. (I did help Pam up...after the picture, of course.)


Mountain laurel getting ready for spring
<-- Victoria takes a break

The going was a bit tough with the amount of post-holing we were doing. About halfway up the packed trail became quicksand, but we persevered...

...and eventually we all made it to the summit of North Pack.
The sun came out, and there was a great place to laze out on the warm rocks. Now that's hiking! :-)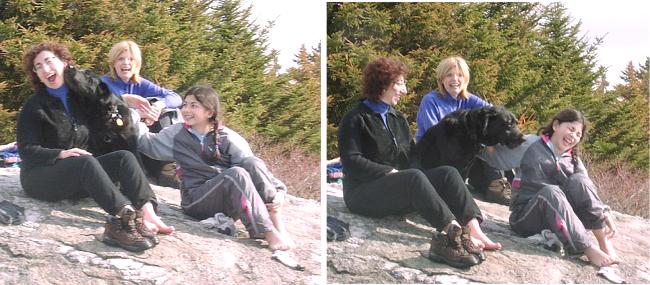 Slobberin' Shadow won't allow anyone to sit still for a picture!
We got about a half hour in the sun before it was time to leave. Believe me---I didn't want to go. 'til next time, then, when we'll probably take Ted's Trail, as usual. And let's hope this winter's snow goes away...someday.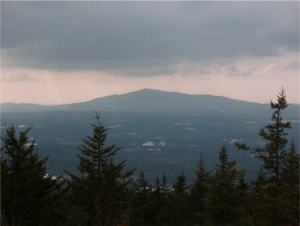 Mt. Monadnock