Beaver Brook - December 27, 2009

Activity and report by Ken L.
Ugh! Rain and drizzle were the order of the day...at least the morning. So with that wet weather forecast, Your Webmaster moved the start time of the walk through Beaver Brook to the afternoon. Unfortunately those who had intended to come along thought better of it due to the weather, and maybe they were right...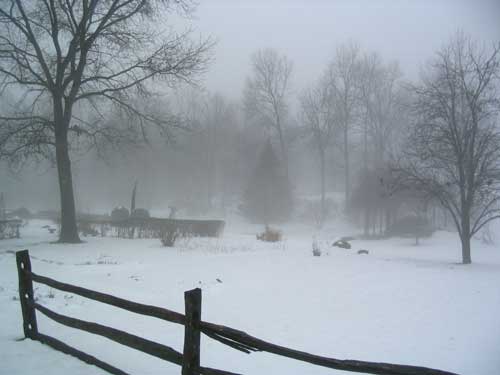 Maple Hill Farm...foggy and drizzly
Fog and drizzle greeted Your Webmaster at the new start time for the activity. But it was warm, and the forecast was for clearing. So on went the boots for walking through the slush and over the icy trails.
The footing was a little slick in parts, especially where the trail was packed down. But there was a lot of water and slush, and there were plenty of bare spots, so the waterproof boots did OK without crampons.
For those who may not know, Beaver Brook is an area of conservation land in Hollis, New Hampshire, which is next to Nashua. There are miles of trails that are great for walking, biking, snowshoeing, x-c skiing, and giving your pup some exercise. Bird watchers and photographers love the place, too. Beaver Brook has something for everyone.

<-- Well, unfortunately, the people who like teepees might have a bit of a letdown thanks to the heavy snow, but I'm sure they'll set this one right eventually.
Your Webmaster wandered from the Maple Hill Farm to the Brown Lane Barn and from there spied an unfamiliar trail on one of the newer trail maps: Love Lane to Howe Meadow. It looked like a nice loop, and it'd finally get Your Webmaster up on the big hill near the Brown Lane Barn.
Love Lane leads to the end of the Beaver Brook property and "The Lodge", which seems to be a newly built structure for conventions and maybe some overnights...something a bit more fancy than a hiker needing a place to hang his hat for the night, I think, but I'm not sure. So I turned right at the lodge and followed an old road to Howe Meadow.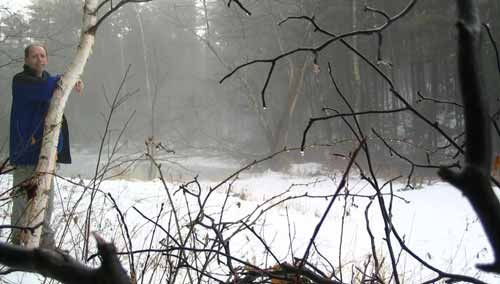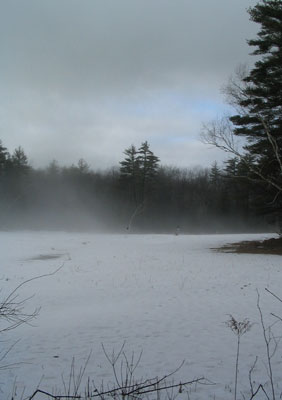 ...and it was about then that the blue skies began to appear!


Water and trees near Howe Meadow
(click for a larger image)
Sure enough, the sun made a spectacular appearance: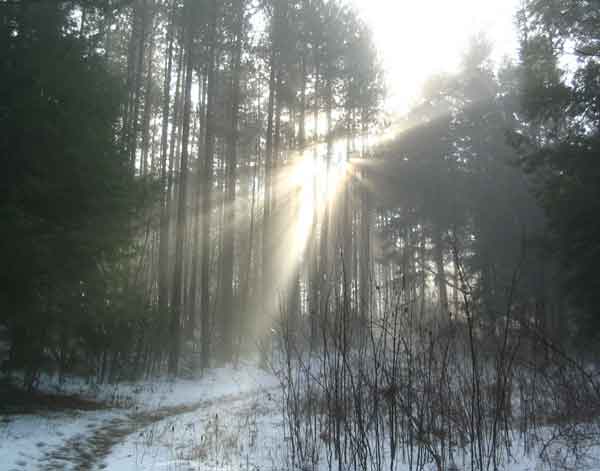 The sun out, the temperatures warm, the fog on the snow slowly burning off...it was really amazing.
From the Howe Meadow Trail there's a new trail with a million switchbacks (not that I mind :-) ), and it leads back to Brown Lane and the Brown Lane Barn.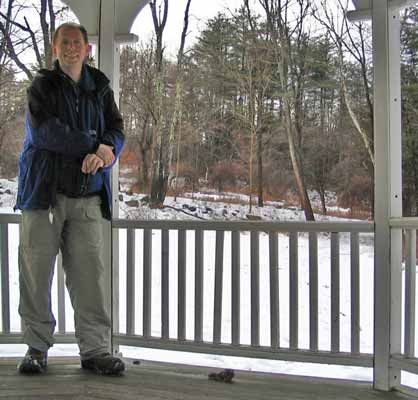 A stop at the gazebo near the Brown Lane Barn
As it was starting to get a little late, it was time to head back to the Maple Hill Farm, and I arrived there just as the sun was setting behind the hill.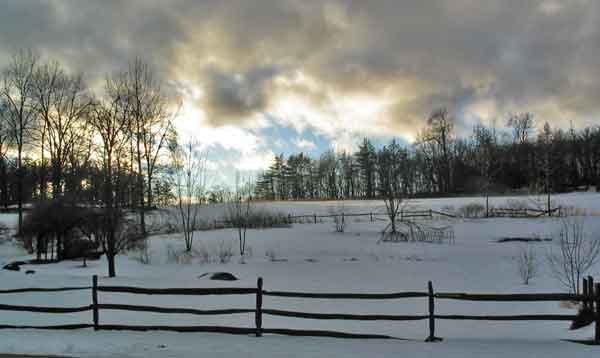 Dusk at Maple Hill Farm
Nice.