Wakefield Social Bike Ride - April 14, 2013

Activity by Michael S.
Trip report and photos by Ken L.
Today it would be a social ride, not a race, from Wakefield, Mass to...ummm...well, lunch in North Reading somewhere. Else it was Michael's choice--no routes planned.
Your Webmaster arrived at Lake Quannipowitt in Wakefield around 10:20am, got the bike ready, and rode over to the gazebo. Michael and others were already there, with one or two more just arriving.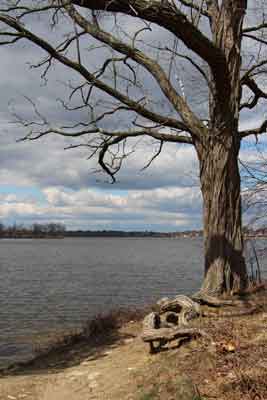 Lake Quannipowitt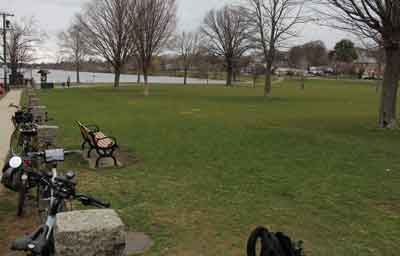 Bikes lined up and getting ready to go!
Eight of us began our journey around 10:40, heading halfway around the lake then off to Lynnfield. Now and then we'd stop at an intersection for a break and to let people catch up.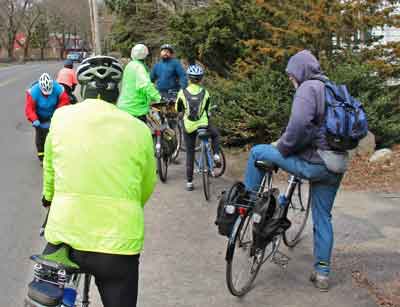 About midway through our ride we arrived in North Reading. We were going to have some lunch at the gazebo, but then someone noticed that the deli was open across the street. Ryer's Store has all kinds of stuff, and we had the seating area outside to ourselves as we had our lunch.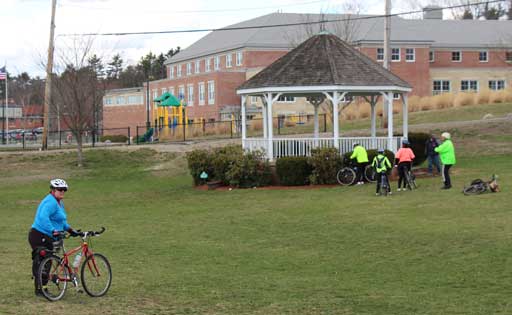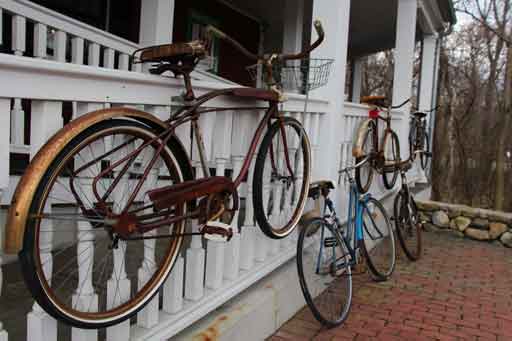 A while later we were getting into the home stretch, back to the lake.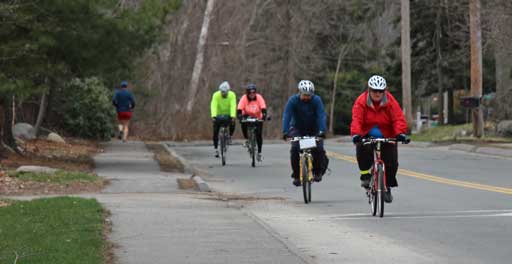 Our roughly 20 mile route took us through Wakefield, Lynnfield, and North Reading. Click here for a rough approximation on Google Maps, and here's a snapshot: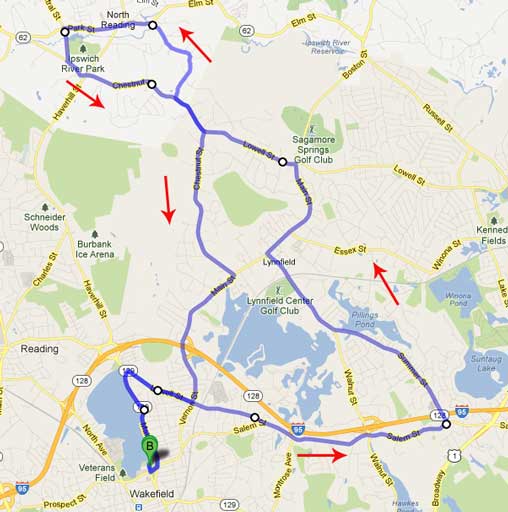 It was mostly flat, and the hills weren't too bad. Twice we rode across the railbed that will serve as a rail trail from Wakefield to Newburyport and beyond (you can see it in the map).
Although it was a little breezy especially near the lake, the weather was just fine. The clouds dropped a tiny bit of water on us from time to time, but it was nothing, and every now and then the sun would come out to warm things up.
Thanks, Michael!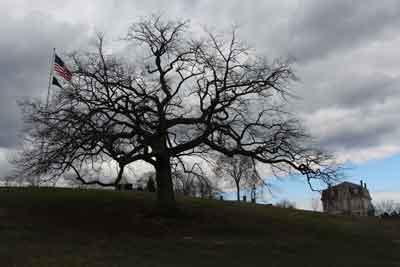 Interesting photo with the iconic
Flint Memorial Library (North Reading, MA)