Dianne's Nepal Adventure - Oct-Nov 2000

Photos and trip report from Dianne Smith
Dianne thought she'd share with us some fabulous pictures and a trip report from her exciting trip to Nepal!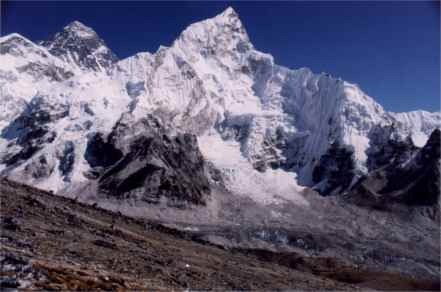 View from Kala Pattar Summit
Early last summer I attended my first GONewEngland event and subsequently met many phenomenal folks who I hiked with up through the month of October. My New England hiking adventures were amazing. One of life's truly defining moments for me was standing on the Knife's Edge of Katahdin soon after witnessing a thru-hiker finish her Appalachian trail journey; a woman in her 50s traveling alone with a trail name of "Wacky Jackie." I am thankful to have had the opportunity to place my feet on the summit of 15 of the 48 four-thousands in NH in all types of weather - particularly hail in September on North Twin!

In October and November I traveled to Nepal and went trekking to Mt Everest Base Camp. Enclosed are a few pictures from that amazing trip. The beauty of the Nepalese people and the Himalayas remains strong in my memory. I'm enclosing a few pictures to share with you and to say "thanks" for all you contribute to the spirit of hiking, meeting new friends, and the spirit of summitting, both on the mountains and within ourselves.

The view of Everest is taken from the summit of Kala Pattar at 18,500 - not bad for a "flatlander" whose highest altitude, pre-trip, had been Mt. Washington. You'll easily recognize the Khumbu Icefall. The day we went to base camp we learned that our Sherpa, Chwong, had summitted Everest twice and that his father held the record for most Everest summits, 10, until the year 2000 when another Sherpa made his 11th ascent. Chwong sits at the foot of the icefall.
The Last Bridge

From Kala Pattar

Chwong

Namche From Above

Ice Mushrooms
Mt. Sunapee / Lake Solitude Hike - 11/25/00
Pam F. ran the activity to Mt. Sunapee, and she opted for the trail starting from the ski area, which turned out to be about as long but much more gradual than the one Your Webmaster is familiar with! So this activity was great for us bipeds and for the two pups which came along with us.

<<< Shadow

Annette and Tom get Tammy ready to go: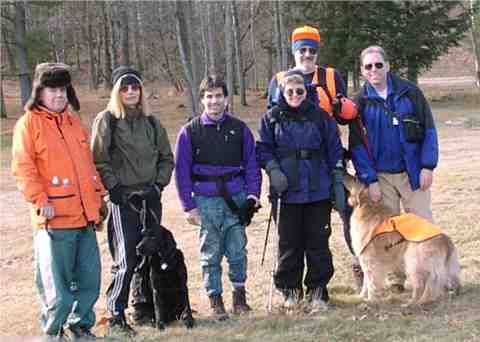 Arnie, Pam, Martin, Annette, Tom, and Your Webmaster are joined by our canine pals Shadow and Tammy for the Mt. Sunapee / Lake Solitude Hike.
Your Webmaster and Annette

took up sweeping duties on this hike. It was a superb day---a bit cool (in the 20s, probably), but the weather was good and the trail was loaded with switchbacks, making climbing easy. There are no real steep spots along the entire trail! At the summit

we stopped for a snack, and Your Webmaster got a shot of the man-made snow and the ski lift

open for business. But not all of the snow was man-made, for there was a little bit of the stuff alongside the trail at the higher altitudes. After the summit stop we made our way across the slopes to the Lake Solitude trail, and we got a nice view of the Newbury, NH area and its lake

. Lake Solitude was a ridge walk away and quite easy to get to

, and Your Webmaster snapped this pic while resisting a nap in his favorite spot (note the hiking boot in the picture). Tom, Annette, Arnie, Martin,

and Tammy put on some smiles, and our hike leader Pam and her friend Shadow

posed for a shot, too.
Another great hike for GONewEngland!
Beaver Brook Conservation Area Walk - 11/24/00
Beaver Brook is a fine place for walking in Hollis, NH (right next door to Nashua). Your Webmaster, Christine, Jan, newbie Heather, and Arnie set out for the unexplored northwest part of the Conservation Area this time.
We started off and shortly were at the Great Pumpkin Patch where Heather, Arnie, Christine, and Jan

hopped into the photograph. A bit further on we encountered bits of an old building

, looking pretty much like the remains of a fireplace. Man, Your Webmaster knows how to build a fire!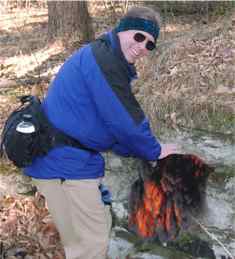 It's practically a volcano in there!!!
Arnie wandered out onto the edge of a beaver dam

but later sat with the others on a log

to take in some nourishment.


Nope, Beaver Brook doesn't disappoint...
Photo touch-up provided by Heather.
North Pack - Ted's Trail - 11/19/00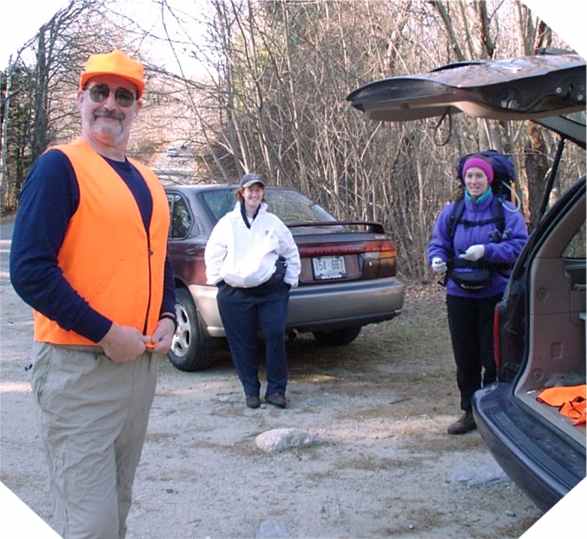 Jen and Michele can't help but admire Tom, who is looking quite dapper in his OrangeWear.

Ted's Trees

Trip Report by Tom S...

The early forecast was for a chance of rain, but it was blue skies with a couple of fluffy white clouds last Sunday as Tammy the Wonder Dog led Jennifer, Michele, Annette, Dave, Ken and Tom up the beautiful Ted's Trail to North Pack Monadnock, and then down the pleasantly-graded Carolyn's Trail. With an eye toward deer-hunting season, several hikers wore orange. Tammy the Wonder Dog sported a custom-made florescent orange doggie vest and Tom wore a hat that probably could have been spotted from the space shuttle. Annette and Ken took a detour along the Cliff Trail, while the others spooked what looked to be a bobcat from under a low spruce tree. It disappeared so silently and fluidly, it left the hikers wondering if they only imagined seeing it. It was a dog day afternoon at the summit, as two other golden retrievers, a golden lab and a couple of malamutes held a canine convention. Another great time with great folks at Get Outdoors New England, with a tip of the hat (or earband) to Webmaster Ken.


What a view!


Tammy donning her custom-made fluorescent orange doggie vest


Tom and Annette chat on the trail


Ice


Dave, Jen, and Michele take a break at the big cairn on the summit of North Pack
Bartlett Inn/Mt. Langdon Shelter Hike - 11/11/00
We spent the weekend at The Bartlett Inn and got in a hike across the street (and in about 4 miles) to the Mt. Langdon Shelter, where we had a bit of lunch. Although Friday brought us rain, Saturday was cloudy but dry--and not too cold for November in New Hampshire. Kathy K (Our Motivator/Welcoming Committee), Tom S., Annette S., Tammy The Wonder Dog, and Your Webmaster got some miles on our boots with this one.
| | |
| --- | --- |
| Tom S. and Tammy The Wonder Dog | Annette S. and Kathy K. |
Bigelow Hollow State Forest - 11/4/00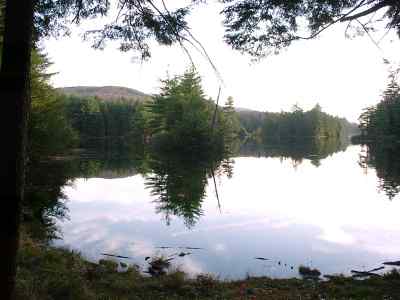 A rabbit in stone!

Beautiful weather greeted Your Webmaster, Elisabeth, and our Mascot Gizmo (and Gizmo's Mom Alison) when we arrived at Bigelow Hollow in northern Connecticut. I was psyched for a nice, long walk in some sun and nice temperatures, and that's exactly what we got...

...along with mushrooms and salamanders---and a really bizarre pair of trees which seems to share a root!
Elisabeth, Gizmo, and Alison pause by the pond where we saw lots of those salamanders.

Great shot!