Monoosnoc Trail - 10/29/00
Trip Report by Nancy:

On Sunday morning, we awoke to sunny skies, yet a forecast for chilling temperatures and snow.


Snow on the Mountain Laurel

Five hikers (Nancy, Seth, Ken, Tom and Dave) decided to brave the elements and hike the Monoosnoc Trail (Leominster, MA) anyway. Though there were snow flurries in the air throughout the day, the skies were relatively clear and the air was fresh and brisk.

We dropped cars at the Northern terminus of the trail and shuttled to the South end to begin our hike. We started out walking on an old cart road around Fall Brook Reservoir, one of 3 reservoirs we would pass on the hike. There is something about hiking with water views that has always inspired me. In addition, we passed through some old granite quarries and the remains of the village of Notown, where we spent quite a bit of time looking at the old cellar holes.

There were 2 small hills to be climbed, the second being Monoosnoc Hill. The trail description was accurate in stating that the view was limited due to the foliage on the trees - and recommended climbing the lone pine tree at the summit to get a view of the New Hamphsire peaks. Unfortunately nobody in the group was willing to climb the tree.

Overall it was a wonderful hike and the weather, though a little blustery, did not dampen our spirits at all. I think we were all amazed at how much wilderness land there is in Leominster. I will be scouting the trail again in the next few weeks as a Mountain Bike trail. Ken plans to go back next June when all the Mountain Laurel will be in bloom.


Snow on the Fern


Nancy, Seth, Tom, and Dave get ready to head out

The First Reservoir

Mountain Laurel

Crossing the Bridge

Notown

The sign reads: "4th Stage Monoosnoc March Begins HERE 1:00pm"
We're actually on time for something, arriving at 12:59:38!
Nobody else was there, though--but we were, and on time!

The View
Mt. Kidder (Dogs Welcome) - 10/28/00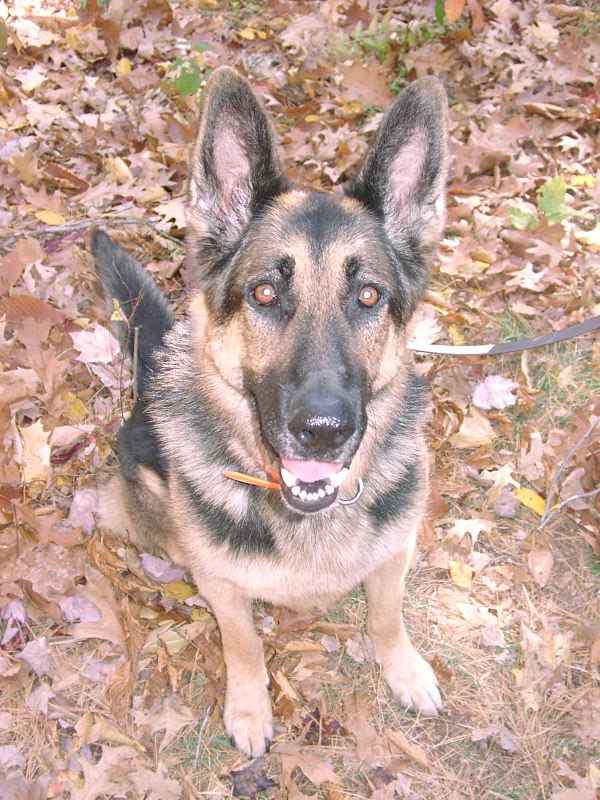 Joss
It was a bright and windy day...Eight of us plus three pups made the easy hike to the top of Mt. Kidder in Temple, NH.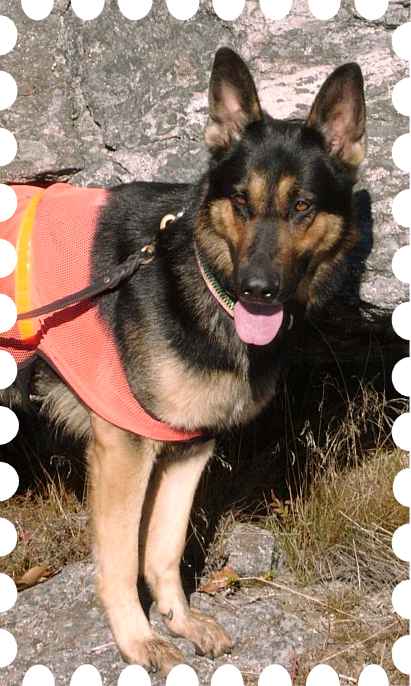 Erich
Kidder is relatively little effort for some great views, and you'll find Your Webmaster there on a regular basis.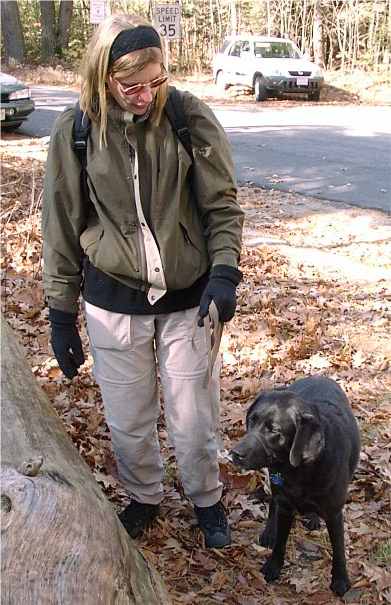 Pam with Shadow
The last time we were there was in July, where we had our fill of blueberries! This time out the blueberries were long gone, as was the foliage, but the views, the trail, and the company were just as good as the last time!
We just arrived at the summit

, and we continued to where we had lunch.

Erich and Joss were licking their chops for some of Dawn's cookies and brownies (thank you, Dawn!!!)

...while Bob, Marilyn, Pam, and Shadow enjoyed their mid-day meal.

Hey, Arnie!
Here's the gang:

It was a lot of fun having the pups along---I hope we do this again!
(reminder: click on the smaller pictures to see the full-sized ones)

Holyoke Range West (a.k.a. Seven Sisters) - 10/22/00

In back: Tyler, Martin, Jerry, Dave, Your Webmaster, Nicky the Dog
Up front: Dayhike With Deb's Deb, Robin
Fabulous weather greeted us at the Holyoke Range this time. Usually Your Webmaster hits it on the hottest day of the year, but not this year! Although to many this hike is fairly mundane, it is a hike which will let you know that you've done something, considering you're going from peak to peak all day long (you tend to lose count after a while). But the one outstanding thing about the hike is the view you get the entire way. I'll let the pictures speak for themselves.
Amherst / Springfield and Hartford in the distance
Deb with the Mt. Tom Range in the background / The Gang takes a pause / Autumn yellows
End-of-hike photo ops! Just before we headed down to the parking lot.
Ireland - 10/16/00

Photos and text sent in by Dan D.
The front door of a bar in Dublin
This is a ring or superstructure of a ring around an old water tower (as I presume) in Dublin
This is the patron saint of Ireland- O'Connell on the main street named after him.....O'Connel Street...
This is the Spire of an old church now used as the tourist information center in Dublin....
This an old ruin church built by the O'Briens'... I am guessing 1100 or 1300 in Ennis of County Clare...
This is the scared heart in cased of Archbishop O'TOOLE 1162 who built and stared Christ Church an Anglican Church in Dublin
This is me (Dan D.) at Durty Nelly's next door to Bunratty Castle on the Shannon River
A Dolmen built by WAR LORDS in 2500 BC in County Clare... To commemorate the War Lords or Kings wifes at death... it was their crypt... Each stone weights over a ton... A remarkable feat to lift and set... and was originally covered with earth...

Another picture of the O'Brien built church in Ennis... So much Light it makes shadows and rainbows...
Beaver Brook - 10/9/00

People often ask, "How many people usually come out on activities?" and I guess at a number.
Then they follow up with, "What's the fewest?" to which I answer:

:-)
Another great day at Beaver Brook in Hollis, NH!
Morgan-Percival - 10/7/00
Photos by Dawn S. and Ken L.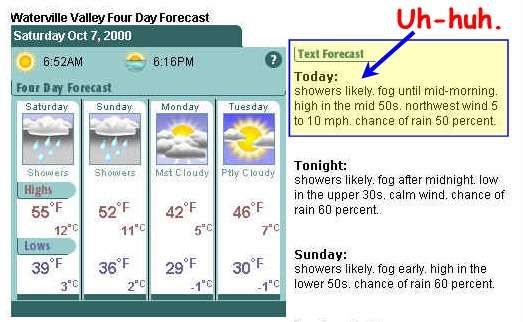 When you see the pictures, you'll realize just how incorrect this "reliable weather forecast" was.
We arrived at the Mt. Morgan trailhead around 10:30am and walked a bit down the road to the Mt. Percival trailhead to start our hike there. This is a wonderful loop with some fun surprises, as you've undoubtedly read about in the report for our June hike to that area. Lisa D., "Pokey" Patty P., Dawn S., and Your Webmaster enjoyed a super hike with great weather, and here are some pictures from our adventure.

Lisa, Patty, and Dawn take a break

Negotiating the cave near the top of Mt. Percival

Patty negotiating the tricky parts after the cave

Dawn, Patty, Your Webmaster, and Lisa at the top of Mt. Percival
Helping Hand

Your Webmaster gives Patty some encouragement negotiating the ladders coming down Mt. Morgan

Awesome foliage!


East & West Rattlesnake
Fortunately about all that weather forecast got right was the sunrise and sunset times. We had a great day---without a drop of rain!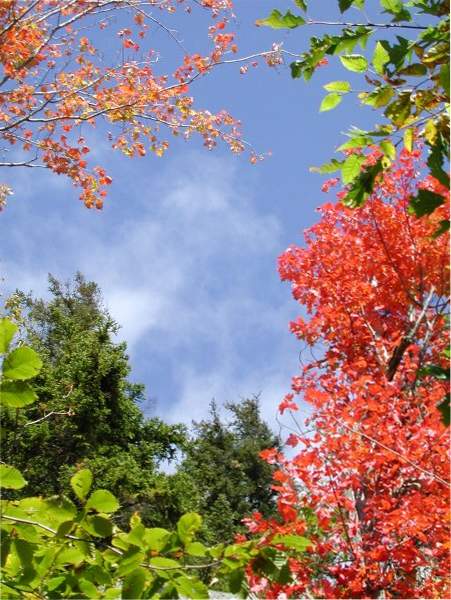 Edmands Path - 10/1/00
Kristen, Carrie, Elana, Lisa, and Your Webmaster

(that's Your Webmaster in front, of course) made it up to Mt. Clinton Rd. and the Edmands Path trailhead, and off we went on this 2.9 mile journey to the left shoulder of Mt. Eisenhower.
One of the first things we saw was

Abenaki Brook,

where Carrie, our resident hydrogeologist, set about to find some neat rocks.
After we gained a bit of altitude, we were given some wonderful autumn views. Check out the view looking back toward the Mt. Washington Hotel

and the view of Mt. Washington itself

---unusually clear, no? The smoke you see is from the Cog Railway.
Along the way Elana noticed that she was reaching her limit, so she decided to call it a day (which is always a good thing---listen to your body!). Unfortunately Elana didn't get to share in the views from the very top, but she'll be back the next time we do this.
Carrie and Kristen went on ahead, and they made their way to the summit of Mt. Eisenhower

while Lisa and I had some lunch. And talk about a

perfect spot for lunch!!!
Uh ohhh...

...I think Your Webmaster is in trouble with Carrie (so new...)
On our way back home, we stopped at the viewing area near the Mt. Washington Hotel for a look at the Presidentials.

What a day!