Correction: Ern and Anneke's words for Buddy are on the June 2000 page.
Essex River Sea Kayak (July 22)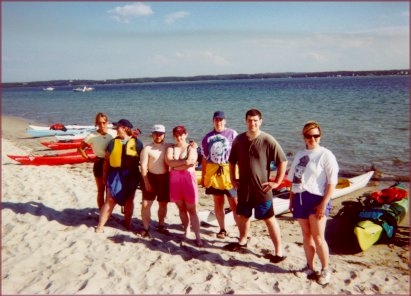 Dawn G, Patty P, Dave M, Barbara, Dawn S, Don H (AKA Jack) and Barbie S.
Photo courtesy of Patty P
GULF HAGAS Loop Hike Trip Report (July 21-23, 2000)
"Gulf Häagen-Dazs", 'cuz it's so wicked good!
Imagine "roughing" it --- sitting around a campfire --- and eating Filet Mignon au brie-pecan, Maine lobster and Schwarzwalder Kirschtorte !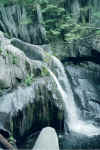 Thundering waters of Screw Auger Falls were deafening as we entered a deep pool beneath the torrent of liquid pleasure. The air was laden with a heavy mist. Mosses and other plant life mingled to offer a soothing fragrance.  This orchestra was exciting and exhilarating.cold and refreshing. It waited for us to enter its canopy of caressing fingers. One by one we swam in long strokes and were "baptized" beneath Screw Auger Falls.
For a full report with pictures and comments of those who went with us, visit:
http://www.ticktock.bizhosting.com/hagas2000-report.htm

We're doing this again over Columbus Day weekend. Read the report for further info or check the GONewEngland Bulletin Board.
Photos in this section provided by Ern G.
Dave K. had the following photos to contribute: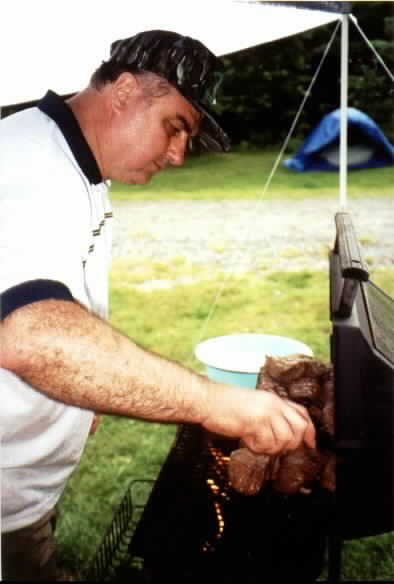 Ern cooking up the filet mignon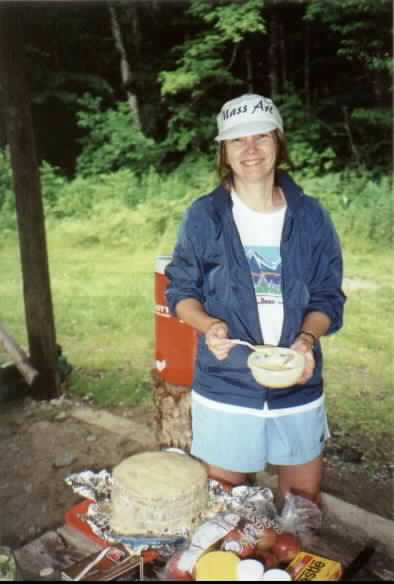 Ruth putting the finishing touches on the "Schwarzwalder Kirschtorte"
Great Pond Weekend - 7/21-7/23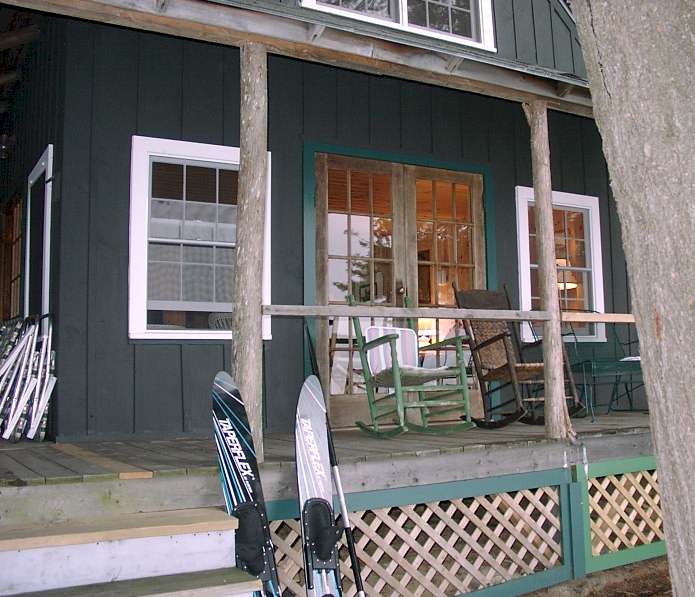 This is the second year GONewEnglanders have been invited by Sarah H. and her wonderful parents Bill and Liz to visit their cabin on Great Pond in Belgrade, Maine.  There's a reason this one filled quickly...actually quite a few reasons...
Several in the group arrived Thursday evening and had a great day on Friday.  Unfortunately Your Webmaster could not get there 'til nearly midnight on Friday, about the time the clouds and fog did.  But Great Pond is still a beautiful spot in the misty weather we had on Saturday, don't ya think?
Dan "The Pup" L. got right into action on both Saturday and Sunday morning whipping up a delicious repast for all of us

with the food he brought along---and what a couple of meals!  Ashish also helped, and others pitched in for various cooking/cleaning chores throughout the weekend.
After breakfast Sarah took the small boat out for a spin, and I snapped a photo

when they returned.  In the picture are Rob, Dave, Sarah, and Cathy.  Don't worry--they all made it back out onto the dock.  :-)  Kathy, our GONewEngland Welcoming Committee / Motivator, and I went for a short hike on an easy trail.  The weather started getting rough, the tiny chick was tossed. 

If not for the Gore-Tex that was bright blue, Miss KK would be swamped!  Kathy held on for dear life as she took on that ladder (ignore the grass and rocks in the foreground---it spoils the illusion).   Although rewarded with a nice view from the first place we stopped at that day (Blueberry Hill (no, really!))

, all we got on our second stop was a few inches of rain in the space of about five minutes.  And no pictures!
So we thought it best to head back to the camp and get ready for dinner:   blobster, corn on the cob, some of Ashish's mystery potatoes, bread, and brew.   Starting on the brew early is Kim

, and Sarah's in the back there taking some melty butter out of the microwave.  Cathy?  Well, I *think* she's practicing modeling for a jeans commercial, but I'm not sure.  Suffice it to say that the only one doing any real work in this picture was the cameraman, and that's about as much effort as I put into anything all weekend (yep, that place is quite a relaxing retreat).  So it was off to dins

.   Bringing in the corn is Sarah's mom Liz, and way in back are Yvette and Sarah getting ready to hand out lobstahs.  Around the table ready for dinner are Kathy, Dave, Kim, Uncle John, Dan, and Ashish.  And what a dinner it was!  Kim was quite worn out from the feast, actually. 
  She returned to her perch and put her leg up (no, the food didn't settle there---Kim had a bit of a mishap with a volcano and is recovering).  Saturday night's festivities included a fireworks display and a charades-like game which was a riot.  Dave B. has the videos...
Sunday was a spectacular day, starting with breakfast on the dock.

  Then it was boats, boats, boats

, and more boats!  And with boats comes waterskiing, which Sarah's dad Bill demonstrated for us. 

  He really does make it look easy!   But then again so does Sarah. 

  Joe, who'd never been on water skis, had to give it a try.  A few tries from the small boat didn't yield good results, so Bill fired up the 250 horse Grady-White, and Joe grabbed onto the tow rope.

Joe certainly gave it his best shot, and the results of his tries can be seen in the picture.  He'll be back next year, I'm sure!  We bring Ashish along just for fun, by the way, and he decided that the knee board was what he wanted to try out to cap things off for a great Sunday afternoon.

Unfortunately it got late and soon was time to head out (too soon, I tell ya!), so we grabbed a group shot

and bid adieu to Belgrade...for now...:-)
Many thanks to Sarah, Bill, and Liz who are gracious hosts and a ton of fun.
Kidder Mt. - 7/8

To say the weather agreed with us for our hike along the Wapack Trail up Mt. Kidder (about 4-5 mi) is putting it mildly!  Donna, Dave, Myong, Audra, Dana, and Your Webmaster enjoyed a maaaahhhvelously sunny day hiking Mt. Kidder, which is a small peak in the Monadnock region of southwestern NH.

Blueberries were abundant.

We all picked our share of delicious little blueberries--and left plenty of them for you!
Donna pointed out the blueberries to the photographer (that would be Your Webmaster)

, and then we continued on to the top of Kidder Mt.

  What a view for relatively low effort!

You can even see all the way to Boston from there.
On the way out we noticed a tree that appeared to have been blown apart by lightning!
I would not have wanted to be anywhere nearby when that happened!
Bryant Pond July 4th Weekend (in conjunction with the AMC) - 6/30-7/4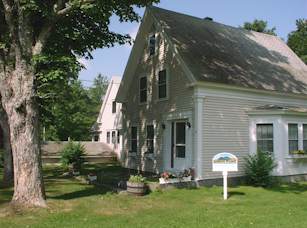 The Maine House
Lynn M. (lead) and John D. (co-lead), both with the AMC, arranged for a great weekend of fun at The Maine House in Bryant Pond, Maine, a small town a few miles down the road from Bethel.   Your Webmaster was co-lead on this one, pitching in on some of the shopping and trying to help out without getting in the way.  A fine mix of AMC and GONewEngland folks attended this event, and all had lots of fun, chowed lots of food, and got in lots of miles hiking, paddling, or biking.
The Maine House is on Lake Christopher, and we spent a lot of the time in or near the water

, canoeing

, swimming, fishing, or just hanging out in the yard--

just like this crew who were sure they were going for a bike ride on Independence Day...uh huh.  Instead we ate lunch.   :-)
Aside from the kitchen for cooking scrummy meals, the lodge had a huge main room

where there was socializing and dancing, an eating area overlooking the lake

, and plenty of room for the well over twenty of us.
Activities for the weekend included:
| | |
| --- | --- |
| | Biking, both short and long rides |
| | Hiking - Here the group (Your Webmaster, Ann, Fran, David, Jonny, Rob, MaryAnn, Myong, Lisa, and Dave) gets ready to hike Table Rock in Grafton State Park |
| | Trail Work (?) on the East Royce Trail |
| | Splashin' at Screw Auger Falls after the hikes in Grafton State Park...It's always nice to have a spot to soak your feet (or more!) after a long hike. |
| | Architectural inspection of a suspension bridge in the White Mountain National Forest |
| | Chillin'! |
And, finally, the weekend came to an end, and we had to say farewell to The Maine House.  But Lynn will be running it again next year, so you'll get the chance to check out the fun, too!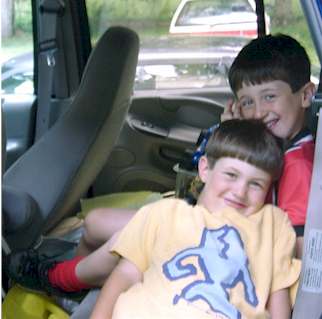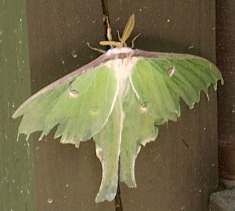 Cool moth Your Webmaster saw on the way home
while getting his WMNF Parking Pass.
That moth was huge!!!