Morgan-Percival Hike - Lakes Region, NH - June 18, 2000
We had a good group for the Morgan-Percival hike:
Scott, Steve, Alyssa, Chris, Audra, Myong, Nicole, Dave, Your Webmaster, and Allison.
Martin showed up just after we started and managed to find us.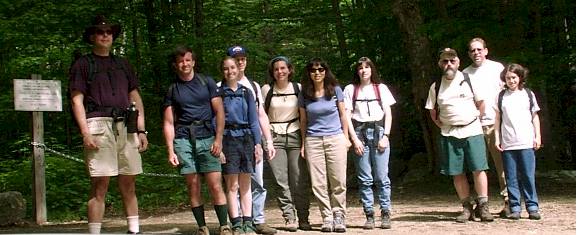 The day started off sunny, but clouds soon rolled in. That was OK, as it cooled things down a little. We saw a little bit of rain, but the bulk of the wet stuff held off until the drive home. Ladyslippers

were abundant along the trail--almost as abundant as the mosquitoes and black flies! And, as Chris will attest, ticks. Allison and I were on sweep duties during most of the hike, and together we hit the challenge of the "cave" near the top of Mt. Percival

and made it through OK. The climb after that to the summit is interesting, and it was there we caught up with the rest of the group and could dig into some lunch!

After lunch we made it over to Mt. Morgan (2220', a full two feet higher than Mt. Percival), then we braved another "cave" and the ladders.

From there it was a gradual downhill slope to the parking lot---then a stop for some dins in Concord!
Softball/BBQ - Northfield, NH - June 11, 2000
New Report and Pictures Added 7/12/2000!
New Trip Report and Pictures courtesy of Sarah H. and Ern G., respectively
This report is a bit late, but as Ern gets together some wonderful pics he took at the Softball get together last month, some sort of commentary might be a good addition. 40 people signed up, it rained, 20 came. That's still a pretty good turn out! We met up in Northfield, New Hampshire to eat, chat, and play ball.
It's been a month and I forget who won the game, but I do remember we played about 50 innings. Our star pitchers were Kirsty, Ashish, Phil, and Rob maybe. (Never write an event report a month after). Cathy was the scorekeeper and Buddy, the dog, played outfield with Ern. There were several big hitters-- Seb, Don, Rob, Joe, Jack, Martin, and Buddy.
Although Yulia, Adria, and Alyson are up and coming home run hitters I'm sure. Others to watch out for were the kids. They were as rough and tough as the rest of us. Maybe even more. Ken and Myong made the trek over to camp after doing a morning hike... Oh gosh, I hope I've not left anyone out. The camp was a great place to get together for this event. Thanks Ern! After the game, we ate lots of goodies and talked about the upcoming events. It was great to see so many new faces and from the sounds of it, they weren't scared away...
Many of the attendees suggested getting another game together, this time closer to Boston. So until next
time, play ball!
Photo Key:
Left to right and by row top to bottom…Click on the photo to see a larger image...
Cathy, Joe up front, Jack, Jack,
Seb, Adria & Yulia, ditto, ditto,
Seb & Kirsty, Rob's son, Ashish, Rob,
Don, Rob's son, Rob's son, Phil & Steph,
Cathy, Rob's son, Rob & son, Rob & son at truck,
Rob's son, Buddy, Buddy, Rob's son
Ashish & Martin & Jack, Seb & Alyson & Rob & son, Rob's son & Kirsty & Adria & Yulia & Seb, Sarah
Sarah, Sarah

Original Trip Report and Pictures from Your Webmaster

Sarah H. and Ern G. invited us all up to a camp in Northfield, NH to hang out,

play some softball, and do up some things on the barbie.

Here Ern prepares a delicacy, and

here Sarah prepares Martin.
Mmmm-mmmm...

Good eats!

Ern's faithful companion Buddy ate well, too.
And, of course, the customary after dinner dance celebration. This week:

The Hokey-Pokey.
A visit to the pond

rounded out a fun afternoon!

An update - June 2001...
Ern's faithful friend and hiking companion Buddy passed away just about a year after our fun softball outing. Ern and Anneke sent along some wonderful words for their departed friend.
A Parting Prayer

Dear Lord, please open Your arms and call Your angels to accompany Buddy Brown, our friend and companion, to the trail on the other side of the brook.

Please give her a place of honor around the campfire, because she's been a faithful servant and has always done her best to please us.

Bless those who've been part of her life. Give us the strength to continue without her, and help us to remember the details of her life with the same love she shared with us.

May her last memories be those kind pats and hugs from her friends and let her know that we'll always love her. When it's our time to come into Your paradise, let her trail along with those who'll bring us home.

Thank You for the gift of her companionship and for the time we've had together. Please give us the strength to give her to You now.

Amen.

(Ern & Anneke Grover, Springvale, Maine, June 19, 2001)
Ell & Long Pond Preserve - Rhode Island - June 4, 2000
We had a rather large group with us for this event...Click on the thumbnail to see the whole picture.



Left to right: Martin, Michael, Christiana, Barbara,Gary, Linda, Rick, Susan,
event leader Jim in back (the tall guy!), Janey, Diane, Linda, Myong, Dave, Megan, Rob, Your Webmaster, and Linnea...and we picked up Bob and Steve along the way!
Ell & Long Pond Preserve is a wildlife area in Rhode Island. The area is full of mountain laurel

and rhododendrons. Our trek took us out to see Symbol Rock

, into which petroglyphs have been carved. Who carved them, and what do they mean? I don't know. Maybe you can figure it out?
After a few miles of trekking, we stopped for lunch

on a ledge overlooking one of the ponds.
After lunch we took a spur over to a large rock outcropping.

We climbed up and got a nice view!
We were well ahead of schedule on the way out, so we stopped for another group photo. In this photo Martin is getting ready to take a picture, too...He must be wearing about seventeen cameras from those who also wanted a group shot!

The weight of all those cameras must've gotten to Martin, as he hit the beach and went out for a swim in the pond to cool off!
After we returned to the carpool spot, some folks went out for some ice cream while others drove off in search of something with suds. Jim P. did an excellent job of organizing this rather large event, getting everyone there, and even providing us all with maps (in color!). This activity will run again, so be watching for it to pop onto the Bulletin Board!