Pawtuckaway State park - 4/2/00
OK, before you go thinking that this was a "walk in the park," keep in mind that Pawtuckaway SP in southeastern NH boasts over 5,000 acres, several ponds, three hills (one with a fire tower), places to rock climb, and miles of trails. We know the last item in the list best, since our little jaunt was quite a haul, clocking in at over 10 miles (and as many as 14 if you go by the map and trail signs). A great deal of the terrain is flat, but at the north and south hills we hit some climbs, of course. Click the below photos for a larger image.
The only bad news about the hike was...
...NINE of us started out (Tyler, Dave, Barbara, Allison, Mary, Leslie, JoLynn, Your Webmaster, and Jeff), but...
...only SEVEN were there at the end! Uh ohhhh...:-)

This picture was taken in the Boulder Field, a collection of some mighty large glacial erratics.
On the way through, we spotted a foundation

for something-or-other...An old farmhouse, perhaps? At the top of the northernmost hill, we stopped for

lunch. Some great views from there! Heading down from the hill there's a wonderful stand of trees.


Jeff looks on in amazement at Allison, our hero, clears the way for him by holding up the huge rocks and keeping him from danger! He can barely stifle that yawn! But not to be stifled is the view

of Pawtuckaway Lake and surroundings from the fire tower on the south hill.
Your Webmaster takes a parting shot of all the little people.

:-)
Oh, don't worry about Dave and Barb---they had to cut out early. :-)
Ted's Trail to the summit of North Pack - 3/25/00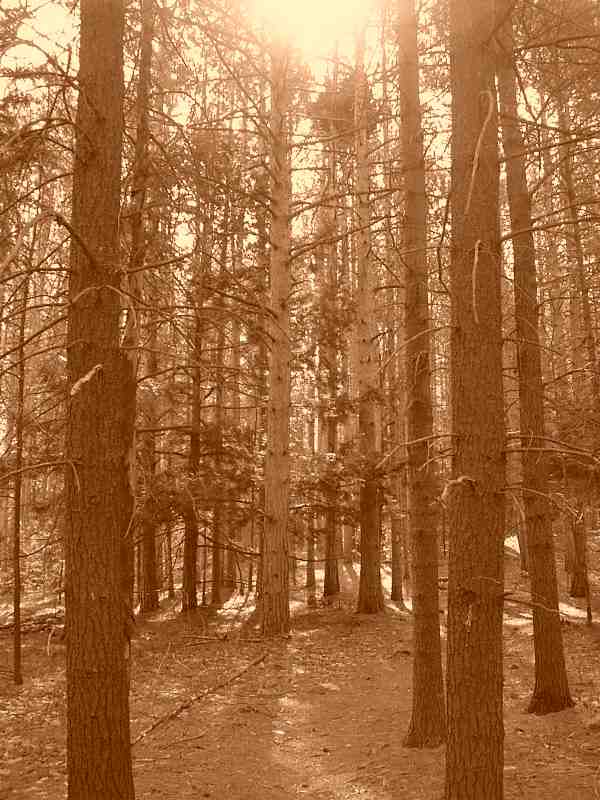 Another fine day for a hike. It started sunny, but eventually some clouds rolled in. No matter---it wasn't too chilly, and Ted's Trail didn't disappoint in the slightest!
The group!
Dave B., Dave K., Dayhike with Deb's Deb, Margie, Anita, Charlie, and Your Webmaster.
Ted's Trail winds through several stands of different trees (see above) and some wonderful land features, like this mini waterfall.
Lunchtime! Don't you wish your lunchtime could always include a great view of Mt. Monadnock?
It turned a bit hazy/cloudy by the time we reached the huge cairn at North Pack's summit.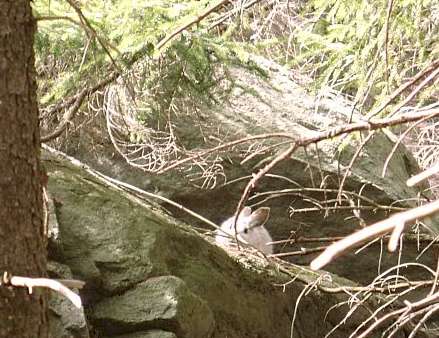 We have a visit from a bunny.
Boxford State Forest Hike - 3/19/00
What a beautiful day for a hike! Your Webmaster led 9 GONewEnglanders on "the usual" path through the woods of the Boxford State Forest (Boxford/Middleton, MA). Click on the thumbnail to see the larger image. (Photos taken by John Leone and Ken Leonard)
Before heading out, Your Webmaster got the obligatory group pose. I told Donna she didn't have to lean to make up for the tilted camera! :-)
Front: Allison, Deb, Kim, Sarah, Donna.
Behind: John, Gary, Jeff, Becky, and Your Webmaster
The Boy Scouts Bridge
We stopped for lunch on Bald Hill, and we got some visitors...
Some exploration...
and some more exploration...

Hmmm...perhaps the Boxford State Forest hikes are a little more interesting than The Webmaster lets on...

What are they looking at? Why don't you come along next time! :-)

Gee, I hope Allison comes back after this!
Maudslay State Park Walk - 5/7/00
It was hot! But Maudslay State Park (Newburyport, MA) is a good place for a walk, and nine GONewEnglanders made it out there.

We started off walking through a neat forest
, where we got to look at some interesting

mountain laurels. Shortly after that we stopped for some snacks along the Ipswich River (GREAT views of the river from that spot!), and here we have Christine with Mike and Tammy,

and li'l Will is somewhere behind there riding on his dad's back in a kiddie backpack. The rest of the group

decided to hang out closer to the river's edge in the sun. Jan grabs a snack as Gary and Rachel talk about cameras. Joe and Cathy are behind Rachel (yeah, Cathy is there somewhere :-) ). Mike, Tammy, and the baby took off shortly thereafter, but the rest of the group paused to sit atop the wall near the garden under some flowering trees.

There's Christine, Rachel, Cathy, Gary (who led the trip), Joe, and Jan. Your Webmaster snapped the photo---no pics of him this time! :-)