Get Outdoors New England gets into its FIFTH YEAR!
And 2001 is starting off with snow, snow, and more snow!
Click on the thumbnails (small pictures) below to see a larger version.
CROSS-COUNTRY SKIING AT BEAVER BROOK - January 28

They do not make cross-country skiing any better than this!!!

X-C Skiing on this fine day:
Rose, Your Webmaster, and Joe
Beaver Brook cannot disappoint. It's just the way it is with that place. All year 'round, too.


The Big Pond
Rose, Joe, and Your Webmaster went out for some cross-country skiing at Beaver Brook in Hollis, NH. It was the first time I'd been there during the winter, and it was the first time Joe or Rose had been there at all (although Rose had been to the Maple Hill Farm before but not to any of the trails). I daresay all of us were happily surprised at the conditions and the variety of trails. It turned out to be a fabulous day of X-C, despite Your Webmaster not having his "ski legs" with him and spending most of the day on his butt!
The Beaver Brook Conservation Area sports a variety of terrain, from meadows to swamps, and some of it can be challenging for X-C skiers. It turns out they do plow, and there's plenty of parking even at this time of year. Sunday there were many cars in the parking lot, and it looks like there was an orienteering club in the area, plus there may have been some folks camping out at the Beaver Brook campsite. We didn't see a great many people on the trails, however, most likely because Beaver Brook is a rather large place with lots of trails.


Snowy bend
Weather: Sunny, a breeze now and then, temps in the high 20s or low 30s (that's a guess)
Snow conditions: Excellent packed base on most of the trails, not groomed, some tracked by earlier skiers and packed by snowshoers, skiers, and hikers. Some snow was melting in the bright sunshine, but most of the snow in the woods was just packed powder eagerly awaiting our arrival.


Beautiful X-C trail alongside a brook
It was sooooo good to get out there on my X-C skis---finally---and the weather, conditions, and the beauty of the woods really made our X-C adventure worthwhile. And, oh yes, the company was great, too!
I've heard we're due for some warmth and rain this week. Sigh...I was hoping to get in a little more of this before it melted away.
WEBSTER-JACKSON HIKE - January 27

Photos and Trip Report from Tom S.
It was with more than a little trepidation that I decided to join Troy M. on his snowshoe hike of Mount Jackson and Mount Webster. There is a mystique about climbing 4000-footers in the winter, and besides, I'd just finished reading NOT WITHOUT PERIL, stories of those who perished in the Presidential range over the last century and a half.
Nevertheless, on January 27 I found myself at the Crawford Notch parking lot, sitting in my van with Kristen B, waiting for Troy. He showed up with Rollie the Wonder Dog, and by ten o'clock we were ready to hike.
It was cold starting out, and we were all bundled up

, but fifteen minutes of trail hiking found us stripped down to a single layer

.
The trail was well packed, and soon we were hiking in deep snow

. We noticed that as we climbed higher, the snow got deeper

.
And deeper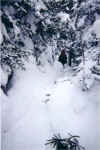 .
And deeper

.
And deeper

.
We started climbing steeply, and I concentrated on jamming my toes into the snow for better traction. I could "feel the burn" as they say, and then, suddenly, truly without warning, we were at the top

. A light snow had started falling, obscuring our views slightly, but that didn't matter. I had summited my first winter 4000 footer.
Summit temperature were in the mid teens, but a mean wind was blowing, bringing in some clouds

. We decided to go down into the trees for lunch. Troy said that there was a "steep pitch" on the way down off the summit. You could say "steep pitch," or you could just say 'snow-covered cliff."

(You can just barely make out Kristen waiting for me at the bottom.) The slide down this trail was better than Splash Mountain.
The trail along the ridge to Mount Webster was supposed to be easy, but we spent half our time crawling on our hands and knees to get under snow covered tree limbs. I was concerned that we'd lost the trail. The Appalachian Trial runs along this ridge and I hadn't seen a single white blaze. Then Troy pointed one out: it was a couple inches above the snow. Since the blazes are painted on six feet above the ground, we realized the snow was over five feet deep at this point. The reason we couldn't see other blazes was that the snow was over six feet deep most places on the trail. And that's why we were crawling under branches. We were hiking up in the tree tops.
Eventually, though, we made it to the top of Mount Webster

. From there it was a hop, skip and a ka-thump back to the trail head. Your humble scribe provided the ka-thump on the steep pitch down to Silver Cascade Brook when his right snowshoe caught on a root and planted him face first into the snow. Kristen extricated him and NO, no pictures were taken. Not while I have the camera, anyway.
All in all, another fine outing with Get Outdoors New England.
GIANT MOUNTAIN (NY) / BATTELL MOUNTAIN (VT) - January 20 & 21
Trip report from Armand T.
[Although this wasn't posted as a GONewEngland activity, it gives an idea of what winter hiking is about, plus Arm is looking for winter hiking partners, so you'll see the kind of stuff he likes to do. At a later time Arm will have a web site with these reports and pictures, and Your Webmaster will provide a link.]
hey there
checked out some great winter hiking this weekend - broke out the winter gear (snowshoes, crampons, etc) and geared up for a couple of scenic hikes we'll never forget
winter hiking is a whole different animal - shorter days and harsher weather threaten to restrict what we can do, but with less crowded trails, no bugs, no humidity, and the kind of scenery you can only see from these wintery mountains makes it worth every step
thought these updates might spark your interest in getting out there and checking out the great new england outdoors, winter style - it's fun stuff ! - arm
(will post some pictures on my web-site, once film's developed)
----------------------------------------------------------------------
NY Giant Mountain, Adirondacks 4627' (3050') 1-20-01
JC and i cruised up to Burlington VT fryday night, and caught a jam band called Currently Nameless at Vermont Pub & Brew
saturday morning we took the Charlotte-Essex ferry to NY, up Route 73 and started hiking up Ridge Trail (48) @ 9:00. cold clear 5°F morning
snowshoes were not necessary on the hard packed snow - we donned crampons halfway up for traction, enjoying open views from the ridge
we reached summit and drank in magnificent ADK views - many summits west of us stood there, inviting us for the next day's hike. while we ate lunch, we decided that we'd try Nippletop the next day (but after finding out that the access road was closed for winter, we decided to attempt Vermont's Breadloaf the next day instead)
we descended to the junction of Roaring Brook Trail (47), and a crowd of people rushed past us down Ridge Trail, so we broke trail down Roaring Brook Trail. took a nice relaxing break at an outlook while we enjoyed our last wide open view of the ADK's
i threw on the snowshoes i'd rented the day before, but trying to snowshoe down steep hard-packed trails was like riding a skateboard down a slide, so i replaced them with my crampons
we turned left onto Giant's Washbowl Trail (50) then hiked up on Giant's Nubble Trail (49) and ascended to Giant's Nubble. hiked down to Giant's Washbowl, down Giant's Ridge Trail to JC's car
left my new winter gloves on top of JC's car, donating them to the Hiking Gods when we drove away. grabbed a room in Middlebury VT, took no-hot-water-showers, then chowed burgers at an irish bar, gearing up for the next day's attempted hike up Breadloaf in Vermont
cold clear winter day, 15°F high, hiked 8 miles in 8 hours
----------------------------------------------------------------------
VT Battell Mountain 3482' (1862') 1-21-01
JC and i had hiked Giant Mountain in NY the day before, and decided to shift this day's hike to Vermont - we set out to hike Breadloaf Mountain (3835') but deep powder slowed our progress and kept us from reaching Breadloaf's summit
we wanted to drive up Kirby Road? (route 54?) and start up Skylight Pond Trailhead, but Kirby Road was closed for snowmobilers, so we parked at the intersection of route 59? and route 54?, hiking the hard packed road 1.1 miles to Skylight Pond Trailhead
trail was hard packed. we donned snowshoes about a mile in, which worked so much better in the powdery snow than they had worked for me the day before, when i tried snowshoeing down steep hard packed snowy trails on Giant Mountain
trail blazes on trees were covered with snow. the path we followed showed that previous hikers had gotten lost. we broke trail from their last footsteps; very tough breaking trail through chest-high powder-covered steep stuff, especially once we reached the summit of Battell Mountain (at the junction of the Long Trail)
we set our turn-around time for 2:00, and ended up turning back when we were about a half mile from the summit. would have been rough snowshoeing up over that steep ridge
realizing "those who hike and walk away, live to hike another day" we were not bummed about giving up before reaching Breadloaf's summit. despite occasional cold winds that worked against us, our spirits were high - it was a beautiful day that capped off a fun-filled weekend
toasted a Long Trail Hibernator Ale before heading back down the Long Trail, down Skylight Pond Trail to JC's car
grabbed some food for the road before driving home and settling down for a long winter's nap
cold breezy day, 15°F high, hiked 8 miles in about 8 hours
----------------------------------------------------------------------
EARL LEGACY PARK / MASSABESIC SNOWSHOE - January 20
Not content simply to wander 'round the small-ish Earl Legacy Park by itself, we added Lake Massabesic to our snowshoeing day.
We stopped first at Earl Legacy Park in Bedford, NH. The Bedford X-C Ski Club maintains a beautiful set of trails through the woods of the Park, and all are welcome. We stopped in at their warming hut and got ready to head out onto the trails.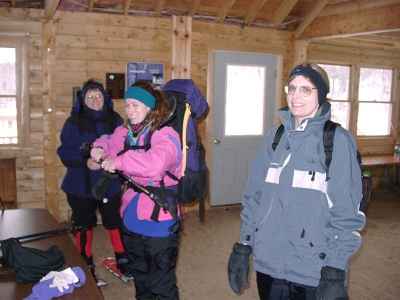 Annette, Michele, and Pam in the warming hut getting ready to go
The trails in the Park are groomed but not tracked, which is nice. We ambled off on our snowshoes and hit just about all the groomed trails,

plus we broke some of our own. Beautiful snow-covered trees lined our path through the woods along the rolling trails. In about an hour and a half we came back to the field behind the warming hut, where Annette spied a most hideous and dangerous creature: a snowman! EEK!

Whew...We were all lucky that she was armed and was able to slay the beast!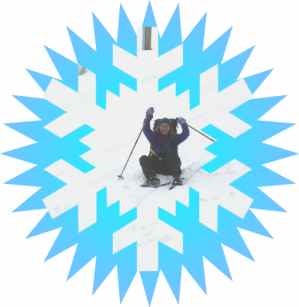 Michele didn't have a sled, so she slid down a hill at the Legacy Park on the next best thing
After a bit of lunch we drove over to Lake Massabesic, where Your Webmaster has never been. It's a beautiful lake near Manchester, and it's where Michele does her sailing. There'd be no sailing that day, of course, but there'd be plenty of snowshoeing.
Back into the beautiful woods we went, where Your Webmaster snapped a picture of the ladies in a snowy glade.

Eventually we made it to the top of a set of ledges, where there was a very nice view of the lake and some hills beyond.

Annette is laughing at something in this photo. It was probably something Your Webmaster said. That seemed to happen a lot all day long.
And speaking of Your Webmaster...


Yep, that's him.
Before heading back out, we took the time to pay proper homage to the Hiking Gods:


GONewEngland's idea of a well-decorated Christmas Tree
The weather was cloudy, but it wasn't breezy, nor were the temps too cold. Snow conditions were packed down, but where we broke trail there was some good powder. Earl Legacy Park (near the corner of Wallace and New Boston Rd in Bedford, NH) is fabulous if you're just learning how to X-C ski (just rent some equipment and bring it on by), and Lake Massabesic will be fun for a hike or walk anytime.

BRETTON WOODS WEEKEND - January 19-21

Photos provided by Martin K. at the Webphotos site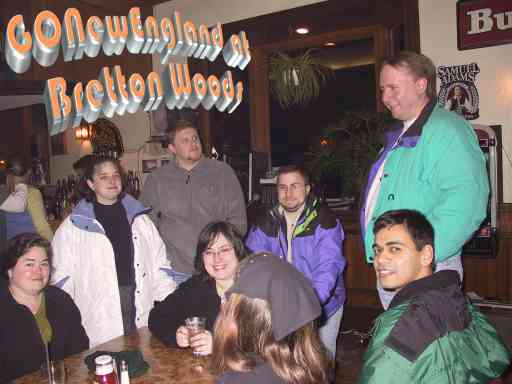 Check out the pics from the GONewEngland Bretton Woods Weekend!
1. Click to visit the WebPhotos Site (clicking the link will open a new window for you)
2. Where it says Member Albums (left side, near bottom), enter the following:
| | |
| --- | --- |
| | Email/Nickname: kessiman |
| | Password: gone |
Click GO, and you'll get access to the photos. Enjoy!
LONESOME LAKE SNOWSHOE - January 14
...with trip report from Tom S.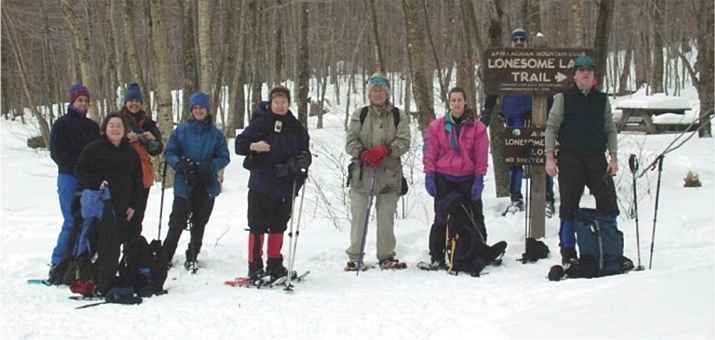 | | |
| --- | --- |
| Your Humble Scribe | The day after the beginner hike, we did it again. This time ten snowshoers (Lisa, Pam, Erin, Michele, Annette, Jan, Kathy, Bill, Ken and your humble scribe) met at the Lafayette Campground for an assault on the plateau that lies between Cannon and Kinsman Mountains. Five of us (Michele, Annette, Jan, Ken and I) had hiked the beginner snowshoe hike the day before, all of us going the full distance (6.2 miles round trip) to Franconia Falls. |
Lonesome Lake Trail wastes no time in gaining altitude. Within minutes we were looking down on the traffic through the notch. An hour and 1000 vertical feet later, we reached the lip of the plateau and started down to the lake. Traffic noise disappeared and we entered a magnificent spruce forest. Snow hung on every branch. It was too beautiful for words. Camera shutters clicked madly as we took pictures knowing that film would never capture the essence of this picturesque forest. You really had to be there.

We soon reached the lake. The clouds hung low this day, and we found ourselves walking through an eerie fog as we approached the lake. Out on the lake, there were none of the famed views of the Kinsmans or Franconia Mountains, but no one complained. Walking silently across the ice-covered, fog-shrouded lake, with the trees on the far shore first invisible, then gradually appearing through the mist was an experience we'll not soon forget.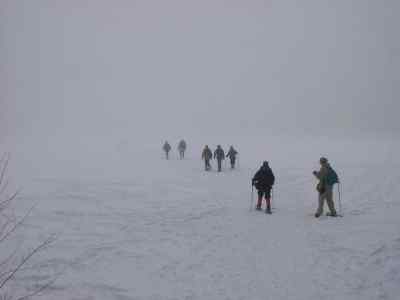 We had lunch



Annette stops to admire a large rock
We traveled down the Cascade Trail, down a trail barely broken, through two miles of snow covered spruce trees alongside an icy brook. There were no sounds except for the creak of our snowshoes and the occasional "Ahh" as yet another beautiful forest view greeted us. We turned left on the Basin Cascade trail after crossing the stream on an ice bridge. This trail followed the rim of a rocky gorge, with more than a couple tricky spots. We were up to the task, though, and soon descended into the ravine between towering rock walls.



Jan slides into the ravine, and just beyond is Rocky Glen Falls
Below Kinsman Falls, we crossed back over the brook on another ice bridge, then descended through the pines and hardwoods to Route 3. From here the Pemi Trail ran two more miles up to the Lafayette Campground and the cars.
All were pleasantly tired. Well, all except iron-woman Annette, who went out for a third hike of the weekend the following day. Not that I couldn't have gone with her, you understand, but I had a writing deadline so I was forced to sit by a fire in a condo all day Monday. Ah, well.

LINCOLN WOODS BEGINNER SNOWSHOE - January 13
...with trip report from Tom S.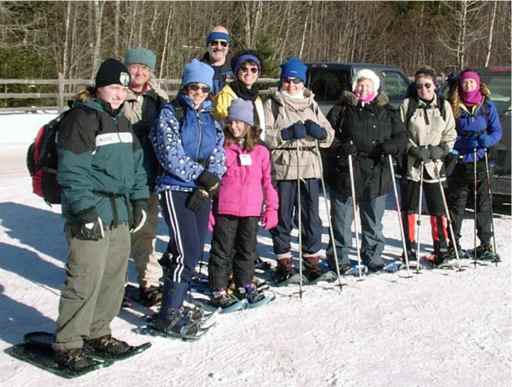 Snowshoers Kristen, Jan, Lynne, Tom (in back), Maggie (in front), Patty, Jane, Janet, Annette, Michele.
This was advertised as a beginner snowshoe hike, and I'd be hard pressed to find a better place to use snowshoes for the first time. And there were quite a few first timers among the snowshoers who showed up at ten o'clock on Saturday morning. Besides myself, intrepid snowshoers Ken, Annette, Jan, Jane, Patty, Janet, Mary, Michelle, Lynne, Maggie, Kristen--Oh my gosh! I know there were more. Not that I'm getting old, but I need to start writing things down so I don't forget.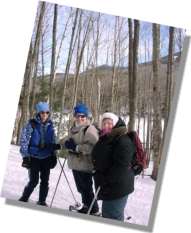 Umm. What was I writing about?
What? Oh, yes. Lincoln Woods.
The terrain is built for beginners. We took the Lincoln Woods Trail, on the west side of the river. After crossing the suspension bridge (and doing the mandatory hopping up and down to make it wiggle), we started off. The path followed an old railroad grade, and was wide and level. Scenery was graciously provided by the east Branch Pemigewasset River and occasional views of mountains rising out of the Pemigewasset Wilderness. The temps were mild, the snow crisp and spirits were high. There is something about walking with friends, old and new, in the great outdoors that makes one feel alive. Cares melt away, at least for a few hours. I always feel tired, but vitally refreshed after hiking.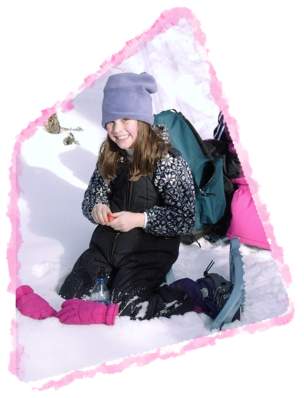 This hike was no exception. And the beauty of Lincoln Woods is that even in a group, one can turn around and head back when starting to tire without any fear of getting lost. And after a mile, a couple of folks did decide to turn back. One had a blister, another had a snowshoe equipment failure (it was one of those shoes that have a short pin with a clip supporting each side of the boot basket rather than a rod that passes under the entire basket). Flexing the shoe had caused the pin to pop off the clip that holds it in place. Those who have this type of snowshoe would do well to visit a hardware store and buy a couple of extra clips to carry along with them.

The remainder of us traveled all the way Franconia Brook, where the Lincoln Woods Trail ends. From here the Wilderness trail heads into the...well, wilderness and the Franconia Falls trail heads to...you guessed it: Franconia Falls. This trail was narrower and steeper, and goes for about a third of a mile to the Falls, which are about 3.1 miles from the trailhead.
After I demonstrated the proper way to fall on your butt and slide down a fifty foot section of steep trail, we (Maggie, Lynne, Kristen, Michelle, Ken, Annette, Jan and me with the snow-covered clothing) had lunch.
On the trip back, our youngest member of the troop, Maggie, became a little tired.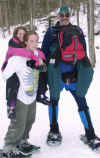 Kristen, an amazing hiker, carried Maggie the last mile or so.