February 2001:
Get Outdoors New England's
Fourth Anniversary
Click on the thumbnails (small pictures) below to see a larger version.
WAPACK / WATATIC SKI / HIKE - February 18

Activity posted by Charles H.
Trip report and photos by Charles H.
No one expressed interest in this and I was tempted to bag it, but Sunday was such a fine day that I decided to go anyway. When I got to the designated meeting place I discovered that the parking lot was not plowed out, although it was last time, and the one at the real trailhead was, also unlike last time.
I was just sorting out my gear in the van when there was a knock at the window. It was my Sub Sig friends Tamara (with her young son Jonathan on her back) and Amyas Huston, from nearby Mason, NH. They had just come down from what would have been a hike, but it was shortened by Jonathanís lack of enthusiasm for cold and wind. We chatted a bit and then they took off and I started up.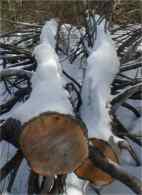 A bit of trail clearing
The last time I was here I had hiked and thought the trail Ė at least as far as Nutting Hill - looked skiable. I started on the skis but soon took them off since as the grade increased it left me going no faster than a walk and in such a case I prefer to walk. I ditched the skis at the Midstate Ė Wapack trail junction near Nutting Hill and continued on Wapack toward Watatic summit. The trail was crunched down enough that snowshoes werenít necessary (a good thing since I didnít bring them), although sometimes I did punch through into foot-deep snow. Just below the summit I saw what looked like the top station of an old rope-tow ski lift.
Thereís an open view from the top, although itís not particularly dramatic since most of the terrain around the mountain is much lower and far away. Youíre much higher than everything else around you, but there isnít anything particularly interesting to look at. I could easily make out the Boston skyline over 50 miles away. The Pru and Hancock Tower clearly stood out from the mass of tall buildings in the financial district.
Architectís joke:
Q: Whereís the best view in Boston?
A: From the Pru
Q: Why?
A: Because you canít see the Pru
To the west I could see the ridge line that the Wapack follows heading north and I plan to come back in the summer and hike the whole trail, perhaps as a backpack.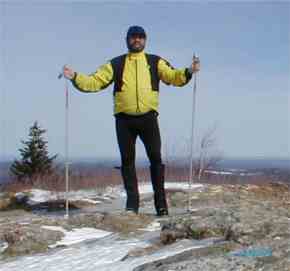 Charles at the summit
I picked up my skis and skied up the Wapack towards New Hampshire. After I was sure I had crossed the border I turned around and went back to the junction at Nutting hill. I wanted to have skied to another state, even if I had started only a little over a mile away. Thereís an extension of the Midstate trail that I had planned to take back, but no one had skied on it and I didnít want to break trail. As I neared the junction a couple of snowmobiles made the turn in front of me.
Although I had thought the Midstate descended at a grade that I could ski down, I soon realized that the slope was greater than my downhill skills. I wiped out once to avoid a downed tree with only about three feet clearance under it and again later when my speed kept increasing despite my best efforts to brake using a snowplow. I took the skis off for a while but put them on again when the grade lessened as I approached the trailhead. It was a good day to be outside, although my combined driving time was a bit longer than my trail time Ė a ratio I donít care for.
THREE PONDS/MT. KINEO LOOP - February 18

Activity posted by Tom S.
See additional photos: http://www.webphotos.com
In the lower left corner of the web page type in:
Email/Nickname:"kessiman@hotmail.com"
Password: "gone"
Find the pictures at -> Mt. Tom, Three Ponds.

Your Webmaster, Martin, Tom, The Three Ponds Trail Sign, Welcoming Committee/Motivator Kathy, Tyler, and Joe

It was about 10:30am when we arrived at the Three Ponds Trail parking lot, just outside of Rumney, NH. Whew---we somehow managed to get the last few spots!

Kathy, Martin, Tyler, and Joe tossed on their X-C skis, and Tom and I decided to just hoof it, putting our snowshoes on our packs just in case.

The X-C crowd decided to take the Mt. Kineo Trail and loop around to where Tom and I would be walking, expecting to meet somewhere around the Three Ponds Shelter on this loop.
Martin caught up with me and Tom just after Tom and I made it past the Three Ponds Shelter. Martin mentioned that the others had decided to X-C ski the Three Ponds Trail, which had been packed down by snowmobiles most of the way. What parts of the trail weren't packed down were broken by Tom's hefty snowshoes.

Somehow the X-C skiers hadn't caught up with us, or perhaps they buzzed by us on the snowmobile trails while Tom and I were hacking through the woods. Who knows!

We let Martin continue on the loop to meet up with the other X-C'ers, and Tom and I wandered on 'round the Mt. Kineo Trail side.

Your Webmaster stopped for a photo op. Great scenery, huh? (I mean the mountains.)

At around 3 we made it out to the parking lot...and then it was homeward bound for Your Webmaster---after a great two days in the White Mountains.
Additional trip report by Tom S.
It's not just a hike; it's an adventure.
This pretty much described the Get Outdoors New England hike to Three Ponds in Rumney, NH. Webmaster Ken and your humble scribe opted for snowshoes, and hiked the loop clockwise (Three Ponds Trail, Donkey Hill Cutoff, and Mt Kineo Trail). Martin K, Kathy K, Joe H and Tyler W put on XC skis and started counterclockwise. Our plan was to meet somewhere in the middle.
Most of the Three Ponds trail doubled as a snowmobile trail, and Ken and I made good (if odiferous) time. About a half mile past the shelter located at the halfway point, we met Martin. He said the others had abandoned skis and taken to walking up the Three Ponds Trail. They were waiting at the shelter when Martin reached it. Ken and I continued the loop, which was much more enjoyable without any accompanying snowmobiles.
It was a quick five mile hike for us, but a very enjoyable one, a hike that I will have to repeat in the near future.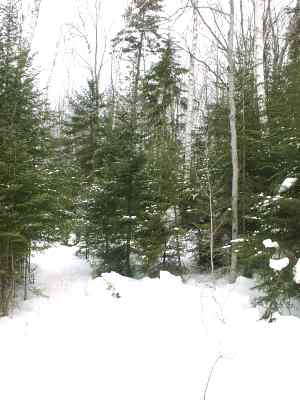 Wintertime Trail
MT. TOM - February 17
Activity, trip report, and photos by Tom S.
See additional photos: http://www.webphotos.com
In the lower left corner of the web page type in:
Email/Nickname:"kessiman@hotmail.com"
Password: "gone"
Find the pictures at -> Mt. Tom, Three Ponds.
Annette S, Kathy K, Martin K, Tyler W, Joe H and your humble scribe left the trailhead next to the Crawford Notch hostel at twenty after ten. The trail was very well packed and Martin scorned the use of snowshoes, walking up in bare boots.


Kathy, Annette, Joe, Martin (who has fallen onto a hole again) and Tyler
After we passed the Mt Avalon trail junction, however, conditions on our trail deteriorated. It seems that most other groups had opted for the lower Mt Avalon. Joe, who was using terrific old wood-and-gut snowshoes, had trouble on a particularly steep pitch and took them off. He hid them behind a tree and joined Martin's bare boot club. It was an interesting sight, though, when Joe stepped off the trail to hide the shoes behind a tree. The snow was very deep, and he was floundering waist deep in the fluffy stuff.


Either the snow here is about five feet deep, or this trail was blazed by the Seven Dwarfs
Back on the trail we made good time, though Joe and Martin occasionally post-holed (sank down in snow, leaving a deep hole when they extricated their leg). At one point both of Martin's feet broke through and he went in chest deep. In many places, the blazes on the trees were barely above the level of the snow. On the final half mile of the trail along the ridge, there was not a blaze to be seen.
We reached the top about two o'clock. The summit of Mt Tom is wooded, and it took us a few moments to determine that we were in fact on the high spot. It was single-digit cold, and a bit of wind was blowing, so after the obligatory summit pictures we started back down. By four thirty (four hours up and two hours down), we were back at the trailhead, tired but pleased to have added another 4000-foot mountain to our winter collection.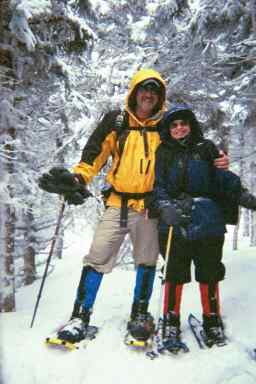 Your Humble Scribe and His Bride
MT. POTASH - February 17

Activity posted by Sharon A.
Sharon's Kelly Blue Terrier Bitsy arranged this hike, specifying "nothing over 4.9999999999999 miles, please". So we went along with her to Mt. Potash, off the Kancamagus Highway in Albany, NH.
The parking lot is clearly marked, and we all met up around 11 to get going. It was a bit raw and we had some snow showers during the day, but we also had a few peeks at some sun.

Gearing up are Mara, Jerry, Sarra, Bits, and Sharon.
The trail was fairly well packed, but it was glazed over a bit. They'd obviously had some freezing rain not too long before. So three of us put on the snowshoes for the benefit of the crampons. Jerry and Sarra had fairly good luck with theirs, but Your Webmaster's didn't grab too well on the slippery and footprint-pocked trail, so about halfway up I got rid of 'em in favor of boot bottoms. Well, it was about that time that the trail decided to turn from glazed to just crunchy, so post-holing was then in order. Can you ever win? No, I guess not. :-) It just goes to show you that in winter not only do the weather conditions change quickly, but so do the ground conditions.
| | |
| --- | --- |
| | I think Bits really enjoyed the day. Here she comes bounding through the woods ahead of Sharon. |
| Mara has done the AT, so Mt. Potash is just a stroll in the park. But I know she was glad to get out there and into the woods, as were we all. | |
At the top we were greeted with a fierce wind, so we didn't spend much time at the summit of Mt. Potash. Mara and Jerry had already turned to head back down, and the others were about ready to leave me behind, too! Hey, wait up!

We found a nice ledge out of the wind to have a spot of lunch, and Your Webmaster broke out his new 6-point instep crampons for the rest of the way down. They worked GREAT! As Mara said, "Yep, they'll become your best friends in trail conditions like this. They make me feel like Spiderman!"
At around 3:30 we made it back to the cars, and I headed back to Ashland for a nice, warm fire.
ASHLAND, NH CONDO WEEKEND - February 16-18

Activity posted by and trip report from Tom S.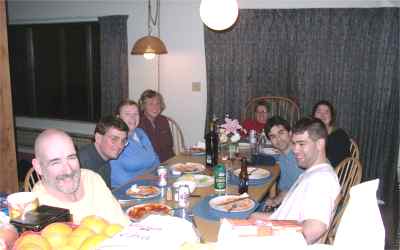 Around the table: Tom, Joe, Janet, Jan, Your Webmaster's Chair, Annette,
Welcoming Committee/Motivator Kathy, Martin, and Tyler
The snowshoe weekend was an immense success. I can't remember the last time I had so much fun. Annette and I were joined by Kathy K, Martin K, Joe H, Webmaster Ken, Tyler W and Janet D. Michele S had planned to attend, but came down with a tough cold and stayed home sick. We were joined for dinner by Janis G, last seen at these same digs after the Lincoln Woods and Lonesome Lake hikes on Martin Luther King Jr weekend.
On Saturday, we scattered and hiked around Gunstock, Mt Potash and Mt Tom. On Sunday Annette S, Janet D and Janis G hiked Rattlesnake Mountain on Feb 18 for the superb views of Squam Lake. This hike is only a mile each way, is suitable for beginners, but gives excellent views from the summit. It is highly recommended. Tyler, Joe, Your Webmaster, Kathy, Martin and I went off for the Three Ponds Hike, which you can read about above.
My only wish was that we could have stayed the whole three days. I was late making the reservations and we only had the room for Friday and Saturday nights. Next year I'll start planning earlier.
HANCOCK SNOWSHOE - February 3

Activity posted by Tom S.
Trip report by Tom S.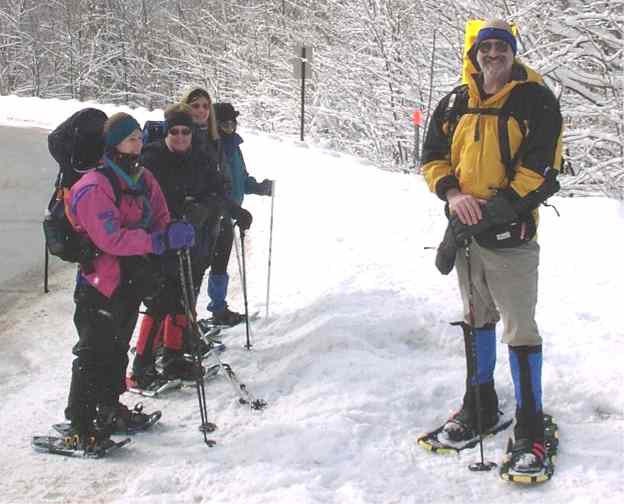 February is the cold weather month, and we (Michele, Annette, Pam, Marilyn, myself, and Ken (Your Webmaster, behind the camera)) can vouch for that. My little thermometer read ten degrees while we ate lunch at the notch

, and in the past it's had a tendency to read high.
But the hike was worth the chill. The trail was very gently graded as it climbed through a beautiful spruce forest. As we got higher into the notch, the trees became more and more snow-covered, until it seemed like we were walking in a postcard.
This happens every time I hike at elevation, but it never fails to awe me.
| | |
| --- | --- |
| | The trail was broken for the first mile and a half. "Legs of Iron" Michele |
Most of us stayed warm, but after lunch a couple of us had to resort to chemical hand warmers to drive out the chill. We played musical gloves for a while, until everyone's hands were toasty. It was a good reminder to pack a heavier pair of gloves as a backup. Really heavy gloves are too much to hike with--your hands get too sweaty--but they're just the thing to warm up the ol' fingers after they've been chilled. We have to figure out a way to eat lunch without freezing our hands.
| | |
| --- | --- |
| I tried out my new silk underwear this trip. It felt good but it didn't do the same job as my polypro/wool Duofold underwear. I'll save the silk for slightly warmer hikes. | |
As always, the trip back to the cars went way too fast, and suddenly our jaunt was over.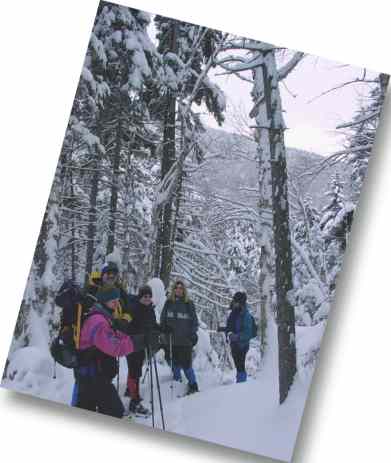 Thanks to GONewEngland for helping us get together for another fabulous hike.
GREY KNOB/JEFFERSON & ADAMS - February 1-4

Report and photos from Paul C.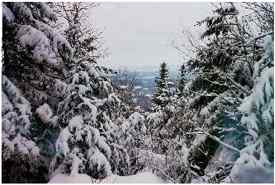 Paul writes: Thought you might like to see some of the pics from our adventure the weekend of 2/1-4. We were fortunate (?) to miss the big storm, but still dealt with 24 inches of snow on the 3 days before we went up, and 12 more on Saturday (2/3). There is now over 6 feet at Grey Knob Cabin (81 inches immediately after the storm!) A great trip. The trip report is on Bob Farrell's (FarmerBob) site:

Here are 2 links for my shots from that trip:

Thx, Paul Croteau ("SherpaKroto" as I seem to be called since I overpack so much! I guess someone has to...)