Click on the thumbnails (small pictures) below to see a larger version.
MT. UNCANOONUC - April 28

Activity posted by Pam F.
Talk about an awesome spring day! It doesn't get any better. It wasn't too hot, and the sun was bright with just a touch of haze.

Pam got Shadow into his pack (above), and it was apparent that Jan was ready to go (right), adorned with boots and knappy.

(Heh...Later on Shadow wiggled out of his pack and went bounding around the woods and splashing in puddles thrilled to be rid of the burden! Yep---the pack was much more snug on the return trip, huh, Shadow??? :-) )

Pam, Shadow, and Steve nearing the trailhead

It's about a 2.5 mile walk along the Goffstown, NH streets to the trailhead.

But this time there was no snow! Compare this with the pictures of our March 31 hike, which was just after a heavy snow.
Mt. Uncanoonuc's change in elevation is only about 300 feet, so the trail itself is quite easy. We arrived at the top fairly quickly, and we found a great place to sit around and have a snack.
| | |
| --- | --- |
| | Pam and Shadow posed for a snap |
| | Steve, Shadow, and Pam |
| | Pam, Steve, Your Webmaster, and Shadow |
It was quite warm in the sun, and we all were taken in by its warmth. Everyone just lazed out on the rocks getting sunburned. :-)
Shortly before we left, I snapped a few pictures of the scenery - Manchester and Goffstown.
After we hiked back to Pam's place, we took off for some good dins and hit Club Day at the Emporium for Many Supplies in Manchester, where credit cards got a workout. Later on Pam invited us back to try out some yummy tiramisu she had put together for us using a recipe she found (along with her own imagination). Let's just say that if you weren't on this hike not only did you miss a great day---you also missed some awesome tiramisu! :-)
MEAN STREETS: PROVIDENCE - April 28

Activity/Photos/Trip Report by Charles H.
Providence Mean Streets trip report – Saturday, April 28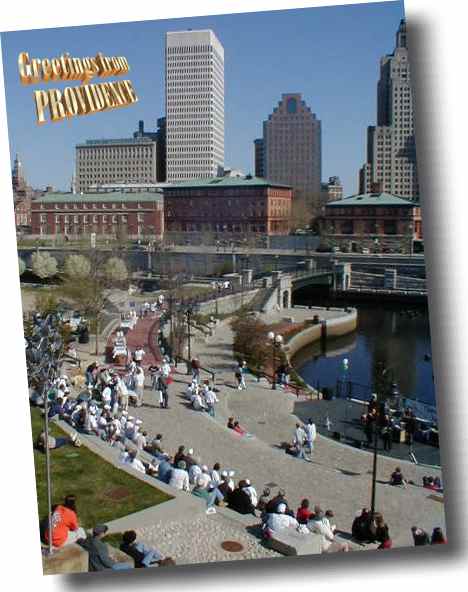 We had an absolutely gorgeous day for this trip and made the most of it. An even dozen of us set out from the Roger Williams National Memorial shortly after 10. Just as we started riding I noticed a car with two bikes on it and made the correct assumption that they were looking for us, so I directed them to where we were parked and rode back to give them maps and suggest where they could meet us in 15 minutes.
We rode around the Amtrak station, the bottom of the state house and the paths of Riverwalk before exploring the downtown area, which is generally quiet on a Saturday. There is a lot of amazing old architecture here with wonderful details, including fancy brick work, terra cotta and copper domes. There's also an arcade, the 19th century version of a mall. From downtown we headed to the waterfront and then rode the narrow sidewalk on the I-195 bridge to get access to the East Bay bike path. This smoothly-paved rail-trail extends some 15 miles toward Bristol, but we only went about three miles, spotting a pair of swans in the bay.

As we recrossed the interstate bridge, we picked up Deirdre Bird, a good friend who lives near Providence and had been visiting a friend in the hospital that morning. Back in the city we headed to Wickenden Street, where we had an hour break for lunch. Some of us had Thai, some Indian, and others pizza or sandwiches. We rode up the gentle grade of Benefit street, which has many of the fine old 18th century houses in this city. By great good fortune it was RISD's (Rhode Island School of Design) sidewalk art sale day and a long block was blocked off to cars. Waiting for us was Fran Goldstein, a Boston friend who had arrived late. We slowly walked the bikes through, looking at as much as we could, with a couple of us making minor purchases. The crowds, the music and the international food offerings made one feel like you were in another country for a brief period of time.

We did a lot of climbing to get up onto College Hill, where we rode through the Brown campus. Another spot of luck found us chancing upon a most excellent outdoor production of Shakespeare's Midsummer Night's Dream. The setting was a grass lawn with a few boulders, with the energetic cast running around and through the audience. We left after about 20 minutes when the audience was asked to move to another "stage" at the opposite end of the lawn, with a couple of the fairies perched some 30 feet up in a tree.

We continued through the Brown and RISD campuses and back across Burnside Park. Providence has always had a lot of public art, but I must have noticed at least a dozen new outdoor sculptures erected since last year's ride. We touched the fringes of the Federal Hill area, bypassing a planned stop for dessert at the justly famed Pastiche café since we were running late from the earlier unanticipated stops. As the leader I sensed that some of the riders would have been happy to stay out for another hour or two, while others seemed to want to get back to the cars, so I tried to balance between the two. A quick swing by the capitol and a good coast downhill back to the starting point completed our day. Just a bit over 20 miles in some five hours of elapsed time. If anyone wants to sample this style of riding, the Boston Sculpture Bike Tour on June 2nd is your next chance.
MT. UNCANOONUC - March 31

Activity posted by Pam F.
Pam and Shadow led our hike up Mt. Uncanoonuc in Goffstown, NH, not far from Manchester.

The weather was cloudy and somewhat damp, but it wasn't too cold at the start. Later in the day a cooler wind picked up, but by then we were heading back down from the top of the mountain.
It's a long walk to the trailhead along backroads from Pam's house, and then it was time to don the snowshoes. The heavy snow we had received the day before certainly made the going a bit tough.


"Before and after" at the trailhead
The sticky wet snow packed down under our shoes, and it wasn't too long before Shadow realized that walking belly deep in the cold snow wasn't as good as walking in the packed down footprints made by our snowshoes. Unfortunately he really didn't get the idea that snowshoes move and that it's not good to stand on the back of them. Pam broke trail a good deal of the way, and it wasn't 'til very near the top that Your Webmaster took over. Whew! In that snow it was certainly a workout!


To the southwest
Heading back down our broken trail, we made it back to the road rather quickly. No more trail to break, thank goodness!


Pam and Shadow head down the trail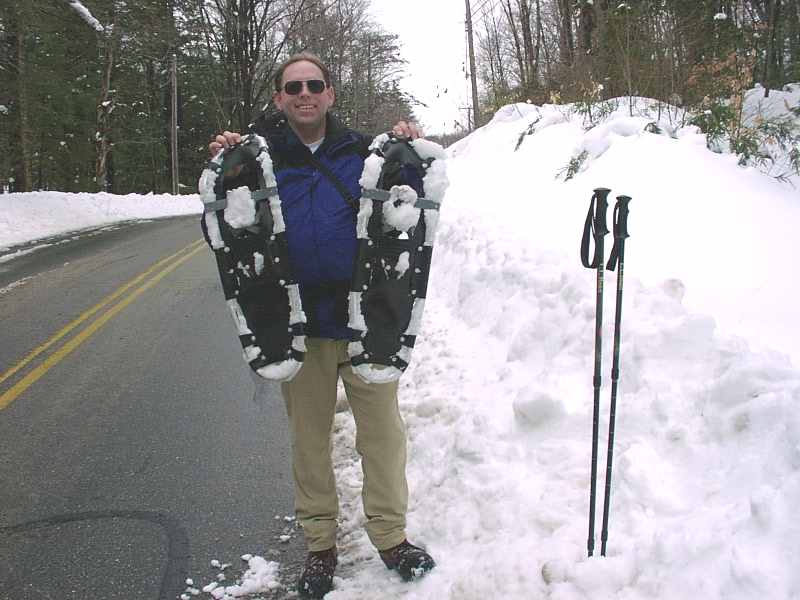 Your Webmaster holds up the catch of the day.
Gee, did ya think to leave any snow on the trail? :-)