Click on the thumbnails (small pictures) below to see a larger version.
BERKSHIRE BIKE RIDE - June 30

Activity run by Tom and Annette S.
Pictures and Report by Tom S.
| | |
| --- | --- |
| No one joined Annette and me on our bike ride, probably because it was a late announcement and had a short window to get back to me. No matter, when I'm with Annette, I'm in the best of company. We started off at 9:00 sharp. | Tom and Annette, ready to roll |
At the top of a huge hill a mile into the ride, we saw a deer in the woods.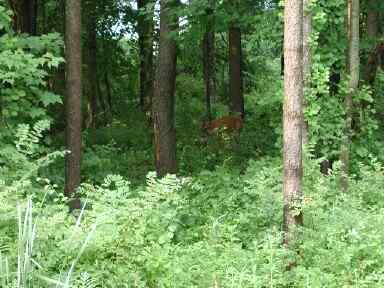 A deer blending into the landscape
When I put the telephoto lens on her, I saw that she had a fawn with her.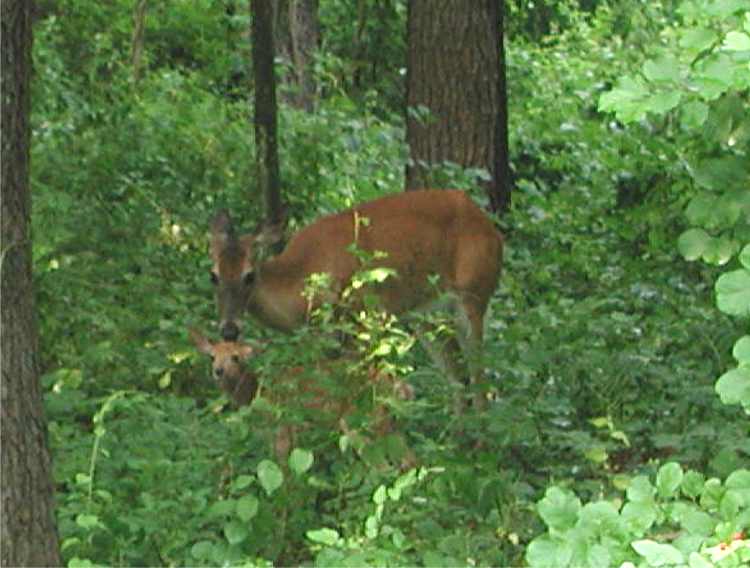 A well-hidden fawn
The next thing I did was to get lost, but it wasn't my fault: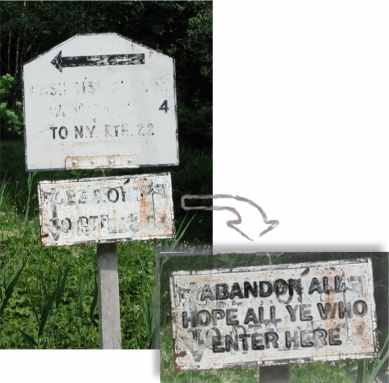 A quaint Berkshires road sign
I only had us go six miles in the wrong direction, but luckily it was ALL UPHILL. Why do you say lucky? Because we were able to coast all the way back to where we should have turned left. If Annette had to pedal her way back, she might have been less happy.
What the heck is this for?

One of the oddest sights on the ride was a milk can on pulleys attached to a barn.

Does anyone know what the purpose of this is? My guess is either to haul water up to the upper level of the barn, or a way for the locals to have fun with tourists.
We stopped at a covered bridge and met a nice couple, then pedaled into Sheffield where we stopped for a snack. We cut the ride a little short because of the added mileage in the morning, but it wasn't as short as I hoped because of another quaint road sign.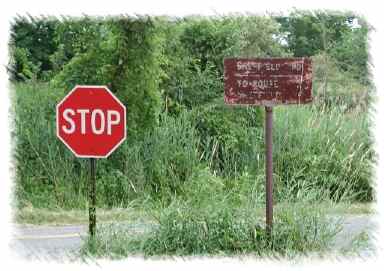 Those locals sure do like to have fun with the tourists, don't they?
Before getting back to Great Barrington, we were almost abducted by aliens. Well, we didn't see any actual aliens, but it is a well-known fact that the Berkshires are an Alien RV Dump Station. We found a field littered with huge alien droppings.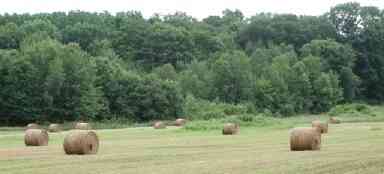 Those aliens sure like to have fun with the locals, don't they?
TED'S TRAIL - NORTH PACK - June 23

Activity run by Ken L..
Rain was in the forecast, and there were thunderstorm warnings. It didn't sound very good from the weatherman's perspective. And there was a huge blob of something-or-other on the weather radar. But we went anyway to hike Ted's Trail to the top of North Pack (Greenfield, NH).
Rain? ZERO. Heck, we even got some sun!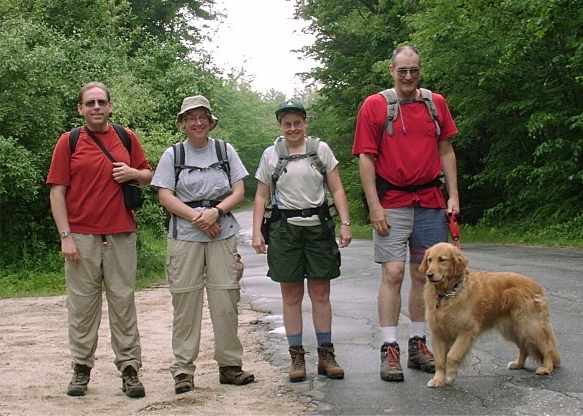 Your Webmaster, Jan, Annette, Tom, Tammy The Wonder Dog
| | |
| --- | --- |
| Trailhead | As you've probably read elsewhere in the GONewEngland Photo Pages, Ted's Trail (Mountain Rd, Greenfield, NH) is one of the most beautiful trails you could ever hope to hike. |
Ted Bonner, a local resident, created the trail (that would explain the name :-) ). He also created Carolyn's Trail, named for his wife, which parallels Ted's Trail and makes for a nice loop hike.
Ted routed his trail by some nice woods, a stream, some cascades, and a small waterfall. It shows off the real beauty of the land.
(Carolyn's Trail goes into a swamp.)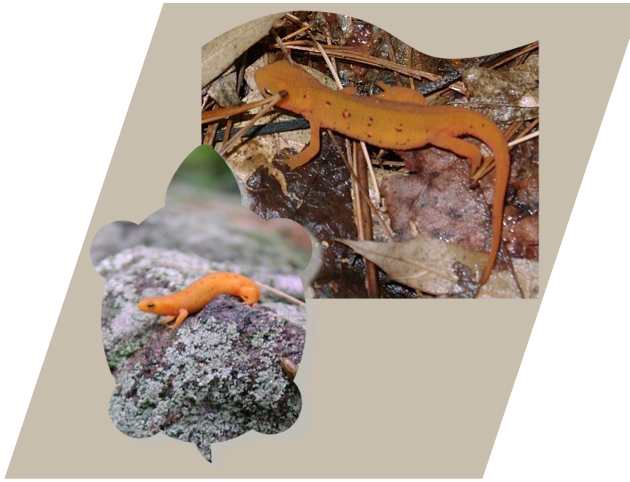 Fauna: The Red Eft.
(Not EFT, Tom - these guys don't know how to do electronic fund transfers.)
We stopped at the summit of North Pack for lunch.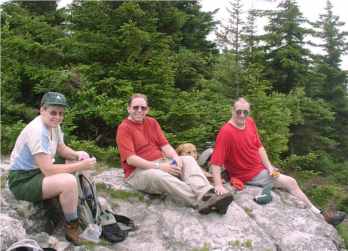 Annette, Your Webmaster, and Tom
No, Tom and I don't have the same tailor, optometrist, or barber.
Fortunately there were some breaks in the foggy, overcast skies, and we were treated to some views. I'm sure Jan appreciated the real deal instead of our constant detailing of what we knew was there but couldn't see through the fog.
After our time at the top we headed back out via Carolyn's Trail to complete the loop. About halfway down we wandered by a tree which was buzzing. Apparently there was a swarm of bees in the tree or near it---right alongside the trail! Yeah, Your Webmaster can run fast when he has to! Fortunately the bees were content to remain in the tree trunk or wherever they were and ignored us as we walked (uhhh...ran) by. Very weird sound, though!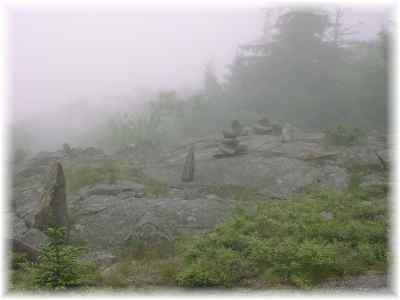 Spooky Cairns
It turned out to be a great day, despite the dismal forecast. Yeah, there was a little fog, and it was muggy and kinda buggy, but the weather held off nicely, and we got in a good hike.
No, Ted's Trail still doesn't disappoint.
CONCORD RIVER CANOE/KAYAK - June 16

Activity run by Dawn S.
Photos by Martin K.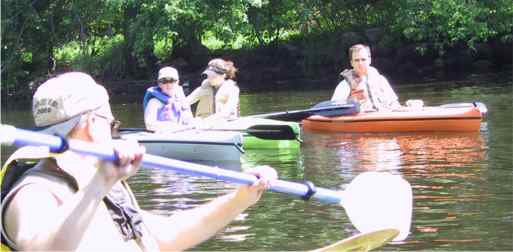 You can find the photos from the Concord River Canoeing activity at:
http://www.webphotos.com
In the lower left corner of the web page type in:
Email/Nickname: kessiman@hotmail.com
Password: gone

NICKERSON CAMPING TRIP - May 11-13

Activity run by Ken L.
Photos by Ken L. and Dawn S.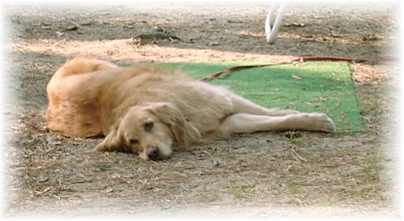 Tammy the Wonder Dog
| | | |
| --- | --- | --- |
| Cathy, Sarah, and Ashish | Friday greetings...Jan, the top of Dave's head, Annette, Janis, Tyler...and way in back I think is Kim | Dan "The Pup" and Alan "Social Director" |
| | Tyler creating a mound of nylon. | |
| | Judith and Jim grab some coffee, which Ruth brewed up and brought along on Saturday morning. It went pretty fast. | |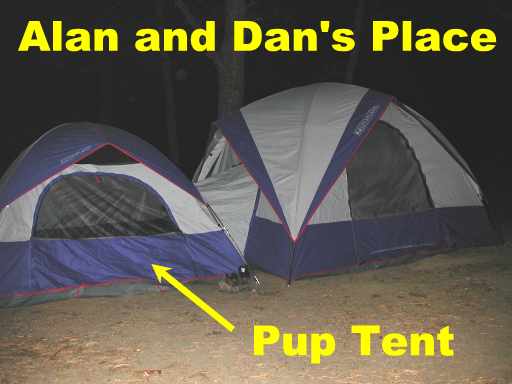 GONewEnglanders GOBiking!

A number of people went out for a neat bike ride on Saturday. The Cape is known for great biking. A bike trail runs through Nickerson.
While some were biking, others were hiking Great Island. Great Island is in Wellfleet, and round-trip it's about 8 or so miles along beaches and marshes and through woods. It has to be the best hike on the Cape.

If you plan to do it, bring lots of water. Wear sunscreen, and bring a hat. There's little cover out there, and the sun will bake you! Of course you could always bring your trunks and dive in!


Some critters we saw.

Seascapes

Seascapes
We saw some critters, including a brownish jellyfish, millions of tiny crabs (they were all over the place!), and several horseshoe crabs. Jan and I found two horseshoe crabs well away from the water in the sand, and because of the hot sun we though they were done for. Not so! When the tide reached them, they stirred to life and immediately went about their business (ummm...mating season).

Stopping for lunch in the picture below are Ruth, Dawn, and Jan (upper right), and Ruth, Your Webmaster, and Jan in the lower left.


Stopping for lunch

Your Webmaster gets no respect!

Pausing along the shore
On Sunday we woke up to a little rain, but that didn't stop Your Webmaster from whipping up some pancakes over the open fire. Most folks decided to head out, but Jan, KK, and I decided to go visit the American Cedar Swamp and the Marconi Station.

Boardwalk in the American Cedar Swamp

Kathy takes a seat in the crook of a tree.
Jan and KK pose for a shot.

Cape Cod Light

Then it was off to P-Town for some shopping.

We eventually found our way to the Cape Cod Light----and then to Moby Dick's on Route 6 for some steamers! Yummmmm!!!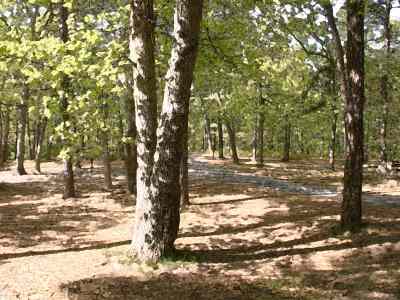 Monday...No, Your Webmaster didn't want to leave...
JENNINGS PEAK - May 6
Activity run by Kathy K.
| | |
| --- | --- |
| C'mon Kathy, let's go!!! :-) | Kristin gets caught laughing! |

Ready to head out!
Mark, KK, Randy, Chris, Your Webmaster, and Kristin
A fine day for a hike! The temps were warm, and the skies didn't show any clouds at all. This day Your Webmaster applied sunscreen, thank you very much!
Jennings Peak is near Sandwich Mountain in the Waterville Valley area of NH. It's a relatively easy climb for the most part, not as long as Sandwich Mountain itself, however, but very much worth it for the awesome views.
We started out and had our encounter with the river. Most of us made it over OK, but, well, someone managed to go for an early season swim! I won't mention who it was, though. The water was cold, but the air temperature was fine, so we didn't need to motivate her to continue on.
Encounter with the river



Successful jump!





Rest Stop


Encounter with Snow
There was still some snow in them thar hills as of May 6. We were told by a hiker coming back that the snow got pretty deep, making him decide to turn around. The snow did get a bit deeper and the path more fully covered, but it wasn't that bad. Probably a packed two feet at most, with a lot of bare ground. So the snow wasn't a big deal.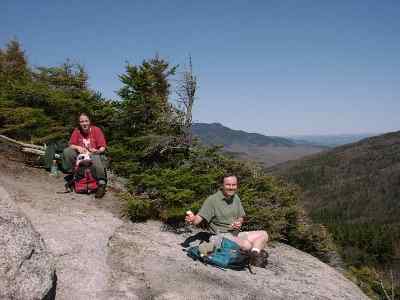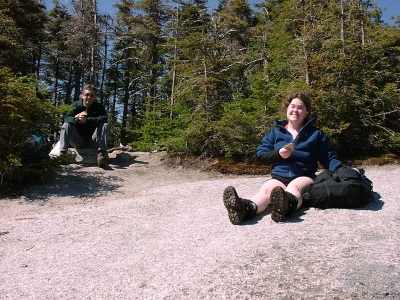 Lunching on Jennings Peak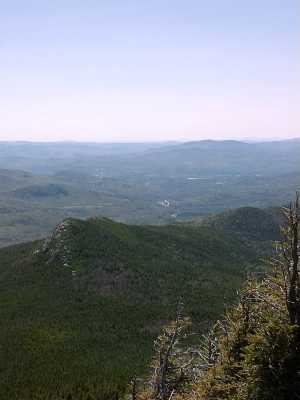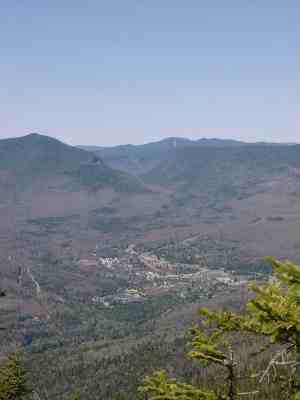 Excellent views to the west, of Waterville Valley,
and of the Presidentials.
NO clouds!
At the end of our hike we paused for lunch and admired the views. Mt. Washington was completely clear, and you could see the snow that remained up there high in the Whites. We didn't stick around too long, unfortunately, as the wind had come up and was cooling things down. So we began our trek back down and out.



A few more pics before we headed out of the woods...


...to find some folks snoozin!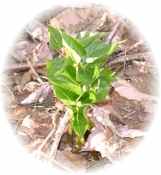 A fine hike!