BEAVER BROOK WALK - Hollis, NH - July 29
Activity run by Ken L.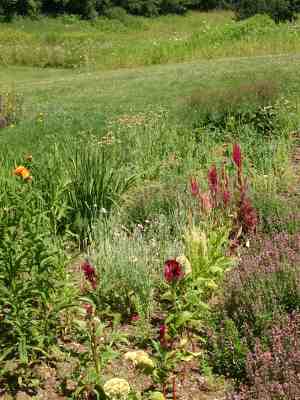 For the uninitiated, Beaver Brook is a large private conservation area in Hollis, NH (not far from Nashua). It's open to the public, and it's free. Trails abound, and there are several ponds to check out. Bird watchers frequent the place. Many trails are dual-use (hiking and biking). Visit the Beaver Brook site for a map, which they have recently scanned in, and then go.
We (Victor, Pam, Sean, Diane, Don, and Your Webmaster) arrived at around 10 at the Brown Lane Barn's parking lot. Our puppy pals joined us, too. That big black blob in front of Pam is Shadow, and that spry canine in front of Your Webmaster and Don is Jasper. (Shadow's OK...I think he was just trying to get a jump on getting himself incredibly dirty before hopping back into Pam's car for the ride home.)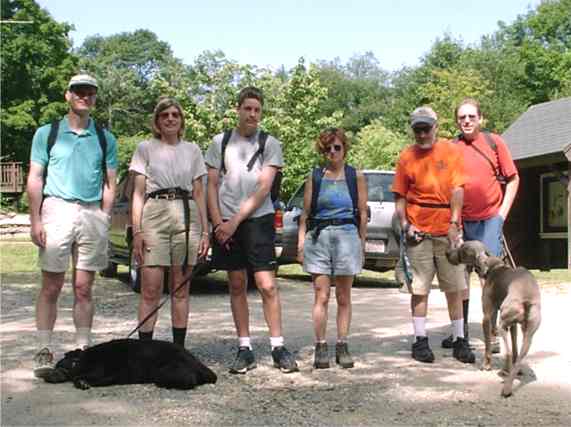 Our first stop was the flower garden, roughly .7 mi down one of the many trails. There are all kinds of flowers there, and every time you go something different is in bloom.

Don and Jasper

Sean takes a rest

Pam mentioned how she wants
to rip up her yard and just
put in one big flower garden!
After that it was back into the woods

and past some nice swampy areas


. One area looked recently flooded, as if the beavers of Beaver Brook were busy!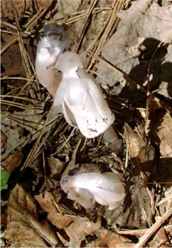 Indian pipe
GONewEnglanders always have time for a snack!

And Pam made some brownies! Thanks, Pam!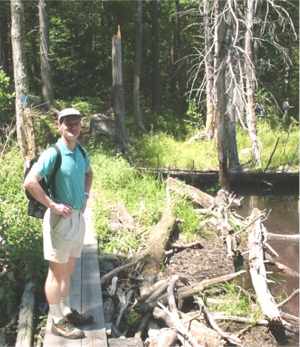 Victor following the trail...right over the beaver dam.
(Try crossing that section in the springtime...)
After a pause for lunch at the big Wildlife Pond

, we wandered back out of the woods and to the parking lot. Nope, we didn't hit all of Beaver Brook. We'll just have to leave that for another day.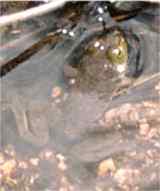 RRRRRRIIIIBBBBBETTTTT!!!
The Beaver Brook Association has posted some of Your Webmaster's photos on their site. Yours are welcome, too!