Wachusett Meadow - December 29, 2001

Activity by Ken Leonard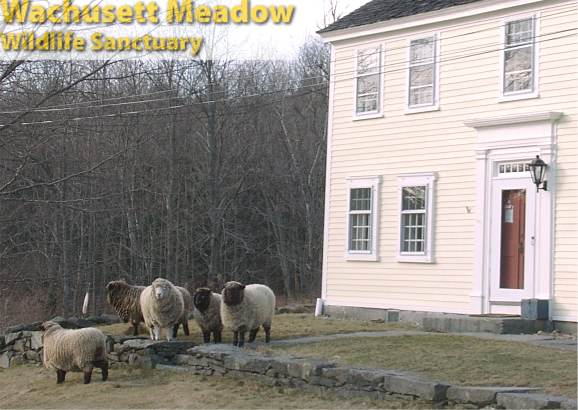 Barbie, Skipper, and Ken went on the lamb and flocked over to the Wachusett Meadow Audubon Sanctuary in Princeton, Ma-aa-aa-aa-sachusetts.
We were fleeced $3 apiece (the fee for this Mass Audubon Society area), and I grabbed a map to ruminate about our route for the day. I chewed on that for a while, but during that time Skipper caught her hand on a splinter on a fence. No problem - it only grazed her.
Being my usual mutton head self, I got the traditional start-of-hike picture.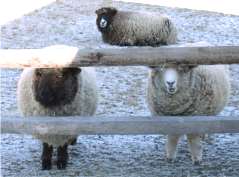 There were only three of us, and I wish more of ewe were out with us for such a nice December day.
Oh, wait. You thought the sheep were named Barbie, Skipper, and Ken? Sorry, didn't mean to pull the wool over your eyes.

(Jan G. (center) could've been either Midge or Skipper to hang out with Barbie and Ken for the day, but she chose Skipper.)
Wachusett Meadow is a little tough to find, but it's not far from Rte 31/62 in Princeton, MA. There are 11 miles of trails, and we wound up doing about 5 or so in a figure-8 loop. The day started out cloudless and cold, but it was nice in the sun. Clouds rolled in later on, and things cooled off a bit, but it wasn't a bad day for a hike at all.
Our first loop took us from the Visitors' Center to the Crocker Maple

, which is a huge old maple tree. Another interesting thing to take a peek at is the Glacial Boulder, a bit further on down the trail.
From there it was to the top of Brown Hill.

Off to the north is Mt. Wachusett (top part of the picture). It was interesting to note that the wind farm was up and running, as a few of the turbines were spinning in the wind. In the bottom part of the photo you can see the view to the south. If you hang around at the summit of the hill in the warmer weather, you'll see bunnies and hummingbirds. There's a nice bench to sit at under those birch trees.
"Otter ond" (well, that's what the sign said!) was next on our loop. Those who visited Otter Pond previously will remember a somewhat badly constructed trail to get to it, then a small dam. This trail has been rerouted, and you now take a nice trail to the north side of the pond where there's a bench and a big beaver lodge. And - wouldn't ya know it - a beaver!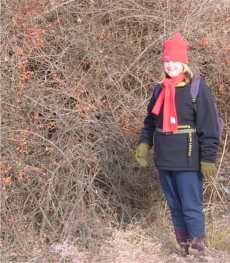 Barbie in front of a bittersweet bush
We returned back to the Visitors' Center to begin the second loop of our journey, and it brought us through some old pastures and alongside an old flooded forest (top part of picture).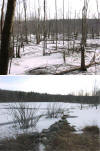 We made it back out to the big barn near the parking lot and stopped for a moment at the Wildlife Pond (bottom part of picture).
Wachusett Meadow is a conservation area with a variety of habitats that teem with life all year 'round but especially in the warmer weather. The hiking is very easy, and it's easy to put together an enjoyable 4-5 miler for a lazy afternoon stroll.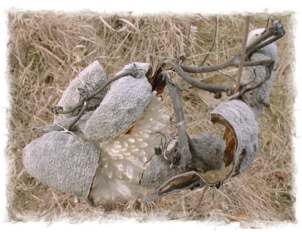 Milkweed, one pod still with seeds
Note: Wachusett Meadow restricts the activities in the area to foot traffic for the most part. No dogs, no X-C skiing.
Heald Tract Walk - December 23, 2001

Activity & Pictures by Ken Leonard
Trip report by Shadow
Woof!

Most of you know me as Shadow, the big black dog who chums with Pam F. on all these hikes. My real name cannot be pronounced by humans. Yep, that's me in the picture with Pam.

I was on the hike with that Webmaster guy and Pam on Sunday. Some "Heald Tract" thing in Wilton, New Hampshire.

Ahhh, the woods. The sights, the sounds, the smells. And more smells. The deer, the occasional prickly porcupine or possum, the mice, the birds, my cousins the coyotes. No, we rarely see any of them, and my human friends have little clue as to what has passed by any particular point. But I know who has been there. This makes any hike a very exciting time for me!
Boy, those humans were lucky someone local happened by at the start of the hike and offered to go get a map for them. They couldn't even find the trailhead without the map! I wouldn't have been lost, of course, but I can't help it if those humans are dragging me around and are always making me go the wrong way. We'd've been lost for sure without those maps. The guy with the maps explained that the Heald Tract joined up with a few other conservation areas, and all the trails interconnected. I don't know what that means, but it sounded good to me.
It started out very sunny, but that's sometimes annoying because it's too hot on my black fur! The sky did get a little hazy later on. It wasn't very cold, there were next to no breezes, and there was a little snow on the ground. The snow was crunchy---I like crunchy snow! It tickles my paws.
Pam forced me to wear that silly pack. She makes me carry my own water and food. Fun. So I just spend most of the day trying to lose the pack...heh heh! Anyway, we took off down the trail (once those two finally found the trailhead, thanks to the map guy) and on to our five mile mostly flat adventure.
There are a number of ponds in the Heald Tract. I'm a Black Lab, and, of course, swimming is my game! Think Pam would let me swim? No way. "I don't want a stinky, wet dog in my car." Well ex-cuuuuse me. So all I could do was look at the ponds. There was ice pretty much all the way across on all of them, but there were open areas near the shore here and there. Pam wouldn't even let me put a big toe in. No fair!
...so I made sure I put my paws in every little stream and swampy area along the way. Heh heh!
We came across a nice brook

where Pam gave me some kibble. (Pam and Ken had chocolate chip cookies that Pam made. Think I got any of that? No way. Ken wanted to give me some, but Pam said no. And Pam wonders why I whine all the time when we go hiking.)
All my doggy friends know that humans are every easily amused. Pam and Ken spent a while just gawking at some view from an old orchard.

I smelled everything there was to smell around there, and I wanted to get going. What was the point in hanging around? Those guys could see the Uncanoonucs, so they opted to stop and stare. Yeah, big deal, been there, smelled that, let's go please.
I had to laugh...My human friends just loved rocks, too. Rocks? What's the point? A little rock wall, a collection of boulders someone else called "The Rocks" on the map. I'll show ya what I do to stone walls!
And that Webmaster guy got pictures of all these rock things. Life, please. Get one.
No, the life of a dog isn't easy. Just ask any canine.

"Come here boy, can I scratch your ears?" What's all this with the ears? Just give me a snack, and that's all.

And there are the endless photos. "Let's put this bow on the dog and take a picture--he'll look cute." And here I'm stuck sitting next to that Webmaster guy for a picture. "Look over here, Shadow!" Heck, it was hard enough to sit right next to that stinky hiker---I didn't want to have to look at him or at the camera or at anything. Besides, I think with that beard he just wants to look more just like me. Can you blame him? Silly, though.
Anyway, I want to say hi to my friends Butch, Dingles, Bruiser, and Chow-Chow---apparently you guys had been through the Heald Tract earlier. Yeah, it's not a bad hike, and I'll probably wind up there again. Pam and Ken like those easy 5 milers.
I just wish I could go by myself! With a bag of chocolate chip cookies, of course.
Kidder Mt. Hike / Pasta & Games Night - December 8, 2001

Activities by Ken Leonard, Pam Fortier
Unlike the days earlier in the week, Saturday was cloudy with a chill in the air. It felt like snow was going to move in, and it did later on at night, giving much of New England its first good coating of snow for the winter '01-'02 season. Can cross-country skiing be far behind?
Snow or not, we planned on having a nice hike up Kidder Mt., which is an 1814' hill in Temple, NH. The trailhead is at the intersection of Nashua Rd. and Temple Rd. (take West Rd. from the center of Temple, and you'll get there). The hike is about 5 miles total with a rather gradual ascent of 600'. For relatively little effort, though, you get a wonderful view that includes Mt. Monadnock to the west and Boston to the east.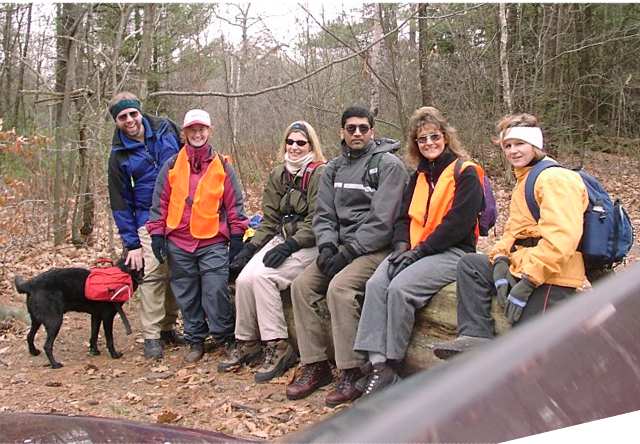 Shadow, Your Webmaster, Jen, Pam, Badri, Donna, Diane
We arrived at the trailhead around 10. The trail is mostly an old road, making it a really easy hike for about half of the way. Remember to stay on the trail, as it veers off the old road about three times. The 2nd of those three times will bring you to a spot where a big tree was destroyed by lightning---keep an eye out for that interesting sight (although it was much more evident when I ran across it a few years back about a day or two after it happened...nowadays Nature is just blending it in with everything else).

After you pass the private pond, stay straight (don't follow the road as it curves to the right).

And don't forget to turn left immediately after the power lines! Then follow the trail as it turns left again and into the woods.
Once in the woods, you begin your ascent. That part is over pretty quickly, and you come out to an area of amazing devastation.

What happened here?
A few years ago there was a very bad ice storm in the area, and many of the trees near the top of Kidder Mt. were destroyed. The heartbroken land owner had loggers come in and salvage anything they could, and now the forest is growing back. Very few trees were left standing, unfortunately, as the ice was incredibly bad. But given enough time, Nature will come back, and the many baby evergreens and other trees in the area will attest to that.
While I snapped a photo or two, Jen took a minute to have a seat on a rock just the right size for her.

Shortly after that, we were at the top, where we had a bit of lunch and took in the view. The wind isn't too bad up there (if you know where to sit), but it wasn't all that warm because the sun was hidden behind milky gray clouds.

Fortunately the clouds were high enough up that we got miles of views, including Boston and...

...Mt. Monadnock.
Our trip down came all too soon. Donna and Diane ran on ahead, reached the cars, and started back up the trail to meet us slower folks. (Your Webmaster isn't one of those battery-powered bunnies these days! :-) ) Eventually we made it back to the cars and sped off in search of coffee.
Then most of us went over to Pam's house for an evening of pasta and games!

Shadow can balance a doggy bone on his nose, flip it into the air, and catch the yummy treat in his mouth. Well, most of the time anyway. Sue looks on as Shadow gets ready to chow down.

Pam F. posted a Pasta and Games Night activity, and most of the Kidder Mt. folks went along, including Pam and Shadow (of course), Your Webmaster, Diane, Badri, and Jen. We were joined by Sue.

Dinner was great---pasta with a nice sauce and meatballs, salad, and bread. Latte and cheesecake rounded out the dinner (and rounded out Your Webmaster as well).

We invented our own rules for TriBond and had a good game. We played that in addition to playing Keep Away with Shadow and a tennis ball.

Badri had no luck getting Shadow over his fear of the tile floor, despite a valiant effort. Better luck next time, Badri!

Knowing that snow was due, we departed from Goffstown just as the snow had started to leave a coating on the ground.

Thanks, Pam!
Mt. Uncanoonuc Moonlight Hike - December 1, 2001

by Ken Leonard
As far as any one of us was concerned, there was no way that it could have been December 1st. Well, maybe if you were in Australia or something. The day's high topped out over 70 degrees, and what should have been a hike in cold, blustery December weather turned into a wonderful evening saunter to the top of Mt. Uncanoonuc in Goffstown, NH.


Jen, Pam, Diane, Jan, and Your Webmaster
The hike up Mt. Uncanoonuc is only about 1/2 hour, and it's a steady, easy grade (with only one or two slightly steeper spots). The trail is wide and easy to follow, making it ideal for an easy sunset hike.
We arrived at the top around 3:40, and we found a good spot to see the late afternoon sun and then the sunset at around 4:12.


Late afternoon sun, and, finally, sunset

After the sun went down, it did get a little chilly. Jen and Jan bundled up. But it was far from the type of cold you'd expect at this time of year!
We enjoyed some apple cider and kept an eye out for the moon to come up, due just after 5pm. And come up it did!
| | |
| --- | --- |
| Moonrise | An eerie red sliver appeared on the horizon to the north of Manchester. We watched as the moon made its daily struggle up into the sky, first a large red disc, then more orange, and finally yellow. |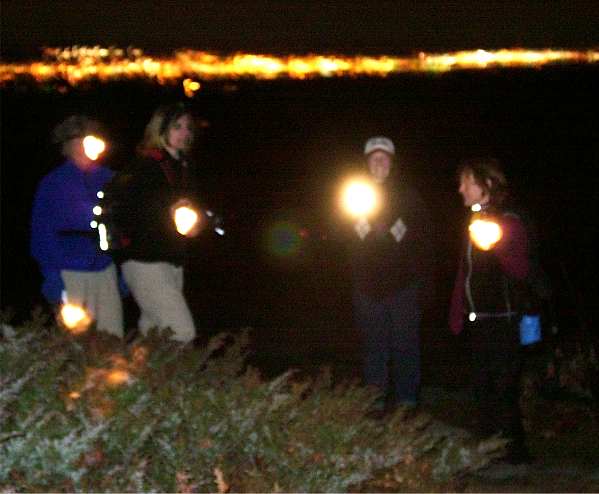 Flashlights and headlamps ready!
The lights of Manchester are in the background.
Thankful for the treat of the warm weather, a nice sunset, and a spectacular moonrise, we broke out the headlamps and flashlights and made our way back down the trail. By the time we reached the car, the moon was high in the sky and a stark white, lending its light to the forest. Nature gave us a fine show.
To top off the evening, we went out for some Chinese food, then back to Pam's place to play with Shadow and get some yummy chocolate chip cookies.
Night hiking in December doesn't get any better.