Hike in Lynn Woods - Nov 17, 2001

Activity by Dawn McNeill
Photos by Ken Leonard, Martin Kessler, Dawn S.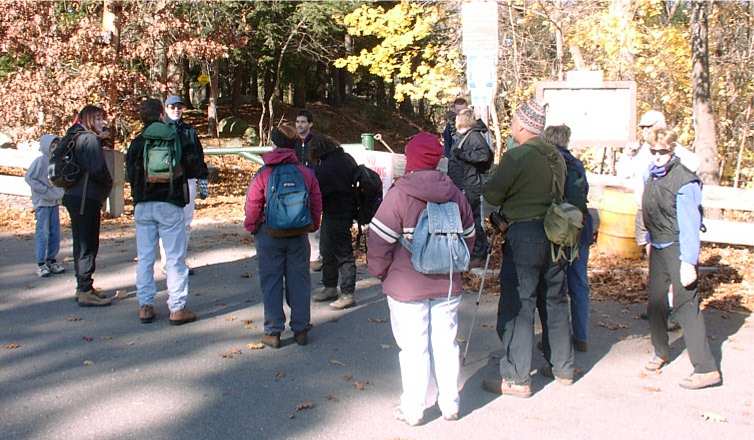 From trip leader Dawn...
We had a great day of hiking on Saturday with fine weather and an excellent turnout. This was my first time running an event with GONewEngland, and it seemed to go very well. I have to admit to being intimidated by the size of the group – 19 people, including a few first-time GONewEnglanders and our esteemed Webmaster! We only ended up losing one person along the way (well we didn't exactly lose him, he elected to stay behind at our break spot to take a nap and enjoy the warm sunshine). So if 10% attrition is allowed, I'd say we squeaked in just under that percentage. I had suggested that we might gather for lunch after the hike, but due to other commitments, I was forced to bail out. I'm not sure if some people decided to head to the Hilltop or Border Café or another establishment on Route 1. It seems like everyone enjoyed themselves, and I hope to offer some other local hikes before the snow flies.
Thanks for the report, Dawn!

From Your Webmaster (report written earlier)...
Whew! There were a lot of us ready to head out for a walk in Lynn Woods (and the picture doesn't even show everyone who came along). I don't know how many people eventually showed up for the walk, but Dawn had sixteen on her list. Your Webmaster snuck in, as did a few more.
The weather could not have been better. It was sunny and cool, great fall hiking stuff for sure.
Lynn Woods is a good sized parcel of land along the Lynn-Saugus, MA border, off Walnut St. off Rte 1. There are two towers to check out, a stone tower and the remains of a fire tower. There are also a few ponds and a picnic area or two. And, of course, miles of trails and old fire roads.

Stone Tower


Dungeon Rock. Coming through the Lemon Squeezer are Jeff, Daniel, The Admiral, and Michael.


Snack time, with a view of Boston


Trip leader Dawn...and...uhh...Dawn.
(We had 2 Jills and at least 3 Michaels along with us, too.)


Hi Martin!
Our walk took us to Dungeon Rock and the Lemon Squeezer, which a few of us dared to try (Jeff's son Daniel did it at least twice, maybe more). We then wandered past a few ponds (or, actually, a few ponds which have dried up and become fields), and on to the stone tower. Eventually we made it to the remains of the fire tower, and from that area there's a great view of Boston and a good place for a snack.



The ponds, or what remains of them. It looks like they're allowing them to drain.

Your Webmaster

After snacking and sticking around for a while we eventually got the motivation to move on, leaving The Admiral behind lounging in the sun. A mile or two later, through some nice woods, we were back to the cars.

Topping off the day, a bunch of us made it over to the Border Café on Rte 1 for some good Mexican food.

As always, it was good seeing all the familiar faces, plus a whole bunch of new ones! See you again soon!
Weird thing of the day: The group ran into a dog having a good time romping in the woods. Gee, that dog looked familiar, just like Elvis, a dog we met at the Bartlett Inn the previous weekend. Wouldn't that be funny if..."Heeeere Elvis!" said the person walking the dog. No way!! Yep, it was Elvis and Suzi, whom we had seen at the Bartlett Inn!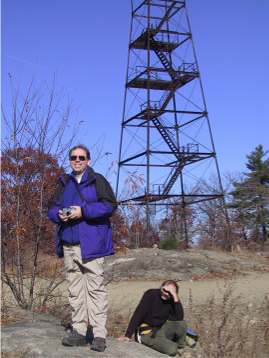 Your Webmaster and The Admiral at the old fire tower

Bartlett Inn Weekend / Crawford Mt. / Mt. Willard - Nov 9-11, 2001

by Ken Leonard
The Bartlett Inn is a country inn in Bartlett, NH, just down the street from Attitash, somewhere between the Conways and Mt. Washington. Your Webmaster likes to head there after the foliage and before skiing---no bugs, no tourists, great late fall and early winter hiking.

Joining me this weekend were Jan G., Janet D., Ruth C., Pam F., and Our Welcoming Committee/Motivator Kathy K.

Yvette L. came by, too (way in back in the first picture), as well as Ruth's daughter Lisa and Lisa's boyfriend Carlos.
Over the weekend we got in some hot tubbin' at the Inn, and they provided us with some excellent breakfasts. Saturday's special was apple cider waffles and Sunday's was an omelet with cheese and veggies. The good food was necessary to fuel us up for the hiking we did on both days.
Saturday we decided to take the Davis Path up Crawford Mt. It was a little nippy, but not too bad, and it started cloudy and only got worse, unfortunately.

At the parking lot Jan and Janet got their gear in order.

We were then off to the trailhead and on up.

The Davis Path is a steady climb, and about 2/3 of the way up it started to snow. The summits were increasingly in the clouds, so only the quickest got any view at all. The rest of us saw mostly clouds and some snow coming in. But it was still good to be up on a mountain!

By the time Pam, Shadow, and I reached the ledges near the summit, the snow had made things a bit slippery. We went on just a little further at Ruth's urging (she was coming back from the summit), so we went up to another set of ledges where we met KK, Lisa, and Carlos coming down.
Because of the slippery conditions, Pam and I decided not to forge on any further. We stopped for a few minutes to let Shadow get some food and water, and we turned back. About halfway down the snow flurries turned to drizzle as the snow disappeared underfoot. In a little while we were back to the car and back to the Inn, where the speedier GONewEnglanders had already enjoyed some time in the hot tub and were sitting in the big living room by the wood stove, just hanging out. It's great work if you can get it. :-)
Somehow we managed to get some motivation and head to the Red Parka Pub for dins. Good stuff!
Sunday's hike was--yep, you guessed it!--Mt. Willard. This is an excellent winter hike especially for those new to winter hiking, as it's relatively short, the trail is out of the wind a lot of the way, and the grade is moderate and steady. In fact, this was GONewEngland's second activity.

KK, Shadow, Jan, Pam, and I stepped out into the blustery cold (low 20s, some wind), got our gear on, and hit the trail. In the woods there was no wind, and it was a nice hike, mostly on a few inches of snow (great for Your Webmaster's feet).
Any pictures of that view from Mt. Willard just don't do it justice. You really have to go there and experience it. It's not that hard, it's easy to find (behind Crawford's station on Rte 302, right at the AMC Hostel across from Saco Lake), and the rewards are certainly worth it!
We made it to the top where we had some lunch, then it was back down to the cars. We went over to Woodstock for something to eat, at which point we made our ways home. But not Kathy, as she decided to spend one more night at the Bartlett Inn. I can't say as I blame her.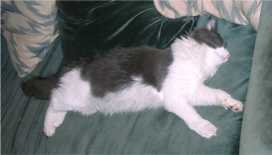 And I'm sure KK took after Zoe, a fluffy feline visitor to the Inn sound asleep on the couch. Zoe knows: It's great work if you can get it. :-)
Purgatory Falls - Nov 3, 2001

Activity by Pam Fortier
Pictures/Trip Report by Ken Leonard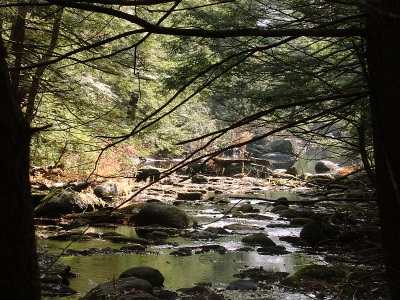 Fall hiking. It just doesn't get any better. Cool days, nice colors, no bugs.
Gee, where have I heard that before?
Five of us (Your Webmaster, Pam, Jen, Chandra, and Linda) found our way to the trailhead for Purgatory Falls in Lyndeborough, NH. Although listed in the book as a 2 mile trail, it's really more than that. The 2 miles were probably just to the Upper Falls area, but you can go several more miles in a loop by making your way to Lower Falls via Janet's Trail, crossing over a bridge just shy of Lower Falls*, and taking the Purgatory Brook Trail up the other side. It's a wonderful loop of about 5 miles! There's an option off the Purgatory Brook Trail to head up onto a ridge as well, but we opted to stay closer to the Brook so we could see the falls.
Trail note: Janet's Trail is rather rocky.
Our first stop (and last stop, but on the other side) was Upper Falls.

Chandra and Your Webmaster in the Beanpot

Upper Falls is the largest of the three falls in the area, and it has the interesting geological formations. As we approached the falls via Janet's Trail, we encountered the Devil's Beanpot and the Devil's Footprint.


My, Pam! What big feet you have!
The Beanpot is a large, circular hole worn into the rock. It has dirt at the bottom, so it probably goes down a bit further into the rock. I can only imagine the length of time it took for the water and stones to wear away that pothole! The Devil's Footprint is another rock formation shaped like a large shoeprint.
Ironically you can't see the falls itself approaching by Janet's Trail! We had to wait until our return along the Purgatory Brook Trail to get a glimpse.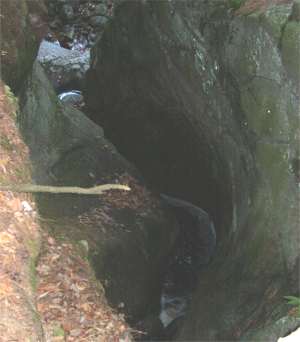 From the top: A sinuous stream wears through the rock
We passed by Middle Falls on Janet's Trail, but as that trail is a bit above the river, we were unaware that Middle Falls was there. On our return, though, we caught it. Pam and Jen swear they can see the head of an Indian at Middle Falls

. Can you?
Onward we went down Janet's Trail, crossing a snowmobile trail, and encountering a very long pond. We discovered later that this pond is kept full by a beaver dam at the far end. And there was plenty of beaver activity in and around that pond, too---they take down some really big trees sometimes!
The extent of our walking led us to Lower Falls.

Lower Falls elicits one of those "Oh, wow" moments as you turn to look at the pool. A small cascade (not really a "falls") leads to the pool, which is quiet, peaceful, and secluded. There's a bench there for you to sit and enjoy the scenery.
We snacked there, then made our way across a small bridge and up the Purgatory Brook Trail to make our return to the parking lot.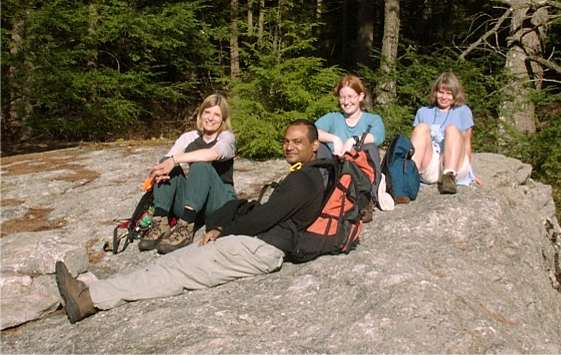 After we stopped on a neat rock and lazed in the sun for a little while, Linda had to take off, but the rest of us continued on back up the Purgatory Brook Trail where we got a good look at Middle Falls and Upper Falls.
Then it was on out and over to Elisha's in Milford for dins...of course...just as the sun was setting.
* - After looking again at the map, it's possible that we mistook "The Rapids" for "Lower Falls". Well, then, next time we'll just have to take the trail past what we thought was "Lower Falls" and see! UPDATE 6/22/02: Yep, that's what we did! See an updated map in the June 2002 trip report.