Middlesex Fells - June 29, 2002

Activity by Ken L.


Boston, Massachusetts
Deb, Jack, and I took the Skyline Trail around the west side of the Middlesex Fells Reservation in the Melrose, MA area.

Our day started at the Sheepfold parking area off Rte 28 alongside 93 south. We decided to take the "who's who" trip report picture at the first outlook we came to along the Skyline Trail.
Although it's hard to see in the photo above, there's a nice, yummy ripe blueberry on the right. (Don't bother going back and looking for it---I can assure you it's gone. Yummy!)

On the right is a garter snake. These guys are quite harmless, but they will nip at you if you taunt them. This ain't no "Crocodile Hunter" show, so we just the snake go on its way.

Please leave the animals alone when you're out in the woods. Blueberries, however, don't move fast enough...:-)

We anticipated the arrival of dancing elves at any moment.
Our trek took us most of the way along the Skyline Trail, including a stop at the lookout tower that gave us a great view of Boston (above). After that it started getting late for Jack and Deb, who had other things they needed to get to, so we took the Reservoir Trail back to Sheepfold.
This was only the second time Your Webmaster had been in this area (at least since the Nixon era, and even then he's not sure), the first being an evening rain-out on the Skyline and Bike Loop trails a few weeks ago. This time I got to see more of the trails and some great views of the city---but also some surprisingly woodsy areas as well. Not bad for a park in an area that sees cars more often than skeeters!

Deb and Jack near one of the three reservoirs.
Purgatory Falls - June 22, 2002

Activity by Ken L.
We last did Purgatory Falls in November 2001, and it turned out to be a delightful little hike of some 5 miles or so with some rather pretty scenery along the way.

This time out Pam and I actually did the whole length of the trail, and there were some surprises for us in store...but also some not-so-nice surprises.

Sorry, no Shadow! The day started out a bit too hot and muggy for the pup, so he didn't come along.
Purgatory Falls has some wonderful mossy glades and waterfalls, plus a long, narrow beaver pond.


Beaver dam


Nice, quiet spot for contemplation
There are several areas of mountain laurel, which was just about in full bloom for us! It's worth braving the skeeters to go in and have a look. Plus this time out we actually did get to the lower falls, quite nice, although apparently empty at other times of the year.

But with the bugs and the rain, we decided to make one pass through the woods instead of heading back along the other side of the brook as a loop. We made it out to the lower parking lot, then it was a rather long walk up Orchard Hill and back to the car. We figure it was about 3 miles in the woods and another 8 or so on the road. So I'd suggest that if you wish to check out the mountain laurel in late June, head in the lower parking lot (Center Rd. to a parking lot on Purgatory Rd.) and follow the brook until the beaver pond, then beat a hasty retreat before the skeeters drain you! Else this type of hike is probably best when the bug population is a bit lower.
Unfortunately it looks like this wonderful hike may not be around forever, as the folks at Feel Good Farm are clearing land on one side and have obliterated the trail in parts. Hikers are welcome, however, for as long as it lasts. Hopefully they're just doing a bit of logging and things will grow back. Also there seems to be a little more clearing being done on the other side of the river (which we didn't get to this time). Let's hope the chainsaws and bulldozers leave enough of the area in its natural state so others can enjoy this hike for generations to come.
I found a report on-line from January 2000 that indicates the conservation efforts going on in this area. The towns of Mount Vernon and Lyndeborough wish to create a 300'-500' buffer around the brook and get land owner permission and easements for the trail system. They may connect the Purgatory Falls area with Joe English Hill Reservation in the future as well.
I don't know of any other place like this one with its quiet pools, gentle brook, and lush glades. Highly recommended.
Mt. Sunapee - June 16, 2002

Activity by Pam F.
Report by Pam F. & Ken L.
Photos by Ken L.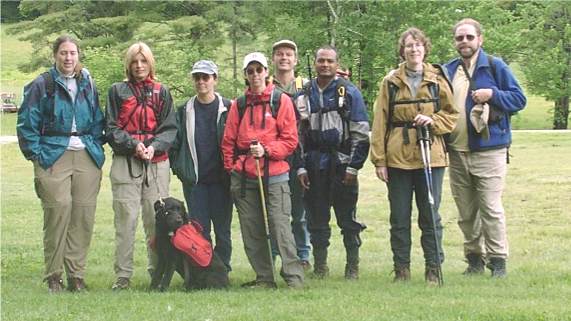 1
Dawn, Pam, Shadow, Marilyn, Michelle, Randy, Chandra, Liz, and Your Webmaster
When we hiked up, it was cloudy. Part way down it started to rain (with a little thunder). By the time we were off the mountain, the sun was shining. As we drove away, it was cloudy again. Just another day in New England!
There were 8 people and one pup along on this hike. Shadow was very cooperative (this time) when we put his pack on.

The trail was wet and quite muddy in some spots. There were a number of downed trees including the one below struck by lightning.


We're glad we weren't there when this happened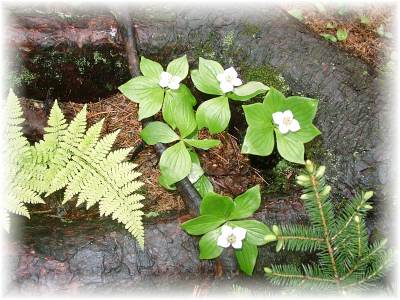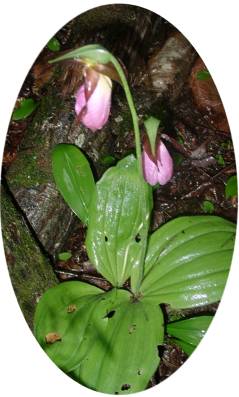 Ferns and flowers along the trail, including ladyslipper (of course!)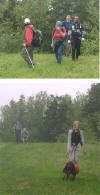 The Mt. Sunapee trail has a gentle slope, and we reached the summit fairly easily, where we stopped to have lunch. We shared our various lunch treats.

The fog shrouded our view, though (usually you can see up to the White Mountains). After lunch we walked over the ridge to the overlook where you normally get a great view of Lake Solitude and beyond, but...


Still, it's a nice place to rest and hang out for a few minutes.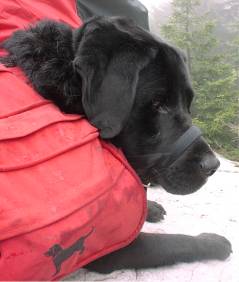 Even Shadow thinks so.
Oh well, at least the clouds/fog/drizzle/rain meant comfortable hiking temperatures. After our adventure we went to have some dinner at a local establishment, then it was time to head home.
Mt. Hale - June 8, 2002

Activity, Photos by Tom S.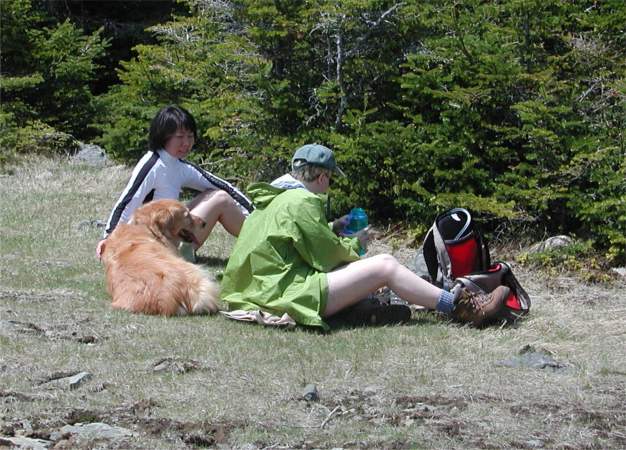 Naoe, Tammy, and Annette take a break...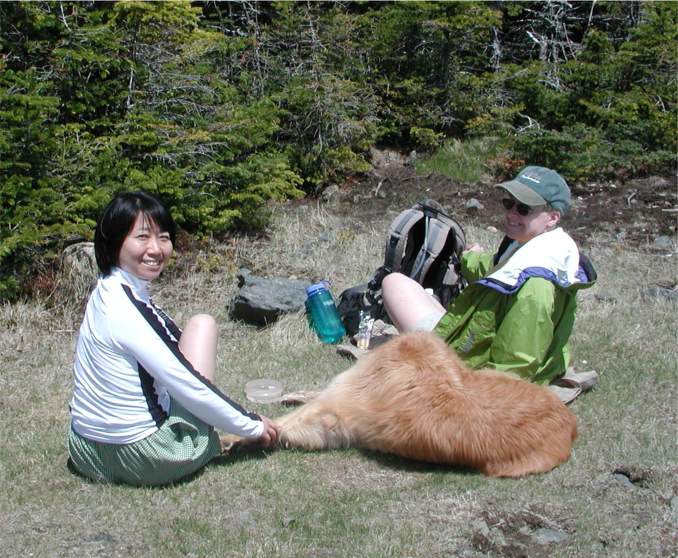 ...but while mugging for the camera, Tammy digs into Annette's lunch! :-)
Jennings Peak/Sandwich Mt. - June 8, 2002

Activity, Report by Ken L.
Photos by Ken L. and Dawn S.
Look---recharged batteries!!! And in more ways than one for Your Webmaster...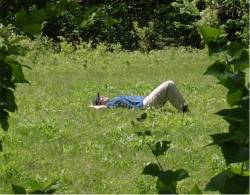 Uhh, Dawn? Dawn? C'mon, let's go, we've got a hike to do! Uhh, Dawn?
Saturday's hike took us up Waterville Valley's Jennings Peak and then to the summit of Sandwich Mt.---just shy of 4000'. It's a relatively gentle climb along the Drakes Brook Trail to Jennings, then over the Sandwich Mt. trail to Sandwich. Our return was along the Sandwich Mt. Trail the whole way, and there are sections of that I wouldn't want to ascend, I'll tell ya! It was some 7.5 or 8 miles by the time we were back at the cars.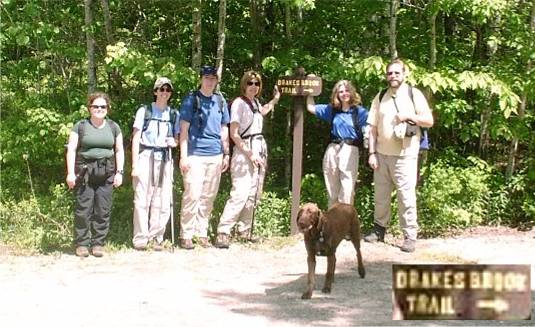 Kathy K, Michelle, Dawn, Pam, Ruth, Your Webmaster...
and Cooper (who was hiking with other people but wanted his picture taken)
Our day started out bright and sunny but became overcast later on. It seems that every time Kathy K. sets out for Sandwich Mt., the weather closes in. Fortunately we were climbing "just" Jennings Peak, right? (Grin!!!) So the Weather Gods allowed us to pass with only a raindrop or two all day long.
The photo above was about the last we saw of Ruth. She's been hiking with "younger people" (AHEM!) like her daughter, so she's used to moving a bit more quickly than us "older folks", right, Ruth? :-)
The Drakes Brook Trail follows an old logging road part of the way. Our first obstacle was the stream crossing. Last time we did this hike, someone went for an unintentional swim, but this time there were no mishaps. Well, almost.

The trail continues at a reasonable grade for a while with just a few short steeper sections, following Drakes Brook most of the way.

Your Webmaster snapped a few pictures of the local flora, including trillium and ladyslipper.

Pam and I were way behind the rest of the group as we approached Jennings Peak. Ruth had been there for a while long before we arrived, and she was coming down off the peak to head over to Sandwich Mt.
The rest of us reached Jennings Peak just in time for the hunger pangs to set in, so we grabbed some lunch...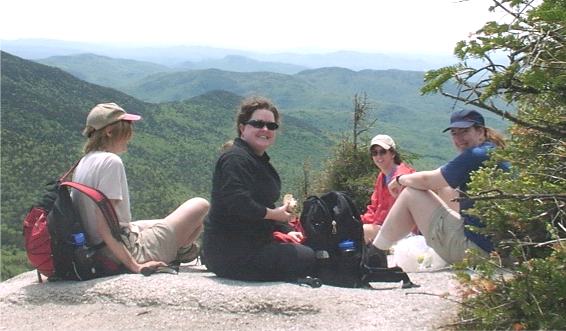 ...and lazed out.

But our real goal of the day--not what we told the Weather Gods--was Sandwich Mt., provided Your Webmaster's feet held out. From Jennings Peak we eyed the ridge that would lead us to the top of Sandwich, and we decided to go for it - another 1.2 miles on.

There were a number of blow-downs on this part of the trail, but it's a rather easy slope for the most part.

There's a somewhat limited view from the summit, yet we snapped a few nice pictures, including some of the NH Lakes Region from a small vantage point on the other side of the peak.


Sandwich Mt.: Just 1.2 miles thataway!
The day was growing old, and Your Webmaster was last one off the summit at 4pm. Fortunately at this time of year there's more than sufficient light, so time wasn't a huge concern, but it's better to be safe than sorry, and 4pm was our cutoff time.

The way down was along the Sandwich Mt. trail, and Pam, Kathy, Ruth, and I hiked most of it together, Ruth preferring to slow down on the descent.

Further down the ridge from Jennings Peak is an overlook where the valley and all its beauty just flows out from under your feet. We stood there for a while just admiring the view, listening to the wind in the trees and the sound of the brook far below in the ravine.
After descending some really steep sections on the Sandwich Trail and weaving down the ridge for quite a while, we came across Drakes Brook again and proceeded across. Up the other side and through a field, and we were back to the parking lot.
The gang and I found a pub on Rte 49 for dins, and we're really glad they took stinky hikers!! :-)
Great day overall. Major thumbs up for that hike for its decent and not-so-strenuous slope, its variety, the fact it's a loop, the good stopping spot for lunch, and views.

Ruth C. invited me and KK to hang out overnight at a ski lodge in Woodstock (thanks for the invite, Ruth!), and in the morning we decided to hike up Mt. Potash.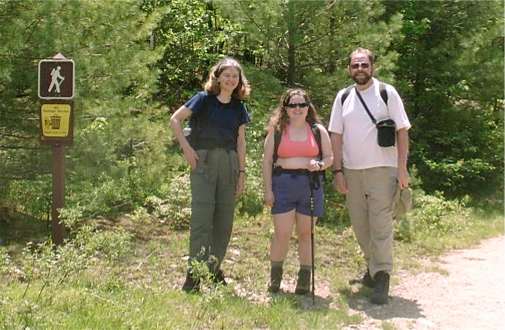 Ruth, Kathy, Your Webmaster
Mt. Potash is 2700', reachable from a trail off the Kancamagus Highway. Round trip it's about 4 miles, with a stream crossing early on and a few steady grades.

KK and Ruth along the trail
The views from Mt. Potash

are quite nice, if a little limited. Along one ledge halfway up you get a very good view of Mt. Chocorua (top). The little black dots in the bottom picture, you ask...ummm...black flies. Thank goodness for the wind! At the summit we stopped for a while, and Your Webmaster found a great cut-out in the rock to laze for a while. The wind kept the bugs away a little, so we got to spend some relaxation time at the top.
On the way down we came to the stream crossing, but it was time for Your Webmaster to give his feet a treat in the nice, cold water...aaaaahhhhhhhhhh, very nice. :-)

As I made for the end of our delightful Sunday hike, I thought back to the two hikes I'd done over the weekend. Having been out of action with foot problems for a while (and still not 100%), it hit me how much I really missed the exciting hikes, the views, and the good people I've been hiking with over the years. May there be many more to come. ...kl...
Mt. Israel Hike - June 2, 2002

Activity and Report by Ken L.
Your Webmaster has been out of it so long that he forgets what getting altitude is like.
And he forgets to recharge his camera batteries...
Mt. Israel is a bump just north of the Lakes Region, 2630'. You reach the summit via the Wentworth Trail from the Mead Base Camp, about 4.5mi round trip.
Meeting up for this hike were Frances (here on a business trip from North Carolina), Jen, Kathryn, Toto and his pup Eldora, and Your Webmaster (of course). Finding the trailhead is a chore, and the directions in the AMC Guide aren't good. The bigger book "New England Hiking" (it has a green cover) has much better directions.
We started off at the Mead Base Camp and up the gentle to moderate slopes of Mt. Israel. The day started sunny with a little breeze, but it was pretty buggy, mostly pesky skeeters on the trail and black flies everywhere else. But we made steady progress to the "fake" summit, which is an area of some very nice views as you break out of the trees. We decided it would be good to stop for lunch and found a spot out of the wind in the last of the sunshine we had that day.
The "real" summit is some distance beyond where we had lunch, marked by a large rock and cairn. We made it there a few minutes after our lunch stop. The sun had gone in behind the clouds, and the wind at the summit was making folks chilly.
Having been there before, I told the folks to wait a second and not head back yet. I wandered past the summit where I recalled an overlook---and found it again. I went back to the group and dragged them over to this spot on the very end of the summit---an overlook offering views from Tripyramid to the north, Chocorua to the east, and the Lakes to the south (including Red Hill). And there was no wind! We sat there for a while talking and trying to pick out the mountains surrounding us on a map.
Then, unfortunately, it was time to head back down.
Your Webmaster had to take off, but the others wandered over to a waterfall not far from the Mead Base Camp. I'll get to see that the next time!
Mt. Israel is a surprisingly rewarding hike for a modicum of effort, just remember to go past the real summit to the overlook for end-of-the-world views.
Concord, MA Bike Ride - June 2, 2002

Activity and Report by Michelle H.
We had a wonderful turn out on this typically New England-ish but beautiful, day. 18 folks met at the monument in Concord, Mass for the 20 mile ride. The weather was perfect -- sunny, warm, a slight breeze, big blue sky.

We got to the halfway point, Great Brook Farm in Carlisle, on rolling country lanes under cover of beautiful shade trees and flowering bushes amidst new McMansions and old farms with only one small incident. One participant's bike slipped out from underneath him as he rounded a corner but the injury was minor and the hardy soul jumped back on his bike and rode on with enthusiasm (note to leader...carry antiseptic supplies and Band-Aids).

We spent about 20-30 minutes at GB Farm enjoying the facilities, snacking, and tasting ice cream. As we took off, some of us noticed big, black clouds coming our way from the west...yes, we were in for some rain. About 10 minutes into the second half of the ride the rain started; we were briefly pelted with hail too! The rain, accompanied by gusts of gale force wind, poured down on us in apx. 10 minute bursts (for a total of about 30 minutes) alternated with teasingly calm and sunny breaks.

In addition to the rain, the humble trip leader didn't remember the second half of the trip, mostly in Acton, as being quite as hill-ishly challenging as it was! While it was hard to enjoy...or even see...the natural beauty on this part of the ride, it was decided that struggling against the wind, rain and hills made for a good story and gave us all real bragging rights.

We were mostly dried out and back to stable sunny, warm weather by the time we reached the end point back at the monument in Concord. About 9 people went on for lunch where we met up with 2 other GO New Englanders who had were not able to join the ride but decided to visit Concord anyway.

18 people started the ride: 3 continued on without break at Great Brook Farm; 2 decided to stay longer at the rest stop. Participants really worked as a team, watching out for each other and calling out warnings for pot holes, left or right turns, speed changes and approaching cars.

All in all is was a great ride on a great day with a wonderful group of people.