Mt. Osceola & East Osceola - July 28

Activity & Photos by Nancy H.
Trip report by TM Toto
This hike seemed to be the longest 7.2 miles ever completed in less than 6 hours! Nancy H. met Eldora and me at the Greeley Ponds parking area on The Kanc at 10 AM, Friday, July 26, 2002. Our second hike together, we had even more great conversation and laughter. This passed the time pleasantly as we continue to bag two mountains on most Fridays.

There are plenty of log bridges to walk above the wet area during the first mile, making this hike immediately a lot of fun with several interesting large rock formations. There are pretty views throughout the trail this time of year. For the best views, the perfect time of year would be late Spring, during the Fall foliage, or even later when the leaves fall from the trees. Who wants to post this hike!


Rocks
For beginners with no experience in elevation gain, this mountain hike will be a tough one. Hikers should realize that the trail between Greeley Ponds and East Osceola is extremely steep, rough, and has slides. Nancy and Eldora made the climb look effortless when we reached a great 30-foot cliff that was a lot of fun to climb. With even a little hiking experience, one will love the precipitous slog up to the small cairn marking East Osceola's (4156') summit.
From the East summit, it is not far or difficult to reach Mt. Osceola, named after the Great Chief of the Seminole. One descends several hundred feet before climbing up the steep stone and steps until you reach the top. It's only less than one hour to reach the 4,340' pinnacle, which still shows the location of the former fire tower.
The views from the top were better than spectacular. How immense Waterville Valley is expanding and replacing the wilderness. Beautiful 180-degree pristine views of Mts. Tecumseh, the Tripyramids and the entire Sandwich Range Wilderness made each step worth the effort.


Great view from the east slope of East Osceola
As we ate lunch, a nice couple arrived from Tripoli Road with their small black Skipper Key dog. This dog from Belgium is a barge ratter and easily became good friends with Eldora and the others. A group of 10 middle to late aged hikers came to the summit and reminded us of a lounge atmosphere so we quickly hit the serene trail doubling back to the steep and quick elevation gain of the East peak.
We again passed the teenage group of 16 girl hikers from Deer Run Campground and their solo teenage male leader, who was not only responsible for the hiking group, but also was the sole driver of their new $35,000 van!
Almost canceling this hike, due to not feeling well, Nancy then wrote to the Friday group saying we are on. Eldora always is happy to hike mountains every day. We were so happy returning from East Osceola that we loudly sang songs. I even saw Nancy with very big smiles. Yes, we had a lot of fun!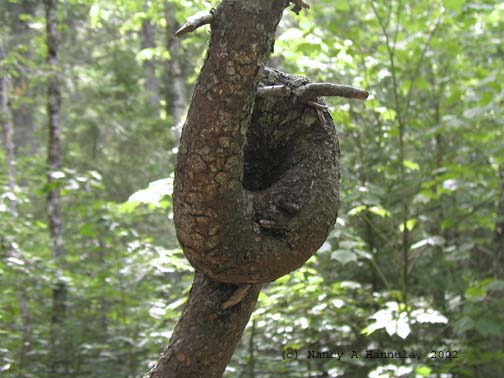 A tree all tied up in knots
We shook hands and thanked each other for another great hike, and promised to do even more difficult hikes soon. You are most welcome to join us on Fridays for a mountain of hiking!
Half the fun is the time spent getting to your destination.
-- Nancy Hannula (7/26/2002)
Mts. Hancock, Mt. Adams - July 19 & 20

Trip report by TM Toto
Mts. Hancock (July 19)
Activity by Nancy H.
This hike was our third to a mountain summit in 24 hours! Just the day before on Friday July 19, 2002, Get Outdoors New England member Nancy H. had posted in a GO-Chat announcement any who wish to hike on Fridays to contact her. This was the second Friday hike. Mt. Monadnock was the first and one I could not participant in.
I met Nancy at the hairpin turn of The Kanc. (Rte 112 East in Lincoln, NH) in the parking lot of the Hancock Outlook at 10 AM. The USFS has paved this well used parcel, landscaped the surrounding area, and added a very well constructed $15,000 field rubble wall.
Nancy, Eldora, and I, after relocating our cars 2/10ths of a mile South from the construction zone, left promptly at 10:30 AM to conquer 2 4k's. This hike was a true 'show and go!' It starts out as a wonderful easy, then moderate hike through the woods with the sight and sounds of almost constant, pleasant, cascading waterfalls. We crossed the five brooks on the Hancock Notch Trail, beyond the Cedar Brook Trail and well into the Hancock Loop Trail.
It was here that one loses several hundred feet of elevation until crossing the last brook where the unrelenting, strenuous, and precipitous ascent begins to the summit of Mt. Hancock (4420'). For us it was another hike to a summit covered in thick clouds with little views. We stopped to have lunch and conversation.
The link to South Hancock (4319') is most strange looking. An area several thousand square feet is surprising like a night and day effect; dead 10-12 foot balsam firs, with a massive ground cover of thick fir trees 2-3 feet tall. Then just as quickly, it returns to the tall, boreal forest and its ground cover of ferns. This was a 10.2 mile round trip lasting almost 7 hours. We will hike Fridays together. C'mon and join us!
Mt Adams (July 20)
Activity by Gil L.
Photos by Andrey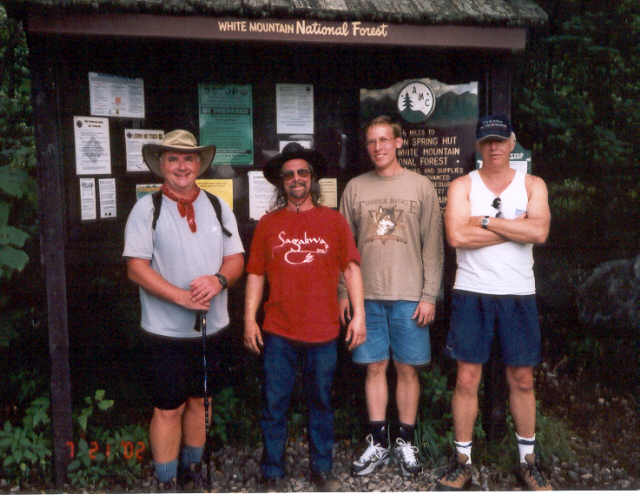 The following day on Saturday July 20, Eldora and I met Gil L. in the Appalasia parking lot in Randolph, NH at 9 AM. Gil was greatly energized as he wrote about this hike in his e-mail messages. His words gave me the extra energy to join him, as it was obvious he was invigorated and raring to go.
Soon Andrey K. with Dave K. arrived and had to park near my car on the shoulder of US Route 2. As always the Appalasia parking lot is over crowded, forcing vehicles to park off the highway for a thousand feet. Of all the Northern NH hikers' parking areas, this one for many, many years needs to be expanded, its use modified, and the environmental impact addressed.
We waited until well after 9:40 AM for others who wrote expressing interest. When no one else arrived, we hit the trails up via Airline, and the incredible journey to the top. After about 2 hours, it was very apparent that the previous day was taking its toll. My knees to toes vibrated and ached enough to slow me from keeping up with the others.
Gil inadvertently led us to the Valley View trail instead of Airline, but Andrey's map saved the day. We found a cross trail (Scar Trail) which led to Airline and which proved to be more lush than (and less traveled) than either Airline or Valley.
Falling a bit back of the group, at around the Scar trail my pack's belt buckle broke. This placed the weight of the pack squarely on my shoulders. Of course, the usual 45 pound pack certainly didn't make things easier, but after all, this arguably is the toughest, maybe the most precipitous slog of any mountain North of the Carolinas and East of the Mississippi, short of Katahdin!
I usually bring 3 liters of water on hikes, on this one 4 were brought. And 3 meals, extra wool socks, shirt, sweater, winter jacket, and rain gear. Hikers know the White Mountains are killers – even in mid-summer! This is one seriously rugged hike not recommended for beginners as one gains 4500' in elevation, is very steep, has a round trip of 8.6 miles and a grueling 8+ hour round trip climb!
Reaching the Alpine Zone is always such a delight. The flora is unprecedented, and rich with beauty. There is life above the timberline; in addition to the moss and very hardy shrubs, we spotted some toads with skin colors matching that of the rocks. This camouflage is obviously a good defense against predatory birds--but not clumsy hikers! We continued onward and upward, meeting dozens of wonderfully nice hikers of all ages as we pressed on to reach the (5799' !!) summit. For once, the summit (There are 5 separate Adams peaks in all) was sunny and clear with spectacular 360 degree views as far as the eyes can see! We returned to Appalasia lot just before 5:30 PM, only one half hour behind the others and shared our experiences.
These two back to back hikes were 18.6 miles and a 7,150 foot elevation gain in 24 hours for us. I very much enjoyed, and certainly could feel the aerobic workout of this great hike. I can't wait for the next hike. Play hooky from work, get outdoors, climb some mountains, and join us for a day of sensational hiking!
It was a very good workout! Gil set up a decent pace from the very beginning. I like this mountain. It is much less crowded than Mt Washington, and even more challenging at times. - Andrey K.
Crotched Mt. - July 13, 2002

Activity by Pam F.
Photos & trip report by Ken L.

Your Webmaster, Marilyn, Sue, Jen, Pam and Shadow, Michelle
Crotched Mt. Yeah, OK, whatever---just a little bump with no real views from the summit or anything. Not even 4 miles round trip. OK, well, it meant I wouldn't be inside for the day or---worse---at work.
Oh? Writing off Crotched Mt. so soon, are we???
Well...What about arriving there only to be surprised by the discovery of additional trails you had no idea were there? And a little map that indicated a nice, long loop...lots of vistas...farm roads...? Well, that changes everything.

Evidence suggests that Ted (of Ted's Trail fame) had something to do with a relatively new or re-vamped trail system on the south and east sides of Crotched Mt---a trail system we were more than happy to try out!

What made us think that Ted had something to do with these trails...?

| | |
| --- | --- |
| | Awesome trails to interesting views, terrain, and forests |
| | The trails named after someone (like Ted's Trail and Carolyn's Trail on North Pack---see a pattern?) |
| | The trail signs looking, well, exactly like those on Ted's Trail |
| | "Dixie's Vista." Dixie is Ted's dog. |

What we have here, methinks, is Ted's Trail moved over a few miles.

And it's most worthy of Ted, even if the waterfall is missing.
Right off the bat we encountered a freshly cut section of Shannon's Trail that led out to a field with a view of the Uncanoonucs.

Later on we saw North and South Pack (and---much later---a swampy area where the beavers had started their work years ago).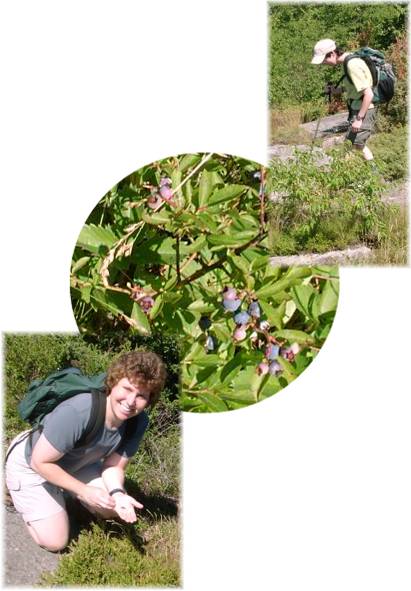 Blueberries galore! Michelle is showing off her blueberry hunting technique (be vewwy vewwy qwiet), and Sue holds up the catch of the day. Lots of good eats, I assure you.
Shortly after the first mini-peak (which we reached in about five minutes), the trail went into some nice woods and then started up. Folks took a break for a few minutes

, then it was on up to the summit---a rather fast trip, actually, along a trail that meandered by some glacial erratics, through a glade, then to every possible viewing spot.
As we neared the summit, we came across a sign that pointed to the top but warned us that there is no view. We went to the top anyway "just because", and it proved the sign's admonition worthy. We retreated to a large open area just below the summit for lunch---and wound up staying there quite a long time enjoying our munchies, chatting, and picking blueberries. Pam provided chocolate chip cookies.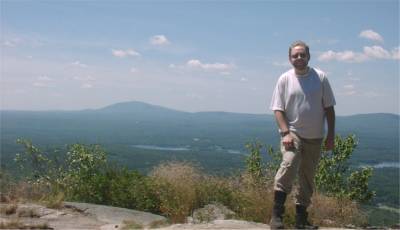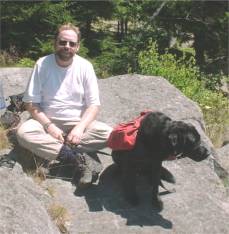 Your Webmaster at the area just below the summit.
Also in the photos: Mt. Monadnock and Shadow.
During our repast, several people wandered by, including a large group from the BSSC, which seemed to be doing the "out and back" version of the hike.
Lunch over, we took Cindy's Trail over to Dixie's Vista, a hike that took us through woods and out onto the edge a few times to look down as well. Watch that first step! Then it was down Miki's Trail to the old farm road. Yes, take the right at the triangle intersection for the old farm road that leads you back to the parking spot (near the Rehabilitation Center).
So what started out as a 3.6 mile jaunt out and back turned into the exploration of a somewhat new (or newly updated) trail system that took us perhaps 6-7 miles in a loop. As with Ted's Trail up North Pack, this hike gets a big thumbs up. In the foliage season this one will be outstanding.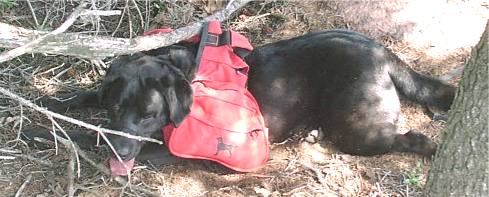 Hot dog!
We stopped for a minute, and Shadow dug into the cool earth before taking a rest.
Dalton Mt. Camping - July 12-14, 2002
Activity and report by T. M. Toto
Photos from T. M. Toto and Terre J.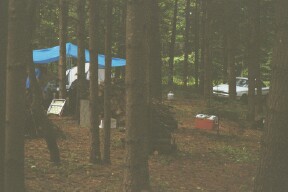 Camping amongst the pine
"It was one wild ride!" she said. "You mean my driving?" I asked. "No," she corrected, "I meant the entire 3 days!" Friday, July 12, 2002 started early for us at 4 AM, as a canopy was set-up, the coolers filled with block ice and the new BBQ grill placed into position. The china, tables, chairs and all the goodies needed to have a great party were continually added to the scene during the day.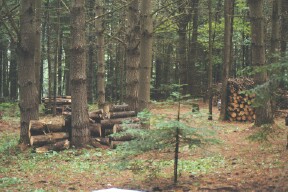 Wood for several campfires
Arriving early on Friday afternoon, Arnie P. quickly set up camp. After having a light dinner, we hiked to Adams Brook, crossed the cascades, and continued up Dalton Mountain to view the remaining old growth trees in pristine wilderness. Ensuring our return before dusk, we bushwhacked through the forest, listening to the many different songbirds, arriving well before the red setting sun.
Saturday we decided instead of hiking to Madison & Adams to hike up Littleton's Kilburn Crags to see spectacular views of mountains as far a the eyes can see, the entire Presie's, and the entire Franconia Range. This summit is a geologist's dream as the slate and metamorphic rock has unique cubic inclusions, which remained after the iron pyrite melted.
The remaining campers arrived and set up in time to return to visit the cascades of Adam's Brook, to work up an appetite, and to loosen up the legs for the following day.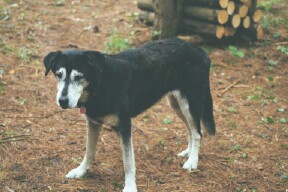 Kate came to camp, too!
A fine gourmet dinner was prepared on the new BBQ, served on china, in a formal table setting with enough food for a gourmand. Sitting around the warm, cozy campfire, we told stories until a little after 11 PM.
Starting at 7 AM, the big breakfast filled us with low fat turkey bacon and ham, onion, chives, and broccoli home fries, eggs, white, wheat, rye or scala toast, blueberry pancakes with real maple syrup, oatmeal, coffee, and that great French vanilla cappuccino.
We carpooled to Crawford Notch at 10 AM and hiked to the three Nancy Cascades. After the first falls, the trail becomes quite precipitous and even more rewarding.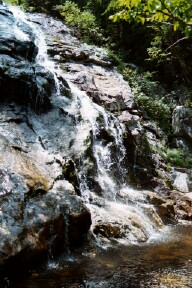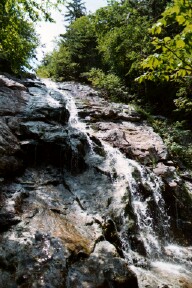 Nancy Cascades
Returning from this 5.2 mile hike, we had a casual dinner, wonderful fellowship, and prepared to attend an anticipated free concert.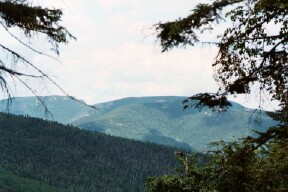 View from Mt. Nancy
Three exits away in Bethlehem, in the doublewide gazebo, the famous band, Annie and the Orphans, played for over two hours. Classic and antique cars filled the right side of the parking lot as the band wowed us with good old 1950's rock n' roll. It was those oldies but goodies -- a shake, rattle, and roll, which made this impressive with 100's showing up to participate in the free event!
Back to the campgrounds we drove, having another pleasant time of stories around the campfire. Sometime around 11 PM I fell asleep in the cool mountain air. My legs were tired after the day's (and the week's) activities. After an informal breakfast, we had an afternoon of chess, music, and magic.
The last camper remained until late Tuesday morning. Earlier, we carpooled to the fire tower in Weeks State Park on top of Mt. Prospect in Lancaster. Later we visited the self-guided walk to the Israel River Riparian Zone on a 14-acre peninsula and completed the morning activities.
She shook our hands and thanked us for the camping, hikes, and fine fellowship. "Thanks again for a terrific and relaxing weekend!" – Terre J. wrote in a note several days later. This was a five-day weekend of camping, hiking, campfires, with great folks from Get Outdoors New England. Let us continue to gather, socialize, and hike even more!
"And in the end it is not the years in your life that matter. It is the life in your years." -- Abraham Lincoln
Here's what Terre J. had to add about the weekend:
It was a wonderful and relaxing time, and the conversations were very interesting. I want to thank my fellow GONewEnglanders for enlightening me on many topics! We also enjoyed a beautiful hike to Nancy Cascades. The pictures will prove it, they will be posted soon, hopefully! Toto's a great cook! All who missed the trip missed a great time. He's a terrific host and an even better tour guide! Luckily he has other trips planned this summer and fall. If you like wilderness camping, here's your chance!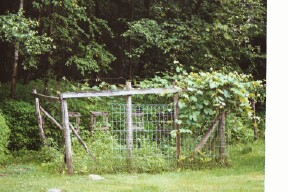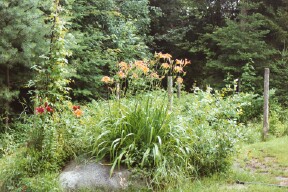 Tomatoes, spinach, grapes, and just a small part of the garden
Mt. Moosilauke - July 7, 2002

Activity by Eileen F.
Trip report by Toto
Photos by Andrey K.
It was a super day for hiking the tallest mountain South of the Franconia Range. Temperatures were a comfortable 57 degrees when Eldora and I left Dalton Mountain at 7 am on Sunday July 7, 2002. The pleasant forest drive helped us to meditate and refresh us with wonderment as we drove on Routes 112 & 118 in Woodstock and in Warren, NH.
Eldora and I arrived at the Dartmouth Outing Club's Moosilauke Ravine Lodge at 7:45 am and went inside the hand made log lodge and shared an all you can eat, $6 sensational breakfast with 60 Dartmouth sophomores and other hikers. At 8:30 am the group from Get Outdoors New England arrived right on time to the second. How did you guys do that?!
Eileen F., the group leader, brought experienced hikers Cindy B. & Mike B. from the Welsh & Dickey climb, and newcomers Lucent Tech SQA Engineer Andrey K. and former USA Embassy Marine guard Sgt. Frank S.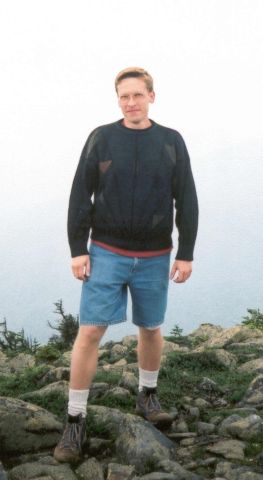 Andrey
Eileen had forgotten she had Thursday and Friday off when this hike was posted. The many of you that tried to e-mail her and did not receive a reply after Wednesday now know why the silence. Her apologies to you.
After changing clothes and getting our gear prepared, we left the parking area for the Gorge Brook Trail at 8:55 am. The cool mountain air was perfect for hiking in July. Onward and upward we trekked.
We reached the summit of Moosilauke (4802') in just 3 1/2 hours. A heavy mist of rolling and swirling clouds on the summit produced a surreal appearance. The cold 30 mph winds required us the seek shelter behind the old stone foundation of the former lodge where we ate lunch and chatted to our hearts content.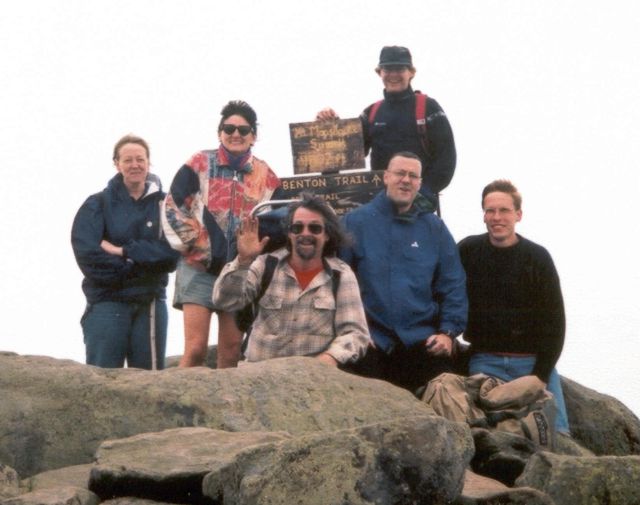 At the Summit
Now it was on to the South Summit and the Carriage Trail. Only a few hundred feet down brings us into clear sunny skies with views of Mt Clough, Benton State Forest, Hurricane Mt, and score's of other mountains to the West and South.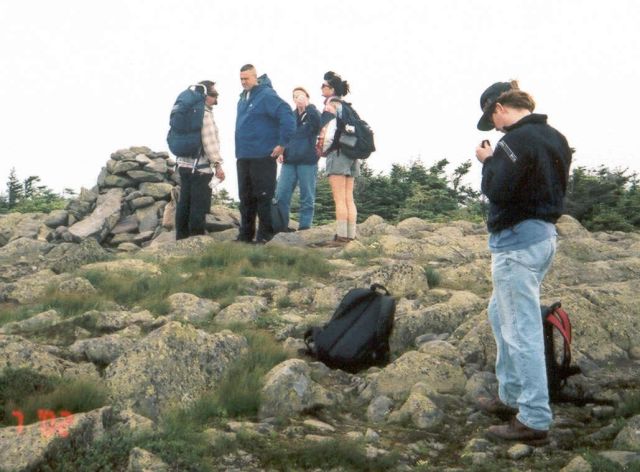 South Peak
There are no painted blazes to mark these trails. Tough at times to hike on, the trails are wide, rocky, and filled with exposed roots. The descent down was hard on the feet and knees, regardless of age. Excellent conversations and friendliness with all passed the time effortlessly.
When we neared the Moosilauke Ravine Lodge, strangely we could hear multitudes of people talking around the lodge area. We wondered what it could be at 3:30 on a Sunday afternoon. We discovered it was the Sophomore Trippers of Dartmouth College known as the 'STRIPPERS.' A large group of these 120 'STRIPPERS' were gathered to canoe, hike, feast, and party!
I bid my fellow hikers a farewell after performing a bit of magical entertainment for them and thanked them all for a sensational hike and fine fellowship. Let's keep hiking!
As the 121st guest, I remained at the lodge. For hours I played chess, mingled, and socialized with the Dartmouth sophomores, trying the many different pasta and leaf lettuce salads, having hotdogs, cheeseburgers, and drinking tasty pink lemonade.
Eldora played delightfully with the two resident dogs throughout the festivities and made many new friends. A wonderful young rock n' roll band, Dave's Gone Mad, played their live outdoor concert for over 2 1/2 hours. What a great time meeting all the students, feasting, enjoying the music and the moment, all for free!
"The road goes ever on and on . . ."

– J. R. Tolken
Shadow Turns 7 - July 6, 2002
Activity & trip report by Pam F.
Photos by Ken L.

Eric, Jan G., Joe, Kathy, Ken, Lara, Marilyn and Sue H. came to celebrate Shadow's birthday and enjoy a potluck dinner and a very interesting board game.

We took Shadow out in the back yard so he could play fetch with his new toys and then keep away with a kick ball. He was quite fatigued after that workout but quickly perked up to play with his new duck who did not look quite as new after awhile. We put the duck on the tiles before damage was done. (Those of you who have attended events at my house know about Shadow and the tiles.)

Shadow gives a shake of the paw and a kiss on the hand as thank you to all who helped him celebrate.


Shadow the Birthday Dog taking a break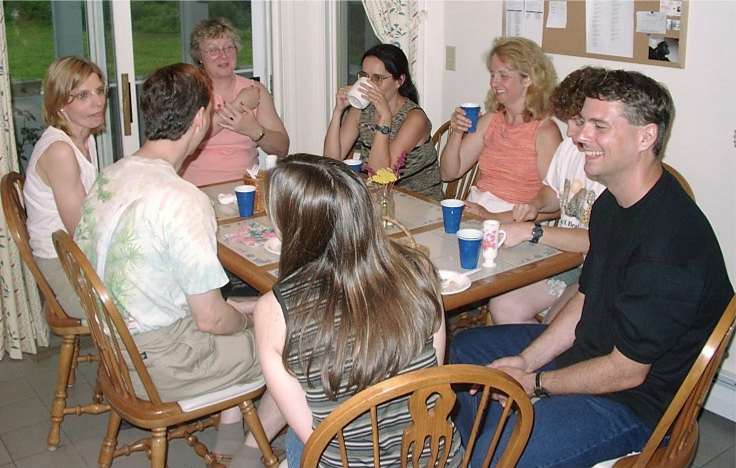 Lara, Eric, Pam, Jan G., Marilyn, Kathy Sue and Joe enjoying dessert
and a few of us were also enjoying espresso and latte
| | |
| --- | --- |
| Lara and Joe smile for the camera. | The "Battle of the Sexes Game" guess who won. I'll never tell, my lips are sealed. |
Did you know that Shadow and George W. Bush share the same birthday? Shadow and I met George W. when he was in Goffstown campaigning and Shadow of course greeting him warmly.
Mt. Monadnock - Pumpelly Ridge - July 6, 2002
Activity by Tom S.


Mt. Monadnock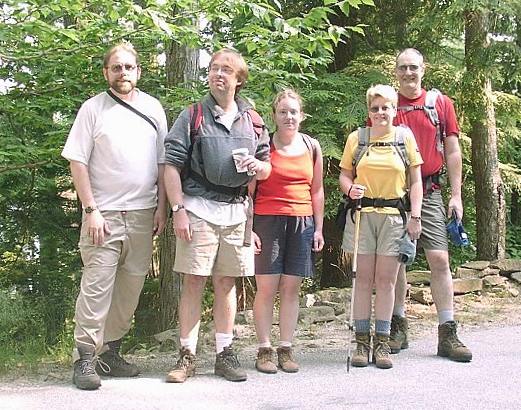 Your Webmaster, John, Krista, Annette, and Tom
The last time I joined Tom and Annette for a jaunt up the Pumpelly Ridge Trail to the summit of Mt. Monadnock was a cold December adventure. This time out there was no snow. Instead we got sunshine, a bit of haze, and great temperatures. John and Krista joined us from central Mass.
Shortly after the start, we reached the dangerous icy section.

Only this time there was no ice, and the short steep stretch was an easy climb for Annette and Tom this time of year.
Halfway up the gang stopped for a great view.


Hi, Tom!
<--
Flora: A small type of Mountain Laurel was in bloom for us.

Fauna: Milk snake.
-->
Along the way Tom spotted a large snake heading across the trail. Near as Your Webmaster can tell, it's a milk snake and quite harmless. Still it's always best to err on the side of caution and avoid these animals. They don't want to bother you---they'd rather just slither away back into the woods and leave you alone.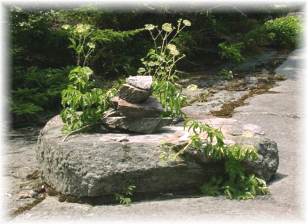 Snazzy cairn

Tom and Annette showed us how they climb the last few hundred feet of Mt. Monadnock, which is completely open to the wind (try it in December). The granite is fairly smooth, and some sections require a modicum of climbing skills to navigate. It's when you pop out of the trees that you know that you're nearing the summit..."nearing" being relative, as on the long Pumpelly Ridge Trail it's still a ways off.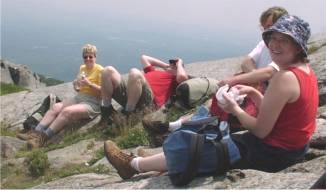 Time for lunch at the summit.
We made it to the summit which was, as usual, crowded. We found a nice spot to rest and have some chow.

Tom took a picture of Annette---as I was taking a picture of Tom.



View back along Pumpelly Ridge
Our return was down the Dublin Trail, which is a bit scrambly near the top but still one of the quickest ways down. The bad part about that trail was it was a long walk back to the Pumpelly Trailhead where the cars were. Tom and Annette decided to head down, but John, Krista, and I stayed at the top talking and gazing in all directions. By the time we made it out to the Dublin Trailhead, Tom and Annette had walked all the way up to the Pumpelly Ridge Trailhead and grabbed their van. Whew---My feet weren't looking forward to a long walk on the road back to the cars, so it was great to see Tom and Annette's big purple van at the trailhead when we came out!

Nearby with great views and plenty of different trails to try, Mt. Monadnock is a good hike, if a bit crowded...and always windy!
Gulf Hagas - July 4th Weekend, 2002

Activity, photos, report by Ern G.
Imagine "roughing" it...sitting around a campfire...and eating Filet Mignon au brie-pecan, Maine lobster and Schwarzwalder Kirschtorte...
"A good time was had by all!"
See the full text and all the photos from Ern's report by clicking here.