One snowy night while longing for summer's return I proposed a canoe camping trip to the GONewEngland website. At the 5th Anniversary Party Michelle told me of the AMC site at Beal Island in Boothbay Harbor, Maine and offered to co-lead. Soon after, with the site reserved and the event posted we began to plan the trip. Dan "The Pup" offered use of his cooking equipment and culinary skills, as well as a canoe. After a meeting to plan the menu we were ready to go.

Beal Island is a primitive campsite where you must paddle everything you need to the campsite. the AMC does provide a fire ring, outhouse, and two picnic tables on the beach. Even in Dan's big "guide type" canoe we needed two trips to haul all our gear over. Upon returning to the put in site to load up again we were met by Michelle and Lou, and soon Martin was there too. After the short paddle to the island we began to establish our weekend home.


A view of the beach
Tents were pitched, tarps and chairs set up, gear stowed, and firewood gathered. Soon we were socializing by the campfire, enjoying our peaceful retreat with snacks and a beverage. Stars shined overhead and waves gently lapped at our beach. Saturday dawned and when we went down to the beach we discovered the work of a raccoon raiding party. They even managed to break into Dan's impenetrable storage box! Luckily they didn't get into the coolers, and we prepared a breakfast of eggs, pancakes, sausage, coffee, OJ, and cinnamon rolls.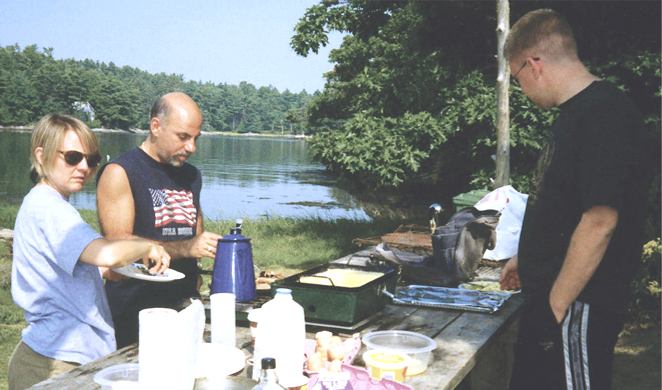 Michelle, Lou, and Dan prepare breakfast
Later the morning calm was shattered by a scream! Michelle was climbing the stairs to the campsite when she encountered a huge snake. Luckily it was only sunning itself and chose not to devour the shaken Michelle. After the excitement died down, Martin rallied us to explore the island.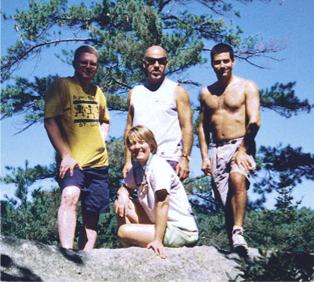 Dan, Michelle, Lou, and Martin
The diverse nature of the small island was amazing. Along the shoreline we encountered rocky beaches, seagrass marsh, and boulders. Away from the water were towering pines, dense stands of balsams, and meadows edged with majestic oaks.


Martin leads Dan and Lou into the deep, dark forest
| | |
| --- | --- |
| | At one point in our hike we came upon a small bay and were awe-struck by the sight of many osprey soaring above in their search for a meal. We were also treated to the sight of numerous gulls, terns, and other shorebirds near the more exposed easterly side of the island. |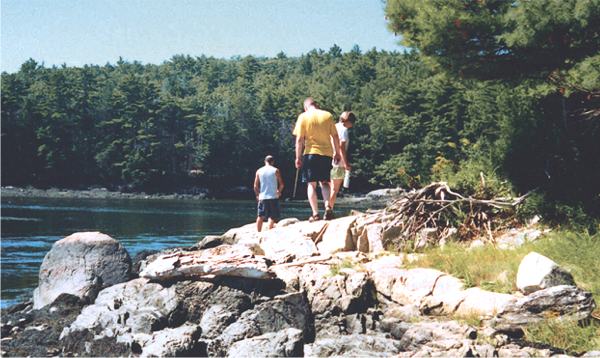 Hiking along the rocks
Around noon Dan, Martin, and I paddled back to the put in site. Martin would wait for Kathy Kelly to arrive while Dan and I went for more provisions. Those raccoons had made off with a loaf of garlic bread and I think some beer and a bottle of wine! When Dan and I returned it was time to begin the evening meal preparation.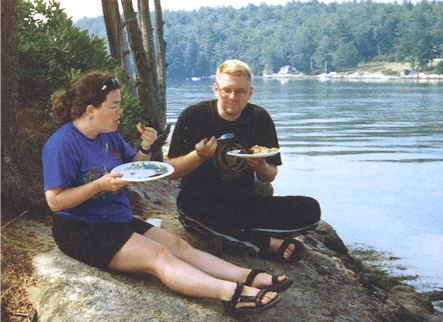 KK and Dan have a bite to eat
Lou, Martin, and KK decided to spend some time swimming though the water was a bit chilly. Michelle oversaw the meal prep, making sure the veggies were being cut to appropriate "bite" size. I learned why KK was the GONewEngland motivator when she handed me an icy 25oz. Foster's from her cooler as a reward for all my effort!


Time for a swim
Before the evening meal we all set out to paddle around our island. Martin and KK were in the lead followed by Michelle and Lou, then Dan and me. We headed north along the east side of Beal, noting where the trail we hiked earlier snaked through the tree line. Reaching the western side of the island we were greeted by a huge osprey nest built in a low tree near the edge of the channel which lead back to our camp. Paddling became more difficult as we were heading directly into the rushing tide Tidal fluctuation here is between 8-10 feet. The lighter canoes were able to negotiate through after a couple tries (and were treated to the sight of a slumbering porcupine high in a tree in one of the coves), but Dan and I kept getting swept back. We told the others we'd go back around and meet them at camp but fared no better in the open water. We decided to put in at a sheltered cove on the northern end of the island and wait for the tide to ebb. Having checked tidal charts we knew it would be 1 1/2 hours until the sea was calm again. Luckily I had made an impulse by at EMS not long before this trip, and on my PFD had my new whistle, which was used to attract the attention of a passing boat. A boat manned(?) by two very attractive Rescue Babes! Yep, Dan and I were saved and delivered safe and sound back to our campsite. Sadly, the Rescue Babes declined our offer to join us dinner or even gas money for their boat.
Later in the evening we settled down to feast under the stars and by the campfire. We enjoyed garlic bread, pasta with marinara sauce, shrimp, ginger/garlic grilled chicken, and stir fried veggies (summer squash, broccoli, peppers, and mushrooms). As we dined, Martin noticed movement and shined his flashlight to reveal a raccoon sneaking into our midst. We ate, cleaned up and socialized well into night, enjoying the fire and starlight.
That coon Martin saw earlier must've been a recon scout because we had barely reached our tents when we heard the night time raiders descend upon the tables in search of what they may have assumed would be a feast. All leftovers were securely stored so they had to be happy with what they got from the trash bag we tied off or leave empty pawed.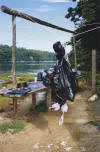 The raccoons had fun with this pinata we set up Saturday night
Sunday was another beautiful day which we began with another hearty breakfast. Before long the dishes were done and efforts turned to breaking camp. KK and Martin decided to spend a little extra time at Beal, so they stashed some of the leftover fruits and breakfast in a cooler. We crammed all the gear into the canoes and bade farewell to the island. Back at the put in, Michelle, Lou, Dan, and I loaded our vehicles for the drive home. KK and Martin returned to Beal for a while longer.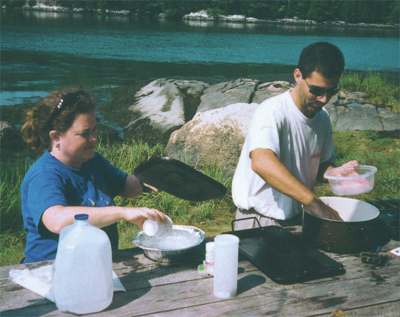 KK and MK on KP
KK sent me an email asking me to be sure to mention her and Martin's encounter with some friendly seals as they left. Made me wonder if those bumps Dan and I felt paddling out in the dusk that first night really were...
My Thanks for a fine weekend go to:
| | |
| --- | --- |
| | Michelle for all her work and patience |
| | Lou for the big stove and propane which made dining possible |
| | Dan "The Pup" for the portable kitchen and help shopping |
| | Martin for his adventurous spirit |
| | Kathy K for the "motivation" |