Heald Tract - May 26, 2002

Activity by Ken L.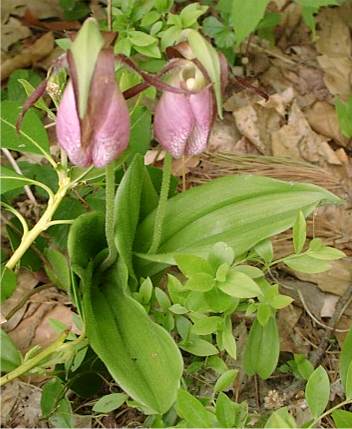 Showers were in the forecast for much of the area, but we decided to head out to the Heald Tract anyway. As it turns out, the weather was just cloudy with a bit of a breeze--a breeze that came in handy to keep the bugs away!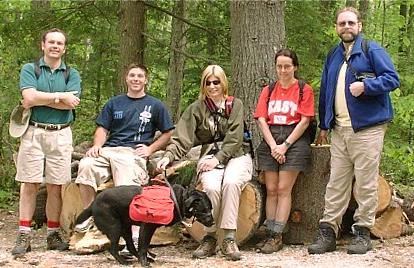 Back: Randy, Dustin, Pam, Marilyn, Your Webmaster
Front: Shadow
The Heald Tract is a collection of several hundred acres near Wilton, NH (southern NH). Several trails take you on a fairly decent walk by ponds, over some hills, and through old orchards.
Beaver lodge, geese in background

Heald Pond

Beavers busy blocking our way!

Our trek started out by Heald Pond, the largest of the several ponds in the Heald Tract. We came across some deer and moose tracks along the path.

Unfortunately we had to abandon our original plans when we discovered some beavers had been busily drowning the trail. Fortunately there was a way around.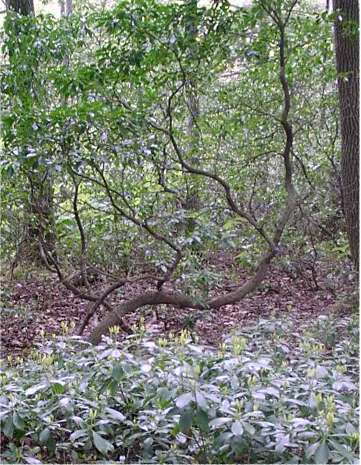 Mountain Laurel
We made it up to the top of Fiske Hill where we took a small side trail to try to find some open ground for lunch. There were too many skeeters, and we wanted to find a spot for lunch where there'd be a breeze. There wasn't much of a breeze where we wound up, but it was a nice little spot for lunch.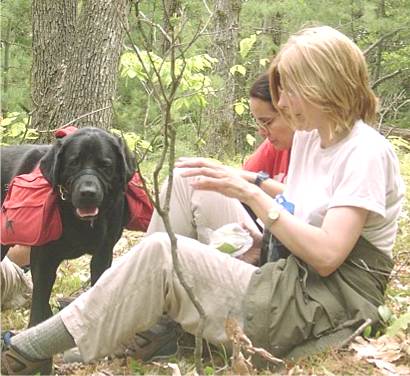 After lunch we continued our walk down Fiske Hill to the orchard, from which there's a nice view.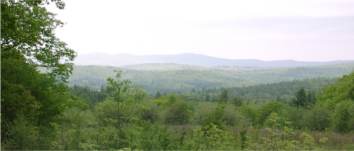 Beyond the orchard we had to head through a grassy field...a big uh-ohh for those among us who don't like ticks (and that's just about everybody). So Your Webmaster took up the lead, meaning there'd be more ticks for him and fewer for those behind, at least in theory. Yeah, tick checks were common. (Pam eventually won the tick contest for the day. Your Webmaster and Pam were tied at 8 apiece, but Pam found the ninth when she got home.)
| | |
| --- | --- |
| Although it's hard to tell from this picture, the beaver dam keeps the level of the pond up about five feet. It's really amazing when you consider the amount of water behind this pile of sticks and mud woven together by North America's largest rodent. | Red eft, some kind of little worm Dustin found on Your Webmaster's fleece, and Trillium |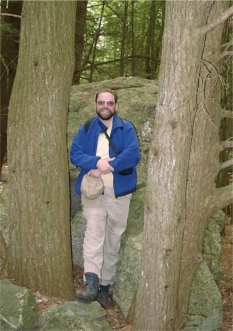 Your Webmaster at "The Rocks"
Our path out took us by a campsite, through some land that is being logged, and by "The Rocks", a large granite boulder that has split into several pieces. And, of course, through one more grassy field (ugh!). Shortly after that we were chased out of the woods by the mosquitoes (no black flies, which I find quite odd) and back to the cars.
A trip to the Black Forest Cafe finished off our hike.
Ethan Pond Shelter/Thoreau Falls - May 25-27, 2002

Activity by Ern G.
Report by Ern G. and Sharon A.
Photos by Harold A. and Ern G.
Peace In The Whites

Tired of the old rat race at work? Tired of bad news on the television, telemarketers on your phone, bills in your mailbox, beepers and noise of the city? Tired of being pushed to "hike faster, hike longer" with friends? Tired of "rush, rush, rush"?

This is what you would have missed if you'd been on our hike from Zealand Falls to Ethan Pond on Memorial Day Weekend 2002.

Seven great folks representing Get Outdoors New England eagerly strapped on colorful hi-tech backpacks, checked bootlaces and water bottles and started their hike from the parking area on Zealand Road at Bretton Woods, New Hampshire. Pemigewasset Wilderness waited before them as they meandered through ancient forests and granite lined trails.

Read about Ern's trip to the Ethan Pond Shelter and Thoreau Falls with Alexey, Harold and Saron, Pat, Debra, Toto, and Tom...and pups Charlie and Eldora.

Click here for the full report!
Ted's Trail - North Pack - May 19, 2002

Activity by Dayhike with Deb's Deb
Report/Photos by Ken L.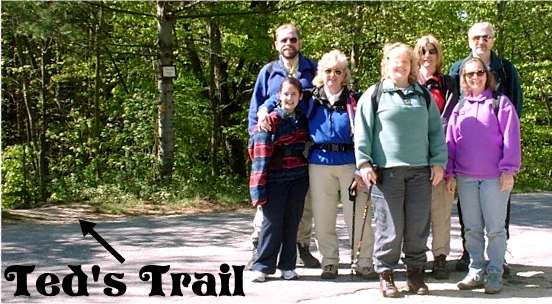 Your Webmaster, Jessie, Dayhike with Deb's Deb, Marjie, Pam, Diane, Tim
Ted's Trail (Greenfield, NH) has become a favorite haunt. It's got to be the best way up North Pack.

The day was mostly sunny and just slightly cool temperature-wise, with a slight breeze. This was the right combination to keep the bugs away. It had snowed the day or two before (yes, in May---welcome to New England! :-) ), and we encountered some fresh but melting powder on the trail, as much as an inch or two in some spots.

A few of us were veterans on this trail, but for Jessie it was her first hike ever! I think she really got into the animal imitation portion of the hike. Can you tell what animal she is trying to be this time? Look very close, as there's a hint in the picture.

You guessed it---a frog!

Waterfall, Brook

Ted's Trees
Ted's Trail goes over a few bridges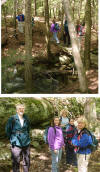 and through some nice woods. It's a pleasant trail.
Ahhh, a break for lunch.

Thought we'd forget that, did you? Not a chance!!!
Finally we arrived at the summit of North Pack!

We chatted with a few people who were at the summit, then it was time for us to head back. We retraced our steps to the spot where Carolyn's Trail takes an easy-to-miss left turn and took that as our way down. After a rocky start, Carolyn's Trail eases out into a gradual downward slope--a perfect return.


An "almost" ladyslipper on Carolyn's Trail (lower right)


View from the hill


Mt. Monadnock
Mt. Cardigan - May 18, 2002

Activity by Thien N.
Report by Toto.
The red, orange, and yellow bell peppers were sliced, the romaine lettuce neatly cut into 4" x 4" sheets, and the Oat Bran bread slices placed into 2 separate air-tight containers the evening before. Three water bottles were prepared by filling 1 half full of water, 1 ¾ full, the last completely full and placed into the freezer a few days earlier.

At 6:30 AM, on the morning of Saturday, May 18, 2002 here on Dalton Mountain, NH, the thick, heavy snow began. At 7, I tried to get in contact with Thien N. to discuss the situation. He, evidently had already left his Bennington, VT home and was driving to meet us early.

By 8 AM there was just over an inch of snow here. Eldora and I decided to stick to the plan, drive to the A.M.C. Cardigan Lodge in Alexandria, NH and meet Thien. The drive though Franconia Notch was scary, as huge chucks of snow the size of quarters were falling and blowing around rapidly. The posts and guard rails clearly had 2" of snow.

I looked in the Lafayette trailhead parking lot and saw no vehicles. Remarkably, all the notch mountains looked surreal, gothic, and most ominous. There were two happy fisherman with their dogs, in almost blizzard conditions, enjoying their morning in canoes on Profile Lake. Truly two real dedicated outdoorsmen.

What an unsettling drive! Only 2 weeks ago I had removed the winter snow tires from my car for the seasonal rain type. Tension mounted as my car skidded and hydroplaned on 8 occasions during the 90 minute commute, causing the back of my neck and upper back to stiffen up tightly.

At the lodge, we met Thien 15 minutes early and waited until 10:30 AM, in case the others arrived late. We decided to go for it and keep to the main plan of climbing up the most difficult way, Holt Trail. The first mile is easy to moderate, a regular walk in the woods. Now the fun begins!

Hour after hour ticked by, the trail becoming steeper and then even more steeply, the snow storm dropping inch after inch of thick, heavy, wet snow. My gloved hand measured five inches of snow, although I knew that the snow fall was really closer to seven or eight, as the wet heavy snow collapses on itself and is an illusion to the true total.

The slope soon became a complete 45 degree angle, causing slow altitude gain. An older couple who left the lodge one half hour before us, appeared coming down from above. The man decided to return after he slide a good twelve feet. His wife said she was thoroughly soaked. We passed the bare ledge where he skidded uncontrollably, seeing it clearly in the snow, then we pressed on!

Now the trail acutely angles to an incredible 60 degree and at times an amazing 75 degrees on wet leaves that covers bare ledge -- now spice it up -- add 5-6 inches of snow! Eldora climbed this part of the mountain as though it was flat land and constantly waited for us to catch up. She is a true, technical rock-climbing mountaineer!

We had to get down and dirty on all fours and even use our knees to climb over the dangerously wet, snow covered bare ledges, now above the tree line with 30 m.p.h. howling winds, and one brutal blizzard. At times we each thought we heard voices in the mountain and we even called out to them many times. Were we slowly dying of exposure, were we hypnotized by the weather, just in one heck of a fierce storm or a little of all three?

Suddenly Thien slipped and quickly dropped ten feet stopping just inches in front of me. I thought he was going to sweep us down hundreds of feet rapidly to certain injury, or worse. Soon afterwards, and with me now slipping more, at only about 400 feet from the top with the relentless snow, we stopped and had a long discussion and made a determination. It was now 1 PM. We are defeated.

We reluctantly turned around and ever so slowly, so dangerously, at times gaining only one yard ever so carefully. We headed back down to return to the lodge and finally at 3 PM eat lunch and have hot coffee. The lodge was jammed, with some very wet hikers, Scouts and their leaders, yet filled mostly with young, single women who were taking an A.M.C course entitled "Backpacking For Beginners."

How ironic this seemed, yet so magical, compared to the incredible conditions we just survived. Yet we enjoyed every minute and will conquer Mt. Cardigan on another, more favorable day.

My knees still hurt!
Cape Cod Camping - May 10-12, 2002

Activity by Jan G. and Dawn S.
Report and photos by Dawn S.
On Friday afternoon, I met up with Jan, who had come down earlier with her teenage sons. (They had their own site, and for the most part pretended they didn't know us!) We enjoyed a relaxing afternoon, wandering down to the nearby pond, collecting some firewood (watch out for those shiny reddish leaves of three!!!), and napping in the sun. Dan & Alan showed up around dinner time and after a minor confusion with another group over who got which site, settled in to a nice spot. They displayed their expert car-camping ability as they popped the tent, threw up the tarp, and got the fire going with great ease and efficiency. Jack and Jen arrived soon after. Other folks had RSVP'd but no one else wandered down to the campfire.
Ruth popped in on Sat morning with coffee (Thanks Ruth!) and to eat some breakfast with us (Dan showed how he can make crossiants in a frying pan! yum!). Kathy and Julio also showed up. After breakfast, Ruth left us and Jack decided to spend the day fishing -(he didn't catch any fish, but I think he did manage to catch a few Zzzzz's)
The rest of us headed out to explore the Cedar Swamp...
and then Marconi Station and Nauset Lighthouse.
When all that was done, we sat on the beach and enjoyed the sunshine. Jan and Alan (with a little coaxing from Jan) even took a swim in the cold ocean waters!
Back at the campground, we prepared a wonderful dinner of pasta & shrimp, chicken kabobs, potatoes, veggies and s'mores! The night was spent relaxing by the fire. Jen and Alan were well prepared for relaxing in their camp chairs with built in foot rests. (I need to get one of those!!!)
Sunday was a lazy morning and most people just headed out fairly early to go visit with Mom (it was, after all, Mother's Day!) Just as I returned home, the rain came down. This was a great weekend for relaxing, enjoying good company and good food in an amazingly beautiful part of the state, without the hassle of typical summer-time cape traffic.
Mt. Lafayette - May 7, 2002

Report by T.M. Toto
Just two days ago, Eldora and I climbed the Welsh & Dickey mountains in Waterville Valley, NH with Eileen F. and 10 of GONew England's finest mountaineers. This was our training hike for Lafayette.

It was my telephone call to Arnie P. at 7 AM on Tuesday May 7, 2002 to his Mittersill Resort location in the mountains of Franconia, NH that started the hike rolling.

We talked about this hike a few months earlier and spoke together the day before agreeing to meet at 9 AM at the Echo Lake parking area. I could sense he felt the time would be too late for him. When I called at 7 AM we both agreed to meet at 7:30 instead. Excellent, early plus a whole day to play in the mountains!

Arnie, Eldora, and I decided to take the Greenleaf Trail this time. Ginny, (Virginia) his wife hinted she could go shopping while we hiked, so we took my car to the Cannon Mountain tramway parking lot. After I relocated my parked auto to suit the sweeping machine operator we started out by 8 AM.

What a super day for hiking almost a full vertical mile! Bright, sunny skies, 57 degrees already, with superb views of all of the Franconia Notch mountains. To just read about it makes me miss it – and I live only 30 minutes north!

Arnie, 14 years my senior, carried little extra in his daypack other than his new 100 oz platypus

® hydration system. I had a full backpack weighing 30+ pounds ready for a 3 day expedition. Eldora carried nothing and guided us up the trail.

It is an easy first 3/4 mile almost level and then climbs only moderately to Eagle Cliff. Eagle Pass, a narrow trail, has wonderfully interesting caves and rock formations. Now the snow begins, 2 feet deep, solid ice in the middle of the trail, and then one precipitous, long slog for 2 hours. Perfect for my idea of a great mountain hiking party!

When crampons were required about an hour later, I strapped on the ol' Grivel G-10

®'s. Arnie had a pair not suited for mountain slopes with ice and had to just bareboot it. Eldora did not use crampons as she is the expert climber.

This took a few hours longer than planned. "Another two hours," I said! The views were sensational, as the leaves haven't opened yet. I used Cannon to compare our altitude. Our attitude was perfect and happy--we are going to make it to the top!

About a half mile before we reached the Greenleaf A.M.C. Hut at 2.7 miles (4200'), the snow was 99% gone. It is springtime in the mountains! We continued our trek past the hut and the wonderful lake, up the almost snowless cone, passing cairn after cairn on the bare rock pile to the summit (5260'). It was complete winter conditions with constant 40 mph winds and the temperature soaring to a comfortable 37 degrees.

We made it! Although the clouds rolled in to obscure the views from the top, a mere 100' down had all the breath taking views from almost a whole mile vertically. We could see for miles and miles. Pure joy!

After lunch and after feeding the 3 chubby, winter residents of the mountain, the Canadian Jays, (I wonder if they are the same 3 that fly the entire Franconia Ridge Trail), we descended and crossed the overflow of the lake signaling our closeness to the hut.

We stopped to rest on the wide benches made for a backpacker and chatted with the AMC construction 'croo'. The AMC is adding 2 new outdoor bark compost toilets with enormous holding tanks to replace the old style ones that are inside. Even a huge deck to get to them!

The lead carpenter and his helper were very busy at work chiseling out solid granite, making plywood forms, tying steel reinforcing bars, mixing and pouring concrete. Whew, 3 weeks of difficult work to finish on schedule. I would rather climb all the mountains!

The young, beautiful female hut attendant was also very busy at work getting the place ready for the opening of it on May 10. I bragged, "I can return with 12 or so pounds of live lobster with butter and I share!" She gave me a big smile and said , "There will be a hut discount for you." I will return!

We continued slogging down the Greenleaf Trail over ice and snow, Arnie passing the time easily with his wonderful trail stories. Exactly a full 11 hours later we returned to the car. What a great hike! On to Mittersill and to two bottles of fine Long Trail beer. Ginny, we made it to the promised land – and back!

It was most definitely a lovely day to play in the mountains and go a wonderfully long hike with such views. And we have another new friend! For Eldora, this summit makes 32 and for me 402! Get in touch and we will climb mountains together any day of the week, and have campfires any night. See you on the mtn!

"We will walk north together for some hours. Talk less and less about the work we've left behind, be grateful for a trail cut into the woods, the privilege to use it, and the spectacular summit views."
Mt. Monadnock - Red Spot Trail - May 4, 2002

Activity and Report by Thien N.
Photos by Martin K.
Even though 6 people signed up for the trip, only two made it by. The three of us, Martin K., Michael S., and I had a great time. The weather was perfect, mid 60's and sunshine.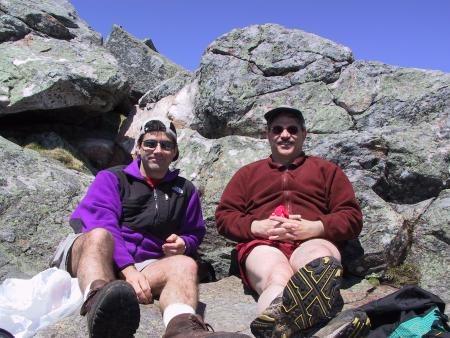 Martin and Michael
Our meeting time was 10:30 am, and we started our hike at 10:50 am. We went up the White Dot trail over to Cascade Link before heading up Red Spot. On Red Spot there were some beautiful open areas that gave us a nice view of the valley below. We hiked the rest of the way out in the open, up Pumpelly and to the top of Monadnock. It was crowded and windy as usual for Monadnock. We reached the top around 12:30 and ate our lunch. I surprised Michael and Martin with a six-pack of Pepsi, but I should have brought beer instead, next time.



Left: Thien / Right: Michael and Thien
What does three guys talk about on top of a mountain? The obvious answer was gear and more gear; Michael's GoLite backpack got us started, plus everything from our shoes to the new tuna packaging that Martin has not heard of. After lunch we took the White Dot trail down where there was a stream of people going up.
For the next hike up Monadnock, I suggested we bring up a barbecue and do some grilling up top. All we have to do is get enough people to carry up one charcoal at a time.


Martin