Joe English Hill Reservation - Oct 27, 2001
Activity by Pam Fortier
Pictures/Game by Ken Leonard
Trip report by

Pam

and Ken


It was a perfect fall day...with just a bit of chill in the air, sunshine and blue sky, for a delightful hike on a trail that was blanketed in colorful leaves...

Fall hiking. It just doesn't get any better. Cool days, nice colors, no bugs.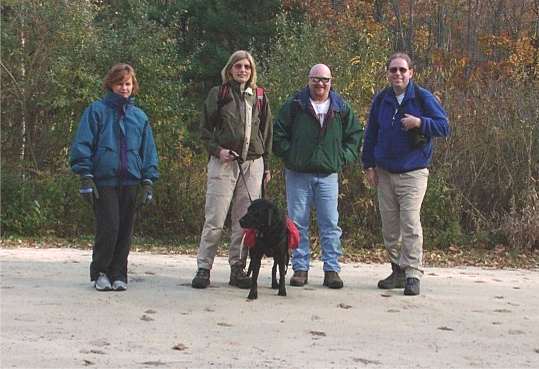 Diane, Pam, Jack, Your Webmaster, and our Black Lab friend Shadow decided to check out the Joe English Hill Reservation in Amherst, New Hampshire. It's right off Route 101 (take Horace Greely Road to Brook Lane).
Dogs are welcome, so, of course, we just had to bring Shadow along. He carried his own pack, wriggling out of it just once during the day.


Four of us hiked along with Shadow who was wearing his pack and leash reluctantly.
The Reservation is a series of trails in conservation land. Joe English Hill itself is only about 400 feet, so you don't go there for the view!
The paths were varied...forest of maple, beech, birch, and oak...some with mountain laurel on both sides of the path, a brook and pond previously inhabited by beaver, now a spot for ducks.

With all the leaves on the trees and some cases and on the ground in most cases we had to pause to find the trail markers.
But it's a nice trail system, and, as you can see Diane and Jack studying in the picture below, it's very well marked with trail signs and full color maps at each trail intersection. Bravo, especially since none of us had ever been there before.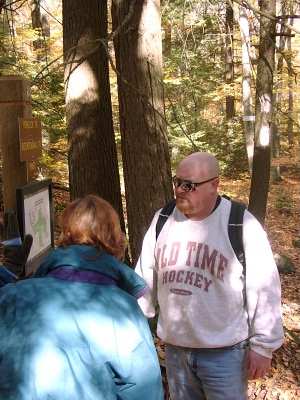 But, yes, despite all those markings, we did scratch our head now and then. Hey, it's easy to lose your direction a little when all you have is woods...and when all the trails are covered with fallen leaves!
Help us find the trail in all those leaves! Play The Trail Game!
| | |
| --- | --- |
| After wandering for a while (our original "two hour or so" hike eventually turned into four hours), we paused for lunch in a nice section of woods. | OK, Diane, I won't take another picture of you while you're eating. (Not until next time anyway.) |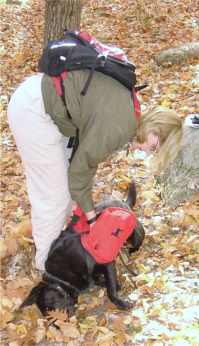 Shadow liked rolling in the leaves whenever we stopped!
On the way out we passed a beautiful fall scene.

Boy, I wish I could bottle that up and take it with me, but the best I can do is a picture. Yeah, fall hiking rules! Well, fall hiking is great, except maybe for the leaves on the ground, which can be slippery underfoot. And they hid the trail really well! Give us a hand finding the trail---just click here and see how well you do!
After our nice walk through the Reservation, we made our way to the Black Forest Cafe right down the street for a snack. Yummy stuff! Jack took off afterward, but Pam, Diane, and Your Webmaster made it to Club Day at a certain Emporium for More Supplies in Manchester and then out for some dins. It was a whole day of GONewEngland style fun including everything from trails to, of course, FOOD!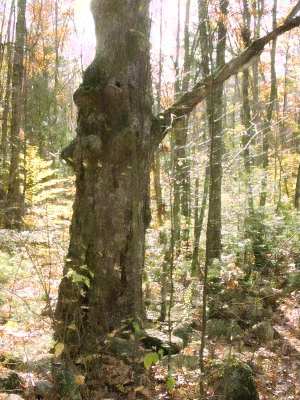 This hike has much promise for snowshoeing this winter with a nice sunny spot to lunch at Lookout Rock.
As long as they plow the little parking lots, the Joe English Hill Reservation should be great for snowshoeing and X-C skiing. Let's keep that in mind as the snow starts flying, 'kay? :-)
Halibut Point Walk - October 27

Activity/Trip Report by Janis Giles
Photos by Dawn S.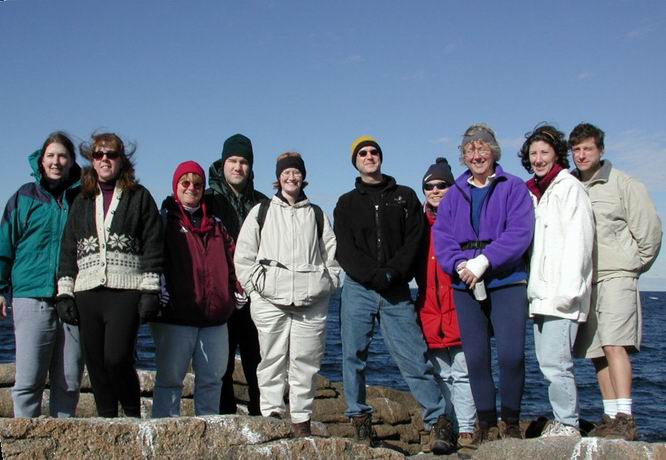 Dawn, Michelle, Patty, Don, Jen, Chris, Tanya, Jan, Linda, Alan
Ten of us, including some brand-new GONewEnglanders, braved the cold and wind to check out Halibut Point near Rockport, MA. Most of the group had never been here before. It was a pleasure to introduce people to such a beautiful spot that takes much, much longer to drive to than to walk through. :-(
After walking through a tunnel of trees and briars, we headed into the open and around the quarry.

Halibut Point offers a self-guided tour that gives the history of the quarry and points out artifacts left from the days when granite was hoisted out. We made our way down to the ocean's edge.

From there, we headed back uphill to a lookout point built on an enormous pile of discarded granite. From there, you can look out to Crane Beach, New Hampshire, Maine, and the Isle of Shoals. Since the day was clear, we had a good view, but even the birds wanted to stay out of the stiff breeze.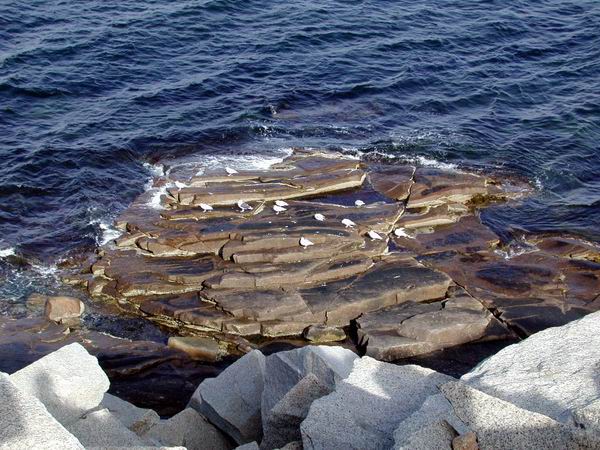 From the lookout, we walked down to the ocean again, then up to a little area featuring granite carved into bollards and more exotic shapes.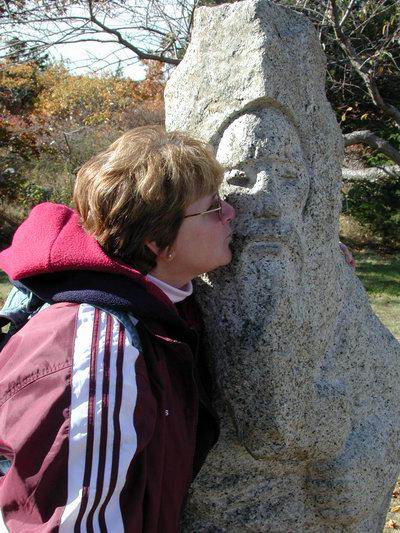 Patty found them irresistible.
Finally, we headed up into a tower which was used as an antiaircraft spotter in WWII. Since the top of the tower is closed to the public, I wonder if they still use it for such? We got a fabulous view of the area, and visited their museum which features, among other things, a berry quiz and stuffed birds. It's a beautiful, peaceful spot.
For a short time, additional pictures may be found here.
Haunted Hike #1 - Oct 21, 2001

Activity, Report, Photos by Jim "The Ump" P.
I had thirteen terrific people accompany me for Haunted Hike #1 at Arcadia Management Area in Exeter, RI. The foliage was at its peak, the weather was outstanding, and the haunts were spooky.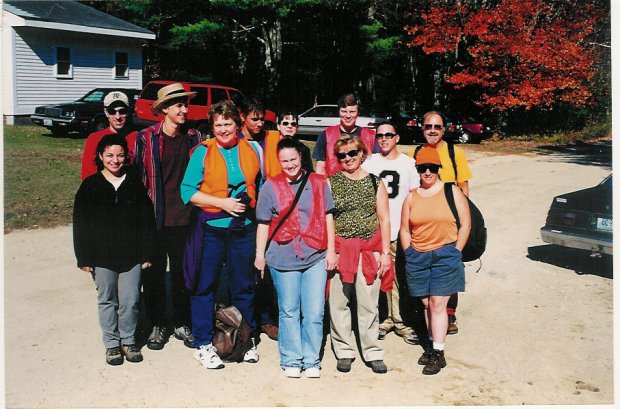 Here we are, ready for our long journey,
wearing our orange so we aren't mistaken for a flock of water fowl.
Behind us is the Old Exeter Baptist Church.
We all met at the Old Exeter Baptist Church. It's an old 18th Century New England meeting house. A perfect setting to begin our creepy trip. We all had to wear orange, because bird-hunting season had opened the previous day. I told the group that we had little chance of seeing a hunter. I would eat those words.
Our 10-mile journey began on the Mount Tom Trail. It's a lovely walk through an immense dark and dense pine grove. Of course, we also met a hunter. I must admit, his etiquette was superb. He had his barrel collapsed, and he was cradling it in his arms - textbook! Some guys do it right.
Further along we would encounter some enormous ant hills. Some were as big a Volkswagons! There was not an ant in sight. They were done with their work for the winter. Still, I noticed an extra hop in everyone's step going through the Antropolis.
We scrambled our way up a rocky outcropping, and we were treated to a glorious view of the foliage. Roy and I snapped our cameras, while Mike and Ben eagerly took my binoculars to inspect the uninterrupted view of forestland. It was an awe-inspiring sight.
We scrambled our way to the end of the outcropping, and then crossed Rte. 165 to summit Mount Tom itself. At a measly 430 feet, covered by a thick canopy of hardwoods, it wasn't all that impressive a Mount. In fact, if there wasn't a wimpy looking rock outcrop at the top, you wouldn't even know where the peak was!
(Left) Our first view from the summit along the Mount Tom Trail. Can you believe that's little Rhode Island?

(Right) Another beautiful view from the summit. Splotches of reds, oranges, and yellows can be seen mixed among the mighty dark green pines. We soaked in the view for a good, long while. I even passed around my binoculars.
After walking down a long and straight path arched by Mountain Laurel, we eventually came out to a dirt road, where we had to change to the Escoheag Trail. This part of the journey was quite lovely. After winding through a dense hardwood forest, the path meandered silently through an impressive pine grove. These trees were much taller than those on the Mount Tom Trail. The silence was deafening as we cowered beneath the towering giants.
From there, we made our way to the Ben Utter Trail, which runs beside Falls River traveling upstream to Stepstone Falls. Although the water level was low, the beauty of the area did not disappoint. Bill was fascinated by the mill ruins and old stone dams, but everyone else seemed more interested in getting to the falls to have lunch! At almost six miles into our journey, who can blame them?
(Left) There is Falls River looking a little low. Pretty at any time of year, Stepstone Falls is an old, deserted picnic area. Once very popular in the fifties, only ghosts remain today.

(Right) One of the many "steps" along Stepstone Falls.
We ate lunch beside the falls, and once again Roy and I started pointing our cameras. A few of us took off our boots, and some even stuck their feet in the soothing waters. It was very relaxing. A perfect time to catch a second wind.
| | |
| --- | --- |
| | There we all are digesting our food, and resting our weary feet. And to think we were only halfway home. But we all survived it, and what does not kill us, only makes us stronger. |
After lunch we were on our way again. We headed back the way we came down Ben Utter Trail to pick up Shelter Trail. Before taking the fork we noticed that Shannon had aggravated an old injury and was in a bit of pain. Bill offered to accompany her on a shortcut back to their cars. And off they went. I must say, Shannon was a trooper. She kept right on trucking. That's courage.
The rest of us pressed on, and found our way to Shelter Trail. We took it slow going up Penny Hill, our last to conquer. At this point, around mile 8, we were a pretty battered group. Everyone continued laughing and having a great time despite the blisters, fatigue, and soreness.
I was speechless when one of our hikers announced that she had filled her water bottle at Falls River, and she had been drinking that! Although she feels okay now, there is great danger in drinking unpurified water from a brook, stream, or river. Giardia is a nasty parasite that you don't want. DON'T DO THAT! She knows that now. It is very important that you bring plenty of drinking water when you hike. One Avian bottle is NOT enough.
It was getting dark, and the stronger folks in the group offered to forge ahead to get their cars to come back and pick up our battle wounded.
A few folks admitted to having under-estimated 10-miles. It is a long distance hike. But despite the great adversity, despite it all, everyone had a terrific time. No one complained about anything. They talked and laughed the whole way through. Haunted Hike #1 was a tremendous success!
Now, I want y'all to know that I've left out of this report all of the spooky tales that accompanied this hike. Would you be interested in hearing them? You'll have to come next year.
Welch-Dickey - Oct 14, 2001

Activity/Photos/Trip Report by Martin Kessler
A small group of four hikers got together to enjoy the fall foliage around Mts. Welch and Dickey.
At the first outlook Pam, Sheldon and Eva are above a valley with spectacular red, orange and yellow trees.


Eva surprised us with Yoga moves "warrior two".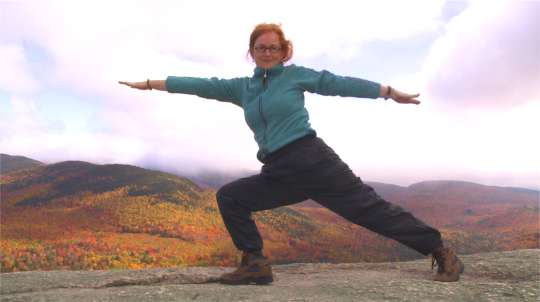 Sheldon Pam and Martin in front of a fire-red tree.


We all had a great hike, with some luck that it stayed dry.
Galehead Hut Stay - Oct 13-14, 2001

Activity/Trip Report by Tom Sweeney
October 13, the last day the full-service AMC High Mountain Huts are open. Must be because it gets cold in October in the White Mountains, eh? WRONG, polypro breath! Saturday October 13 was bee-yoo-tee-full.

Annette S. and I met Dave K. at the Garfield Ridge trailhead promptly at 8:45. GONewEngland Welcoming Committee/Motivator Kathy K. soon arrived, and we did the car shuttle dance. We left Dave's car where it was, put Kathy's car at the Gale River Trail trailhead, and we all drove in my van to the Twin Mountain trail. Thien N. had to cancel due to illness and John R. was going to start a bit later.

We hiked up North Twin in shorts and T-shirts, and when we got to the top, we laid down on the warm ledge to rest. I didn't fall asleep--whatever snoring noises Annette and Kathy heard must have been a bear. Dave had moved on ahead.

By the way, on the way up North Twin, we stopped to talk to a hiker coming down. After a few minutes of chatting we made introductions. It was Bob Williams, fellow GONewEnglander who'd attended my Tuckerman hike last April. (He went all the way to Mt Washington that day). He'd been busy. A couple of weeks ago he planted a huge American flag atop Mt Liberty.

Anyway, Annette, Kathy and I tried to catch Dave, to no avail. We went over South Twin and down the Kamikaze Slope (a knee-popping 1200 foot drop in about three-quarters of a mile) to the foot of Galehead Mountain, and then we were at the hut.

Nice dinner, nice bunks, nice crew, incredibly clear night sky with a milky way almost pure white and shooting stars everywhere. Breakfast was yummy and, like dinner, it was prepared for us by the crew and was all-you-can-eat. The weather cooled off a bit in the morning. We went up and down Galehead, then headed down. Ironman Dave went over Garfield Ridge to summit Garfield, while the rest of us mere mortals (Annette, Kathy, John and myself) went down the lovely Gale River Trail. Brilliant blue sky, impossible green moss and spruce trees, bright yellow and red leaves, and a trail by the rushing Gale River. This was a hike I won't soon forget.

Then, suddenly, we were down and it was collect the cars and off to Bill & Bob's BBQ in Lincoln. My only regret of the weekend was that I was halfway home before I realized that I wanted to stop at the hikers bookshop in Lincoln (run by Steve Smith) and buy his latest hiking book. Ah well, guess I'll have to go back, won't I?
Kidder Mt. - Oct 7, 2001
Activity/Photos by ...kl...

Not all photos are full-size! Click on the thumbnails (small photos) to see a larger picture.

Fall hiking doesn't get any better than this. Bright sun, a few clouds here and there, temps in the 50s-60s, a bit of a breeze that wasn't too much...And, of course, some fabulous GONewEnglanders and a few puppy pals along.

As usual there were folks I didn't know, including Karen (and Cider), Donna, and Kathleen (and Augie). Oh, right---li'l Andrew Cronin, just 6 weeks old---nice to meet you, too, Andrew! :-)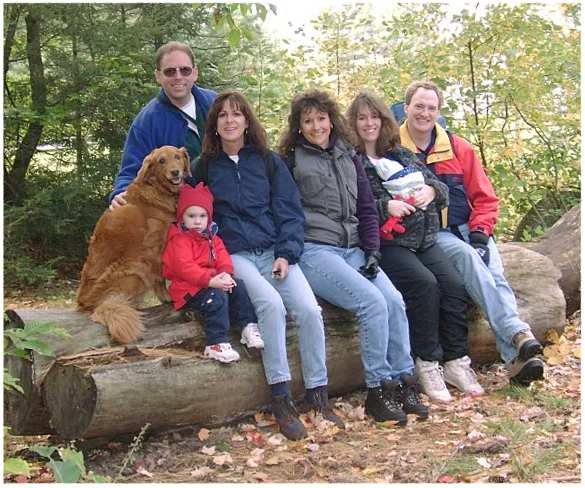 Your Webmaster (in back), Cider, Will, Karen, Donna,
Tammy (and Andrew snuggling there), Mike...
| | |
| --- | --- |
| | ...and Kathleen and Augie, who didn't make the group shot but were along for the hike |
Daddy Mike got Will all bundled up for the hike, and off we went. Will made it for about 1/3 mile, and then it was time for him to hop into the carrier where Mike had him piggy-backed the rest of the way.

Our canine friends had no problem at all with the hike. Both Augie and Cider were very friendly. You'd expect that from Cider, a Golden Retriever. Augie Doggy is more of a mix, with coloring akin to a Rottie, but it's suspected he's mostly Lab. Great hiking companions!

The trail is an old fire or logging road for about half of the way. It passes a very pretty pond . Ohhhh---how many times I've passed that way only to see the dock and the canoes just waiting...But I digress.
It didn't take all very long to reach the top. Just remember to take a left after the power lines, and you're all set.

Kidder Mt. is an easy hike to a super view, that's for sure. Although the foliage wasn't quite at 100% peak, there was still a great deal of color down in the valley. And you could see all the way to Boston on one side, and the other side gave a good view of Mt. Monadnock.

At the top I guided the troop to the best sittin' rocks, and we broke for lunch. Sunshine, nice temps, a tiny breeze...Yep, a very worthwhile hike!

See you again soon, Kidder Mt.!