Bartlett Inn Weekend - November 8-10

Activity by Ken L.
Photos by Ken L., Ern G.


Presidential Range from Mt. Kearsage
For several years now we've been heading to the Bartlett Inn during the post-foliage pre-ski season. This year, though, we pretty much filled the place! And as a special treat...Ern G. put together a wonderful surf-n-turf meal on Saturday evening that was just great!

<- Motivator/Welcoming Committee Kathy K., Joe, Lara, and Jack


Janet, Jan, and Pam, with Michelle hiding from the camera
During the day on Saturday the group split up to do two different hikes.
Arethusa Falls

Trip report by Jan G.
Janet, Pam, Shadow, Michele, Lara, Joe, Jack, and Jan headed to Arethusa Falls (highest waterfall in NH) for a short but beautiful hike. It was snowy and icy enough that crampons would have made the trip easier. (The one person who had the foresight to bring them lacked the willpower to put them on until she had fallen down a couple of times near the top.) The falls were a breathtaking mixture of running water and ice formations-- a sight not to be missed! As an extra treat, several of our party saw the hind end of a bear waddling away as fast as can be.

Joe and Lara took the long way back over Frankenstein Cliffs. The rest of us chose to return the way we came up.

On the way down, our canine companion, in his eagerness, nudged one of our hikers right off the narrow path into the ravine! Thank God, the hiker was caught in a hammock of roots on the way down, so the only things broken were our stride and composure for a few moments. Crampon (Spider) Woman could dig in, hold out her pole, and safely pull up our intrepid hiker out of his/her Bark-alounger. Arf arf!!

To take my tongue out of my cheek for a moment, the outcome could have been painfully different. Some "bylaws" reinforced here were: Don't hike alone, but if you must, do carry a whistle. When there is snow and ice, bring crampons (or snowshoes) and poles.
Kearsage North

Trip report by Your Webmaster
| | |
| --- | --- |
| | <- Rachel, Kathy, and Your Webmaster decided to hit Mt. Kearsage for the day. It's off Hurricane Mountain Road just outside of North Conway. The temperatures were good, and there was sun and clouds. On the way up the snow got a bit deeper, giving us about 5" of trail cover in spots, making for a little bit of slippery going, especially where there was a bit of ice underneath. I used my poles to help, but crampons would not have been out of the question, yet we did just fine without them. |
Mt. Kearsage is best known for the fire tower

, which has graced the summit in one version or another for the better part of a century. I first hiked to the fire tower some 26 or 27 years ago, just a few years after it was taken out of service, so there were some things left behind by the former inhabitants. The fire tower has since been cleaned and fixed up, and it looks like it just got a fresh coat of paint. It is in excellent condition, and it's a fabulous place for lunch!
KK made a new friend, Rangeley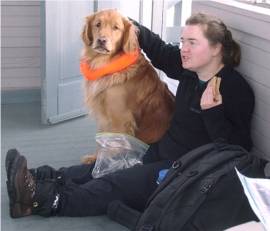 , which we agreed is the coolest name for a dog ever.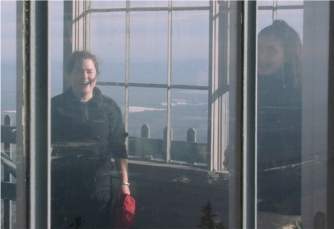 Kathy and Rachel in the fire tower
To make things comfortable in the old tower, someone brought up some plastic lawn chairs, so between a good place to sit and the warmth of the sun streaming through the windows, we really didn't want to depart all that quickly. Someone else had fastened some I-hooks to opposite walls in the tower. If I had found a hammock there, I would never have come back down!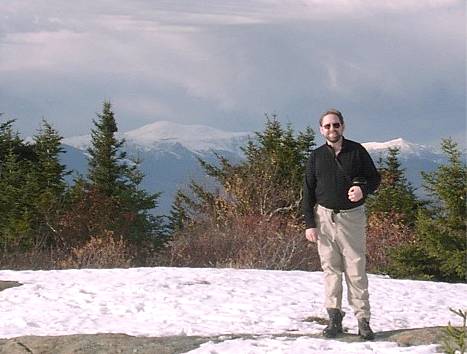 Your Webmaster obscuring the Presidentials
But we knew it'd be dark early on in the day and didn't want to have to break out the flashlights, so we reluctantly left.

A sunset greeted us on the way down.

Jack and Janet catch up


Owner Mark Dindorf


Rock on, Joe!
And then it was time for dinner...
Ern G. went all out for dinner on Saturday night, including filet mignon, lobster, and dessert with hand-cranked ice cream. A special thanks goes to the Bartlett Inn crew allowing us use of their kitchen! Of course several off the Inn staff joined us for dinner as well.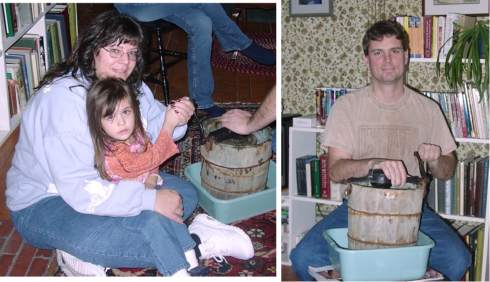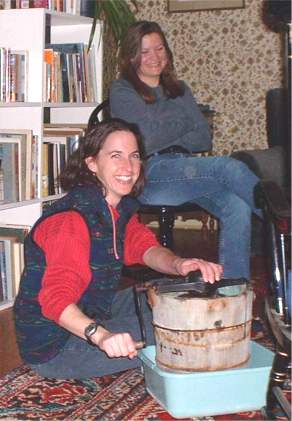 Gizmo's Mom Alison and Alana have a go at making the ice cream.
Joe helped, too, as did Kathy.
Lara watched.


Meanwhile Ern & Co. were busy in the kitchen...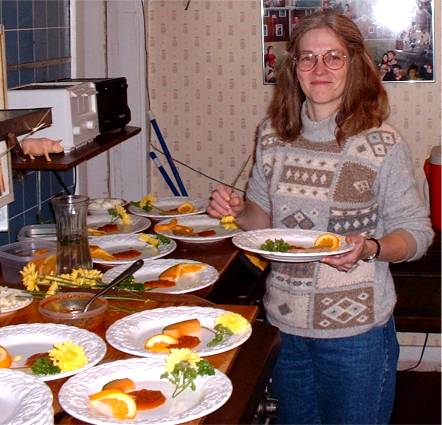 (Hi Ruth!)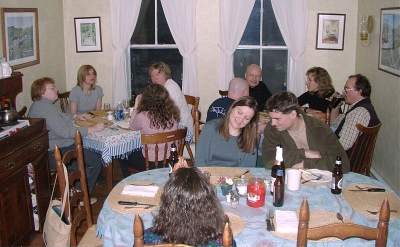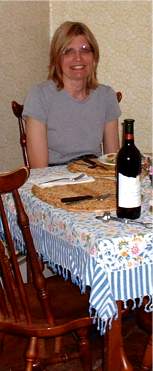 ...while the hungry folks waited in the dining room until...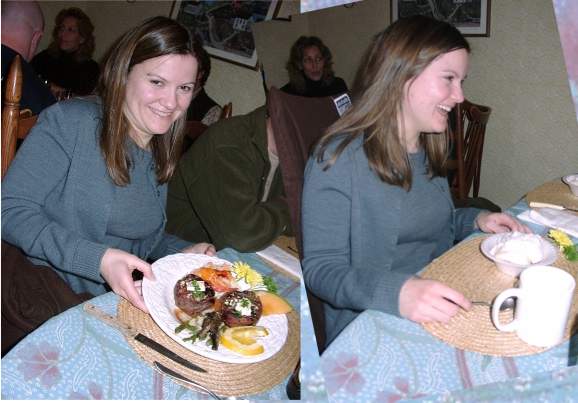 Feedin' time!
Lara shows off dinner - surf'n'turf, done up just right, including a flower decorating each plate!

Your Webmaster got a surprise...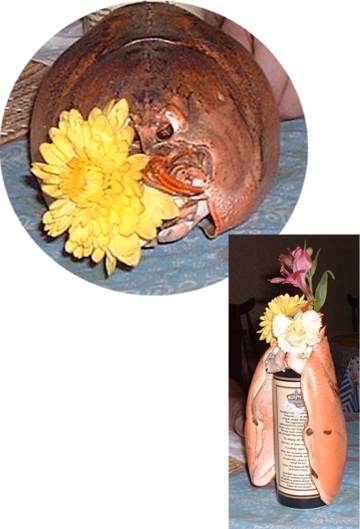 Ralphie the Lobstah!


Hey, wait a second! There's no meat in this thing! I know---a little nutrition is what he needs! :-)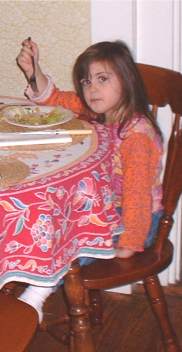 | | |
| --- | --- |
| | Salad bar, too. Not everything was the stuff Your Webmaster's doctor doesn't want Your Webmaster to go near anymore. :-) |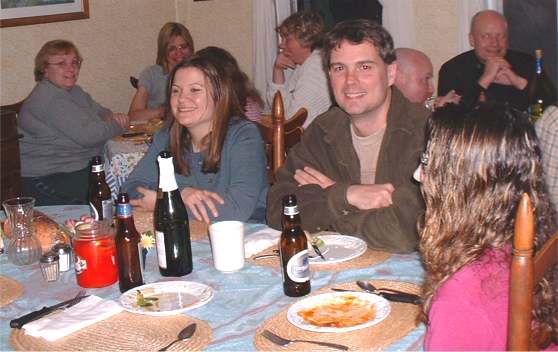 And then for dessert it was strawberry shortcake with the hand-cranked ice cream that a bunch of GONewEnglanders worked on all afternoon.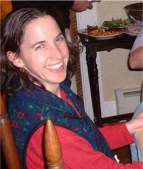 After dinner was over, it was time to relax...
Off to the big room with the wood stove to laze out. The mulled cider prepared by the folks at the inn was a huge hit (all weekend, actually).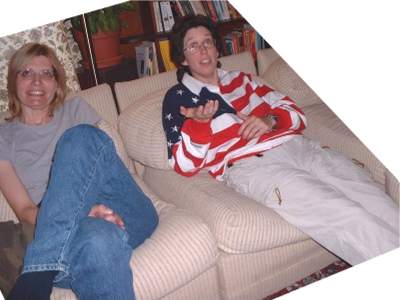 Pam and Michelle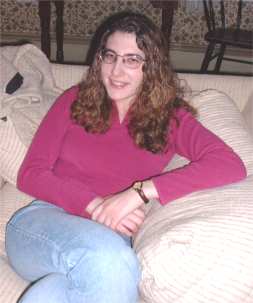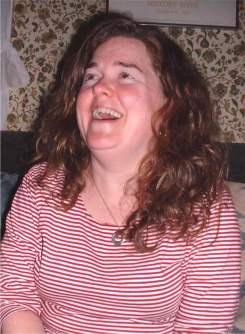 Rachel and Kathy
Sunday breakfast...
After waking up after our wild party Saturday night (uhhh, OK, a bunch of us rough-housed with Alana or just hung around and chatted), we were ready for some Sunday breakfast. Again the innfolk offered their excellent "usual stuff" plus an excellent Mexican-style breakfast.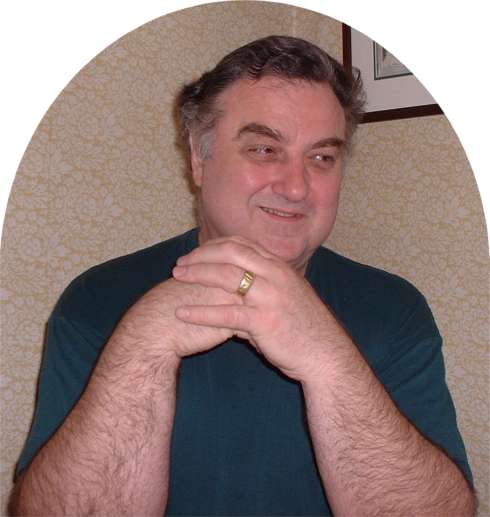 Ern
Things are busy at the Inn on Sunday morning!

Not only does Michelle take the orders...

...she helps Heidi out in the kitchen!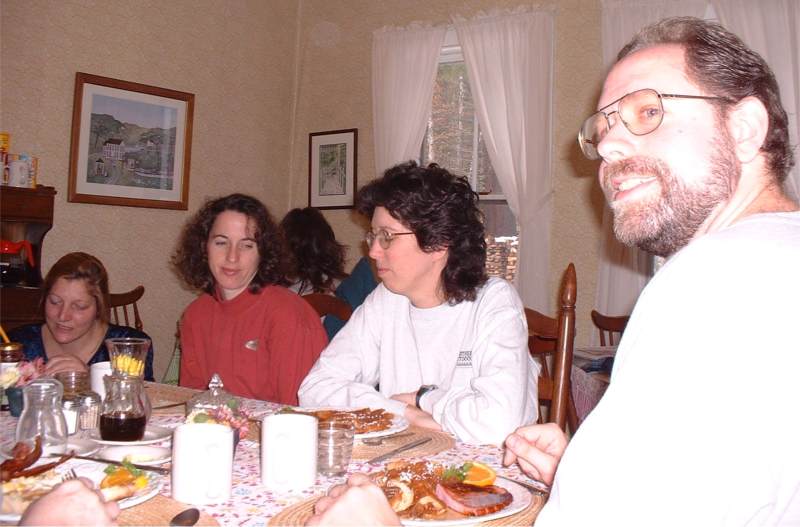 Michelle back for more orders (Where's my decaf!!?!?! :-) ),
and Kathy waits (and waits and waits)
while Michelle and Your Webmaster are wantin' to chow big time!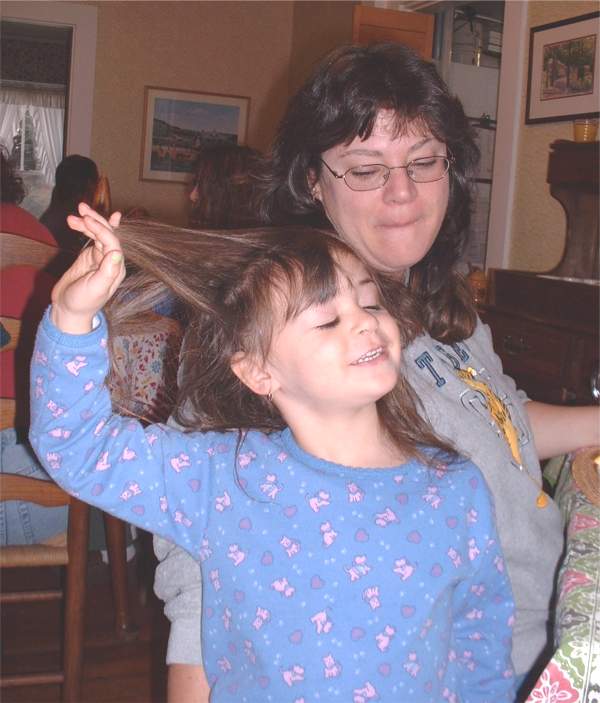 Alana's mommy wants her to grow up and be the next huge supermodel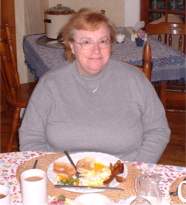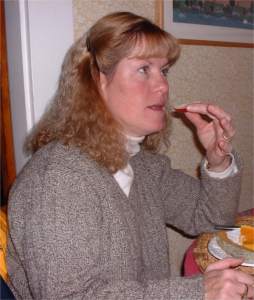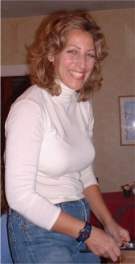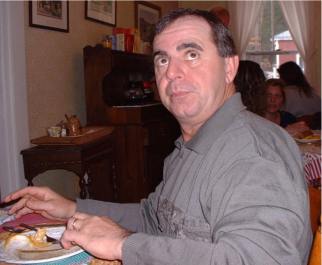 A few more...
But---sadly---the Inn portion weekend drew to a close, and we all headed in different directions for the day on Sunday. Ern & Co. wandered back to Maine, and a bunch of people visited Mt. Willard. Pam, Shadow, and Your Webmaster decided a flat hike was in order, so we went off to Lincoln Woods.
Lincoln Woods - November 10
Pam F., Shadow, and Your Webmaster took a jaunt on Sunday to Lincoln Woods, which is off the Kancamagus Highway just east of Loon Mountain.
The Lincoln Woods trail is an old railroad bed about 3 miles each way, and it leads to a natural waterslide as well as a deep pool that you can jump into from a ledge high up.


Natural Waterslide
We didn't partake in the swimming activity, however, although I believe Shadow was thinking about it!
While out on our walk we encountered a strange weather phenomenon. The temperature would go from chilly to quite warm and humid, as if the cold and warm air were fighting it out. At one point my glasses got steamed up!
After our walk we hit the brew pub over in Woodstock, then it was time to head home.
Just writing this report it makes me want to head back to The Bartlett Inn for a repeat. After this weekend, I don't think you'd have to twist my arm all that much.
Our sincerest thanks to the staff of The Bartlett Inn for the great weekend and for the generous use of their facilities to help make Saturday evening's dinner really special!