The forecast was for cold and strong winds last Saturday, but that was not the case as ten hikers and one pup made their way to Lonesome Lake.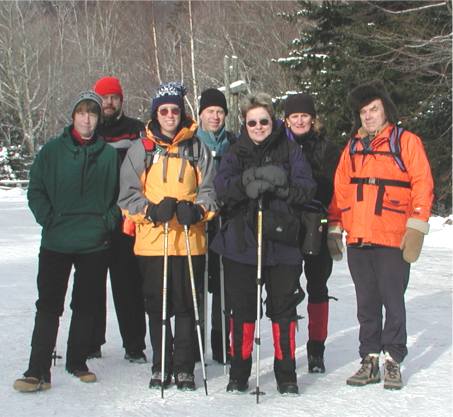 Left to right in the photo are Lisa P., Jim, Michelle, Don, Annette, Lisa G., and Arnie. Showing up late and not in picture are Kathy and Dan. Photo taker is your humble scribe who is still trying to figure out the photo delay feature. (It's a sad state when one's camera is smarter than its operator!)
Snow cover was scant at the bottom with rocks sticking out of the snow in many places. We all started with snowshoes tied to our packs, hoping that there would be more snow cover at higher elevations. Such proved to be the case when we neared the lop of the ridge

. The spruce forest surrounding Lonesome Lake was snow-covered. It still wasn't overly deep, but made for a beautiful trail

. Hard to get lost on this trail. Any rumors about me falling down are untrue. Artists are so misunderstood. You see, I had to flop down in order to properly capture this snow-noveau shot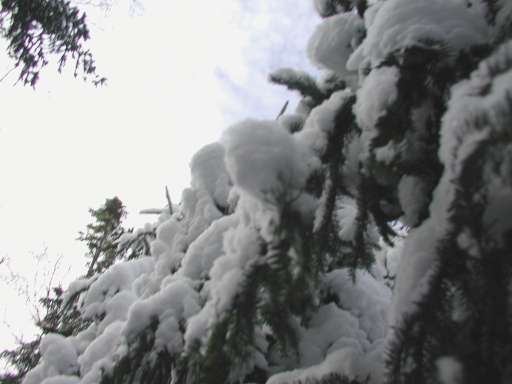 from just the right angle. (Such angle being prone.)
At the lake shore we were rewarded with a view of the Kinsman Ridge

. Not knowing the thickness of the ice, and not seeing any snowshoe tracks across the ice, we opted to take the loop trail around the lake to the hut.
The trail crossed the dam at the outlet of Lonesome Lake

with views downstream and across the frozen lake to Mount Lafayette.

The hut was still closed, though AMC workers were out and about making ready for next weeks opening. We walked onto the porch of one of the bunkhouses and enjoyed a lunch with a view

.
After lunch we packed up and made a quick jaunt back to the cars. Lisa P. and Don P. needed more of a workout, so they started off down the Pemigewasset Trail. At the rate they were moving, they are probably somewhere in Montana by now.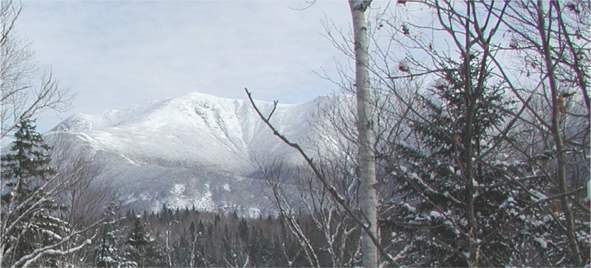 Lunchtime View