Bartlett Inn Weekend - September 4-6, 2004

Activity by Ken L.
Yes, we like The Bartlett Inn. It's in a good location to get to some wonderful area hikes. Over this weekend we went up to Zealand Falls and then spotted cars and did the six mile Sawyer Pond trail.


True
Zealand Falls - September 5, 2004
Parking at the Zealand Falls trailhead can be the trickiest part of the hike, but somehow we managed to find some spots for our cars. Your Webmaster had never done the Zealand Falls hike, so this would be a treat.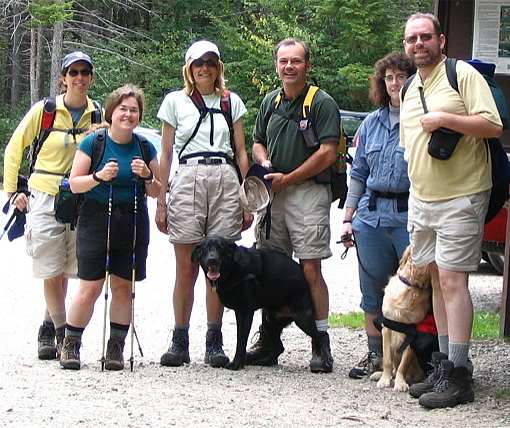 Michelle, Welcoming Committee/Motivator Kathy, Pam, Shadow, Randy, Jenn, True, Your Webmaster
Most of he hike into Zealand Falls is flat (with a few big rocks at the beginning just to keep you on your toes). For this reason it's one of the more popular hikes.
We met a number of other hikers on the trail, and the Zealand Hut

and nearby falls area were brimming with people.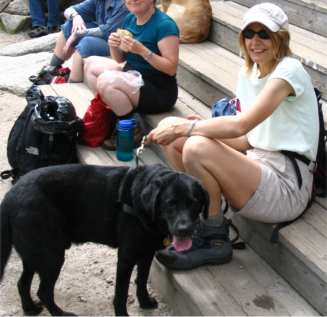 Shadow and Pam on the stairs to the Zealand Hut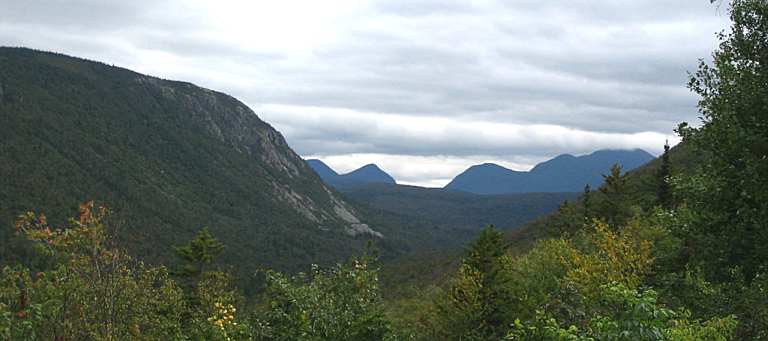 Excellent view from the Zealand Hut
Most of the people up at the hut were fighting over the excellent cookies the AMC folks were dishing out. They made tons of them, and every one of them sold quickly!
True, however, wasn't even up for a cookie after his long walk.

He was happy to snuggle with Your Webmaster's pack and have a snooze. Puppies need their rest!
Sawyer Pond - September 6, 2004
Sunday's hike was the Sawyer Pond Trail. It extends six miles from the Kancamagus Highway to Route 302. We spotted a car at the 302 side, loaded everyone, all the gear, and two dogs into another vehicle, and drove over Bear Notch Road to the Kanc.
Jenn and True got ready for their walk. Everyone put on their gear in the parking lot, not knowing that about 100 yards down the trail was a stream crossing. So off came all the boots and socks, and everyone waded through the stream.

The other crossings later on weren't as challenging.
Most of the Sawyer Pond Trail is flat. We had the fortune of finding some berries along the way for some nice trailside snacks. We spent a while at Sawyer Pond having a late lunch. Sitting by a pond can be quite relaxing.

Not long after Sawyer Pond we encountered the final bridge, leading us out to the parking lot. Again it was time to load up all the gear, pack in the two dogs, and drive on back to the Kanc to pick up the second car.
Another successful and enjoyable weekend!
Bartlett Inn Weekend - April 16-18, 2004
Mt. Kearsarge (North) - April 17, 2004
Tuckerman Ravine Hike & Ski - April 18, 2004
Davis Path / Mt. Crawford - April 18, 2004

Activities by Ken L.; Tuckerman Ravine activity by Randy C.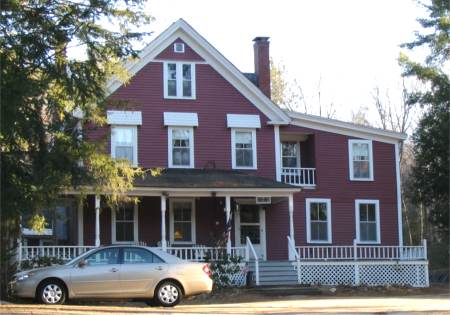 Off we were to the Bartlett Inn again to stay with our good hosts Nick and Miriam (who was up and around and chipper as always). For the uninitiated, the Bartlett Inn isn't a fancy place, but it's comfortable and makes you feel welcome. The breakfasts are pretty good. Pets are allowed in the cottages, too, which is a plus for many people. And, yep, there's a hot tub out on the deck!
| | |
| --- | --- |
| Anoush and Joe | Generally we visit in the off-season (November and this time in April). It's fun to hang out, grab some dins, and do a few hikes (or shopping or biking or whatever). This time many of us hiked Mt. Kearsarge (North) on Saturday. On Sunday some people went to visit Randy C. at Tuckerman Ravine, some went home, and two of us went to the Davis Path. |
Mt. Kearsarge (North) - April 17, 2004
Mt. Kearsarge is one of the first hikes I remember doing, way back around 1974 (give or take a year or two) with my father and a bunch of his high school students who stayed at the family camp for the weekend. It's a nice hike, not too demanding, with fabulous views of North Conway, the Presidentials, and even the Atlantic Ocean on the other side of Maine---provided you can make it all the way to the fire tower up top.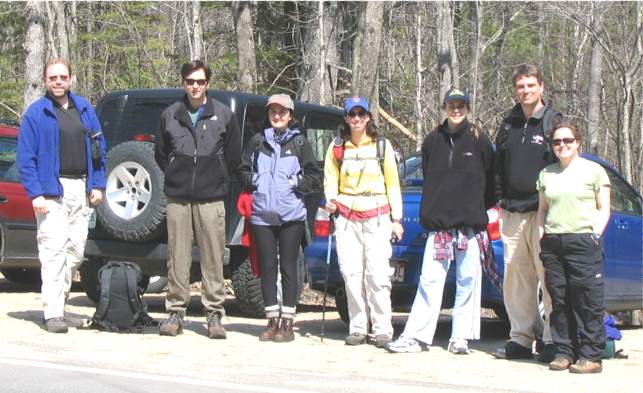 To start the journey there was Your Webmaster, Joe, Anoush, Michelle, Marie, Joe, and Kathy. The day started off sunny and a bit warm (so warm Your Webmaster had a change of wardrobe about 1/3 of the way up). Eventually it clouded over, but the cloud ceiling was very high, so all the peaks stayed clear (this happened both Saturday and Sunday).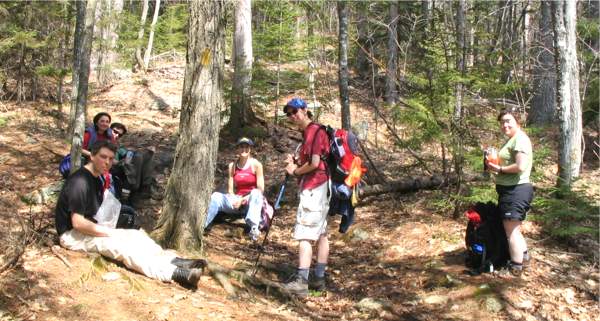 The group stopped for a break and waited for your sluggish Webmaster to catch up. Definitely a lot of, "Oh, there you are...finally..." looks on those faces! Hey, I drive a desk all week!
So we made it on out to the ledges, which are rocky areas where you start to get nice views. Shortly after that, however...
...we discovered snow. That alone wouldn't have been too bad, but a bit further down the trail the going got extremely slippery. We met some hikers coming down from the summit, and they said they had to bushwhack to find better footing and wound up post-holing a lot. Sans crampons there would be no way to get over this section and make the top, where the trail was probably mostly clear, given that the final parts of the trail would be in the sun. Sigh...

So we did the sensible thing and wandered back out to the ledges...

...for lunch!

After a bit of lazing and chatting we packed up our gear and wandered back out. We'll see the fire tower next time.
We decided to do dinner on Saturday night at a place in Bartlett (about the only thing open). It used to be a tiny joint with more flies than customers (OK, so it was about 20 years ago...). Most of us went early with a few more from the group to arrive later, but, as luck would have it, something went wrong in the kitchen (some kind of gas leak or something), so they stopped serving new customers. Ahhh welllll...At least there are other fun places to chow down just a few miles down the road in Glen. That didn't stop the rest of us from enjoying the meal, even if there was the possibility of gettin' blowed up real good!
Joe, Lara, and Marie got up extra early on Sunday to meet up with Randy C. and other GONewEnglanders at Tuckerman Ravine. It was a bit early for everyone else, though, but eventually all of us made it to the dining room for a decent breakfast. Following breakfast everyone who was left decided to scatter, with Kathy and I deciding on another hike that got a very late start.
Tuckerman Ravine Hike & Ski - April 18, 2004
Activity, photos, and trip report by Randy C.
(Unfortunately a trip report is not available.)
Davis Path / Mt. Crawford - April 18, 2004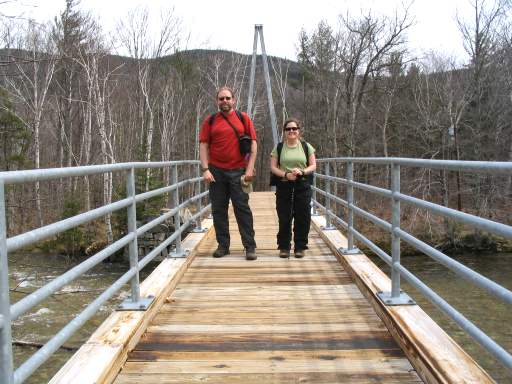 Welcoming Committee / Motivator Kathy K. and Your Webmaster ventured forth to the Davis Path trailhead, just a few miles down Route 302 from the Bartlett Inn. Last time we went there several in the group made it to the summit, but it was too cloudy to see anything, and snow started to come in. Pam, Shadow, and Your Webmaster turned back about 10 minutes from the summit because the snow started covering the smooth rocks, making them too slippery. So would Your Webmaster make it to the summit this time?
After yesterday's bout with ice it wasn't looking good. KK and I ran across the start of the snow about halfway along the 2+ mile trail.

Yesterday it was too hard to get through. Would we fare better today?

The going was a bit tricky in parts, but generally enough of the trail was clear or enough of the snow crunchy that we could get some footing.

We made it to just below the summit, but then, of course, lost the trail! (It's not well marked up there; most of the paint blazes have faded.)

Fear not--we got back on track and reached the summit and were well rewarded for our efforts. Your Webmaster found yet another great spot with a view to sit and have lunch.

Mt. Washington


Frankenstein Cliffs/Trestle, Willey House

From the summit of Mt. Crawford the view is incredible. We parked our butts at the end of the summit where we got a view down into the valley toward the Willey House and over to Mt. Washington and the Presidentials.

Aside from the railroad and trestle, route 302, the Willey House and surrounding buildings, and the structures on top of Mt. Washington, there is no real evidence of humans anywhere! It's amazing how much unbroken wilderness remains these days in the White Mountains.
We started our hike at a bit after noon, and it was approaching 4pm after our respite, so we decided to head on down. Fortunately there was plenty of daylight left, even after we reached the cars at just after 6pm.
And that was that for Your Webmaster and pretty much everyone else for the weekend. It was a long ride home and was tough to go to work the next day, but it's always nice to get away with a bunch of great GONewEnglanders!
Ted's Trail / North Pack - April 10, 2004

Activity by Ken L.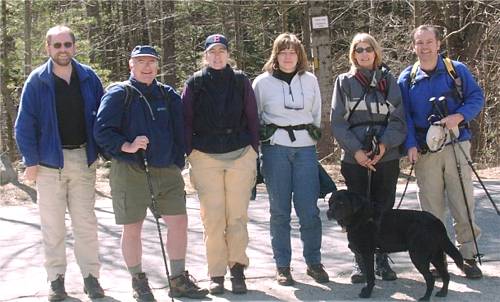 Your Webmaster, Dave, Dawn, Riché, Pam (and Shadow), Randy
A perennial favorite: Ted's Trail heading up North Pack (then Carolyn's Trail heading back).

Ted's Trail is an excellent alternative to the Wapack Trail that most people take to reach the top of North Pack. Ted routed his trail along the best parts of the land, including a gentle brook with a small waterfall.

Every now and then you pass over a brook, and here the bridge is a bit submerged thanks to all the rain we'd been having. Good thing that Dave is wearing his waterproof boots!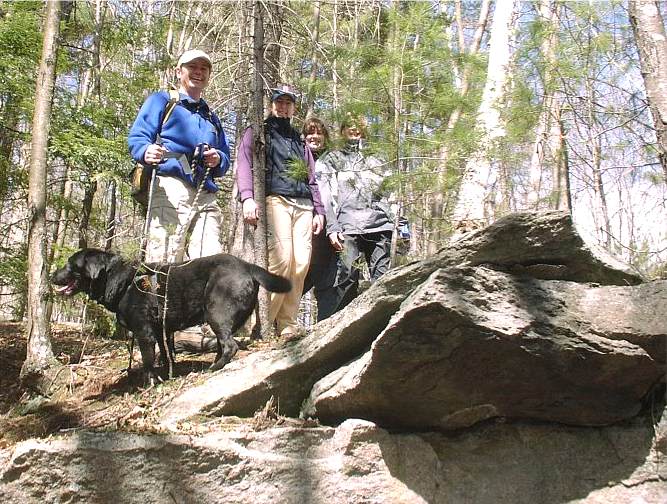 Just past the waterfall Shadow, Randy, Dawn, Riché, and Pam pose for the camera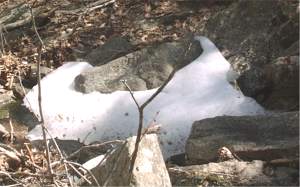 Isn't winter done yet?
We grabbed some lunch at a nice lunch spot not too far from the summit, ducking out of the wind that had kicked up.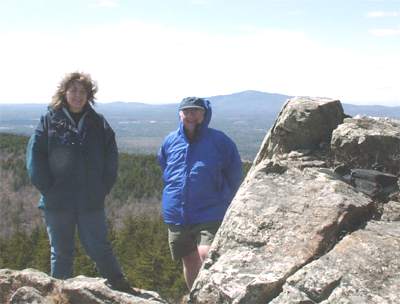 Riché and Dave found the lunch spot,
but it was a bit windy.
In the background is Mt. Monadnock.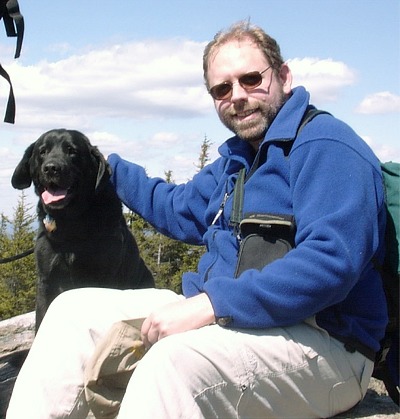 Shadow and Your Webmaster at the summit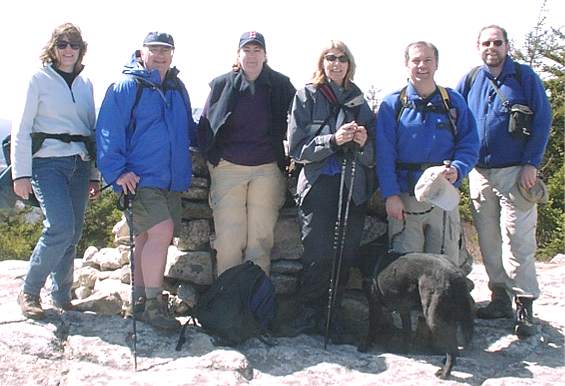 Summit photo, taken by another hiker just passing on by
After we made it to the summit, it was time to head back along Carolyn's Trail, which has a stunning view where it breaks off from Ted's Trail.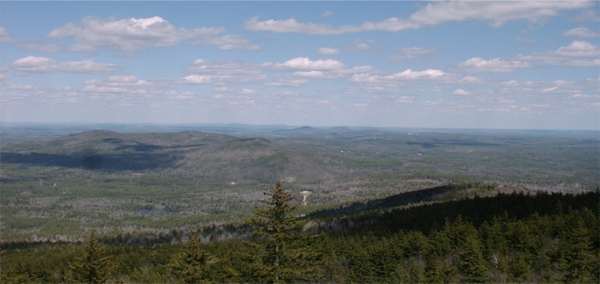 Ted's Trail - South Cliff - Summit - Carolyn's Trail makes for an excellent loop. You see some nice land features, and the views are spectacular. All of this for a measured amount of effort! Highly recommended. We'll be back.