Parker River National Wildlife Refuge - Plum Island - November 27, 2004

Activity by Joyce and Egils Z.
Trip report and photo from Joyce
On November 27 five of us - Sue, June, Rich, Egils and I - met at 2:00 and walked the beach at Parker River National Wildlife Refuge (Plum Island) for 1 3/4 hours. It was in the 40s and sunny with some wind, and the surf was lively. We saw a few gannets, but most of the birds were too far off to recognize. June had been to the wildlife refuge often enough that the staff there knows her by name. Sue and Rich were new to this gorgeous beach. One of the signature items beachcombers look for there are sand dollars, which generally show up at low tide. Egils and I had picked some up there on Tuesday, and I gave one each to Sue and Rich to take home.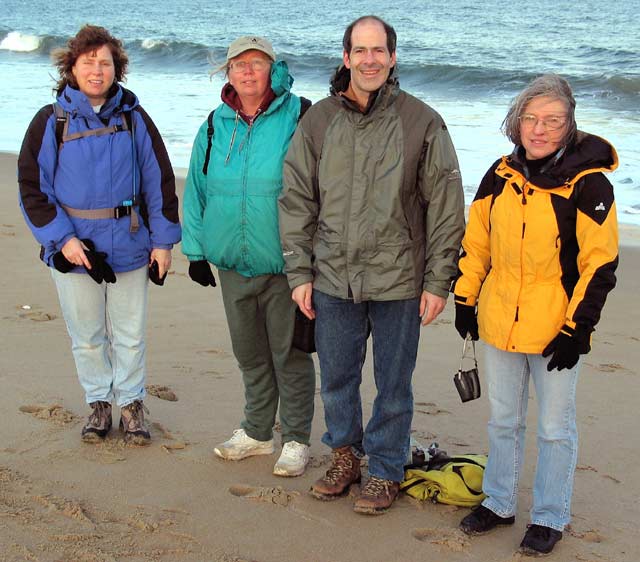 After June (who had a cold) and Rich left, Sue, Egils and I headed to the Hellcat Swamp area to find bathrooms, then walked out to the lookout tower there. We saw Jim Berry, a former Audubon employee we know, and he showed us four snow geese through his spotting scope. Along the road we also saw three deer grazing the salt marsh. As the sun set, we headed for Newburyport center, parked, and walked to the waterfront through Somerby's Landing Sculpture park (six contemporary sculptures), along the waterfront, back towards the Firehouse Center for the Arts, up State Street and then over to the Bluwater Cafe, where we met up with Gary, Don and Jan for dinner and some good conversation about places we've each been to and other fun things. We parted ways about 8:00 or so.
The Bartlett Inn, November 12-14, 2004

Activity by Ken L.
It was back to The Bartlett Inn for our biannual (sometimes triannual) visit. Good brekkers, hot tub, dogs welcome, good hikes, great location (between Conway and Bretton Woods, near Attitash).

Your Webmaster arrived on the evening of the 12th, and you have to check out this picture of Mt. Washington as seen from Bear Notch Road . It was absolutely incredible!
Lowe's Bald Spot, November 13, 2004
On Saturday Michelle M. and Your Webmaster wandered over to Lowe's Bald Spot, a fairly benign trail that begins at the AMC's Pinkham Notch Visitor Center.
Well "benign" is a relative term...we're not sure how "benign" it is, exactly...

Is it cargo...is it something else...? There was nobody around to tell us.

Michelle wanted to poke it with a stick, but we thought better and moved along.

There were a few slopes, a scramble or two, and a bit of ice and snow. Michelle and I made it over to the Mt. Washington Auto Road crossing where there was the obvious photo opp: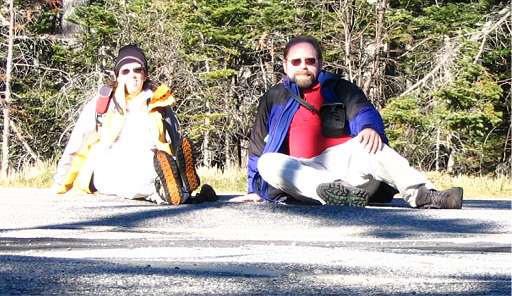 Nope, Your Webmaster has never "climbed" Mt. Washington in a car, just by foot. There weren't many cars around. OK, there weren't any cars around.
Lowe's Bald Spot is just a few minutes beyond the Auto Road.

It's "just" a chunk of rock tucked in the woods, but it's a superb picnic spot, and we were able to get out of the wind and sit in the sun. There's a great view of Wildcat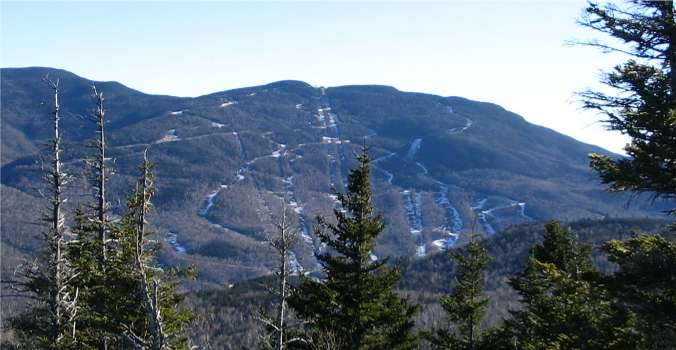 from the far side, and another spectacular view of snow-covered peaks from the other side.

After the hike, we made it back to the Inn and then out for some dins. It was the usual fare---Friday night the Red Parka Pub (prime rib, of course!), Saturday night the Tex-Mex place.

Sunday became a lazy day for Your Webmaster, who gave Zoe (the neighbor's cat) a scritch and then piled in the car and drove off.
The beautiful late fall weather followed everyone on the way home, with stunning views like this:

Where are the clouds...?
Don't let the lack of leaves and the chill put you off visiting the north country in November. There are certainly rewards to be had!
Ted's Trail, North Pack - October 9, 2004

Activity by Ken L.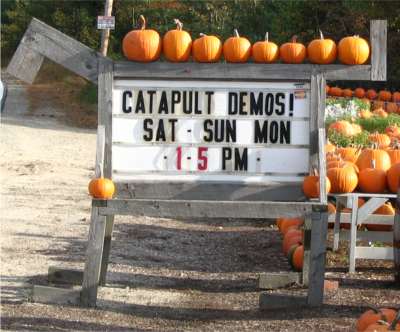 Uhhhh...Catapult demos? Yep, that's what the sign across the street from the farm stand read. We'd have to come by and check those out after the hike!!!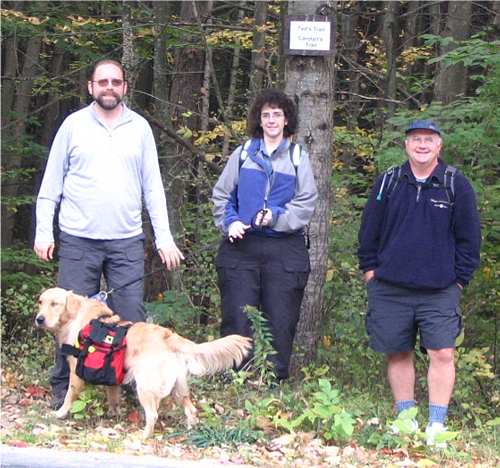 True, Your Webmaster, Jenn, and Dave K. wandered over to North Pack---but not the Wapack Trail---Ted's and Carolyn's Trails (they're much better). We've been here, done this, but it's always nice. Lately, though, there has been some kind of logging or other activity in the woods, so the trail has been cut through in parts, which is unfortunate. Still there are a number of nice things to see along the hike, and the views are great!
| | |
| --- | --- |
| | Your Webmaster always has to get a picture of Ted's Trees , which is but one of the nice areas that the trail goes through. Jenn and True posed by the little waterfall , and so did Dave (to the left). |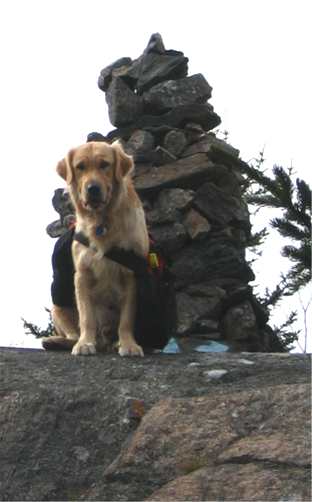 True guards the cairn. Maybe he's part Cairn Terrier?
At the top it was a little windy

, but the views were nice.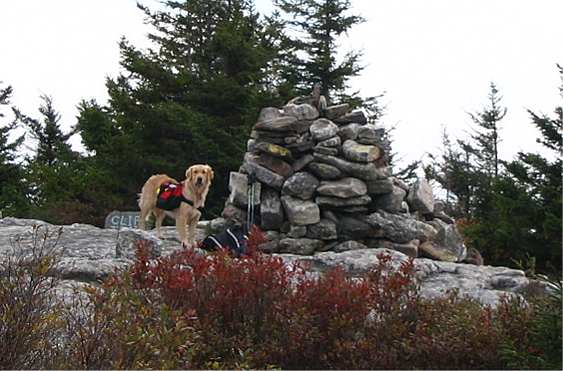 True guards a pack. Maybe he's part pack animal?
As usual, North Pack didn't disappoint. Dave, Jenn, True, and I spent a few minutes lounging out on the granite slabs near the summit, then it was back down Carolyn's Trail (which has had some changes near the bottom, by the way, so watch your blazes!) and over to the cars---and then down to the end of Russell Station Road to see what this catapult thing was all about.

Holy smokes---a catapult that chunks punkins at a sheet metal castle on the other side of the field! Well, we had to wait for the next firing, and Your Webmaster captured it for everyone to see:
Click here to see the catapult in action!

Windows Media, 600KB
It was a lot of fun.
Oh dear...Jenn, did you park too far from the curb or an inch too close to the no parking zone!?!?!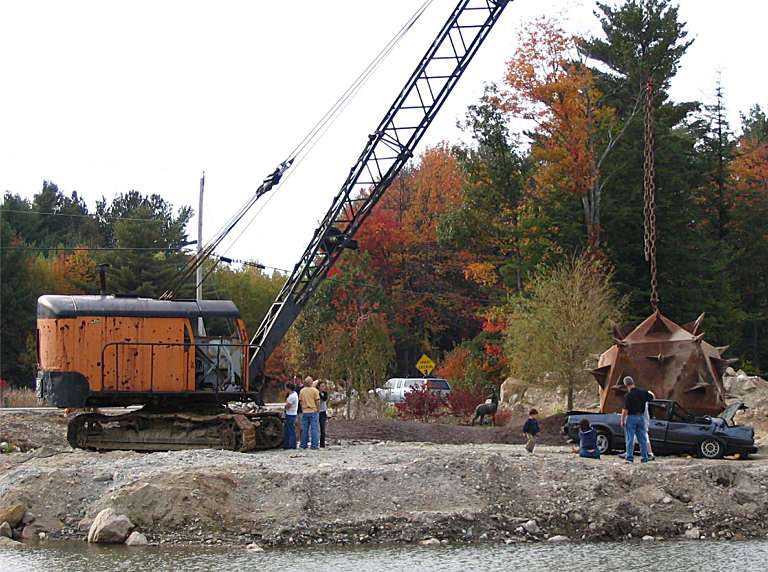 Man---these guys are serious about parking laws in this part of New Hampshire!
Kidder Mountain - October 2, 2004

Activity by Ken L.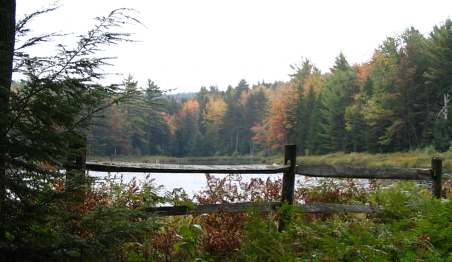 Dawn, Jen, True, Jenn, and Your Webmaster had a foggy hike to Kidder Mountain.

Kidder Mountain is an easy hike in Temple, NH. Most of the trail is on an old logging road, and the last part of the trail is on a path that has one or two slightly steeper sections.


Dawn, Jen, Jenn, True, and Your Webmaster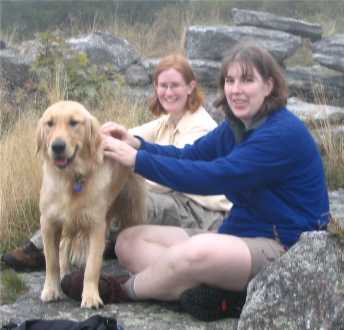 At the end of the trail is a great view.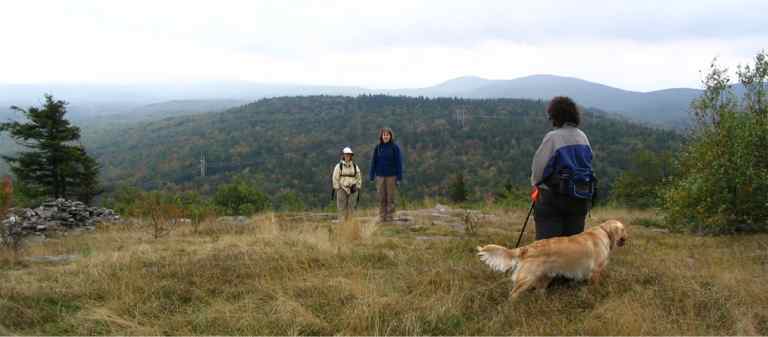 Around one side is Mt. Monadnock, and around the other you can see Boston. It is well worth the effort!