Ted's Trail, North Pack - April 17, 2005

Activity by Ken L.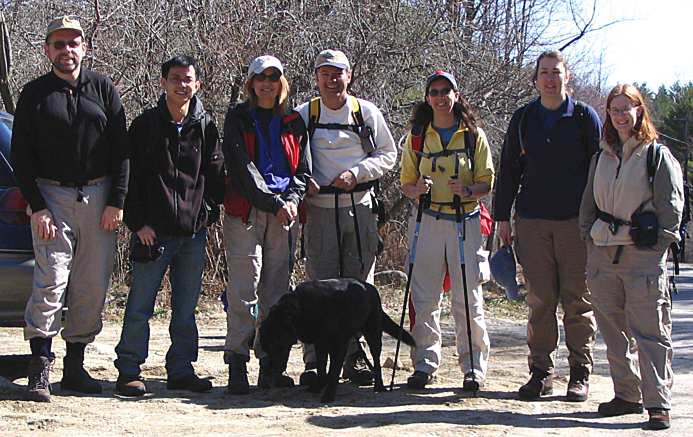 Your Webmaster, Chin, Pam, Shadow, Randy, Michelle, Dawn, Jen
Spot on! Weather: Perfect. Sunny, 70s. Bugs: NONE. Trail: Always nice. Group: Great folks.
Ted's Trail is a favorite. It's a pretty trail to start with, and it's not a heck of a lot of work for some good views. A number of familiar people (and one familiar canine) joined in, and we had a new person--Chin--along, too.

<-- Ted's Trees and Ted's Waterfall

Dawn pauses to look at the waterfall from above.


Dawn and Jen take a break.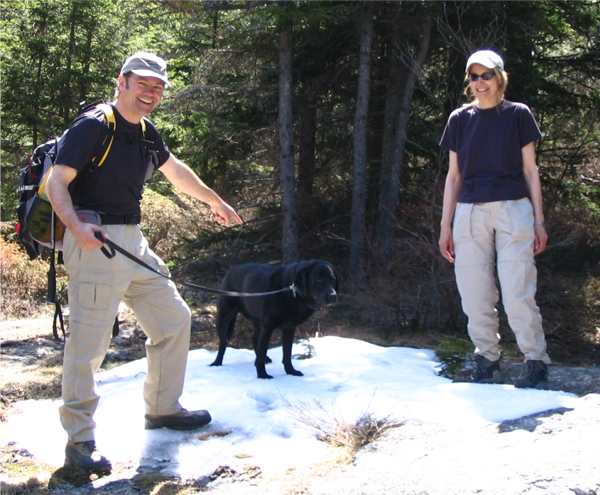 There's snow in them thar hills! Randy, Shadow, and Pam.
We ran across a few patches of snow along the way, mostly as we got higher. The snow was limited to the north side, except for a few patches of what must have been deep snow in the sun.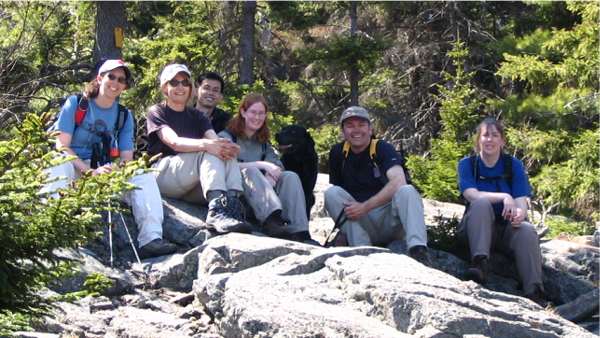 Everyone takes a break.
About 2/3 of the way to the summit, the views start...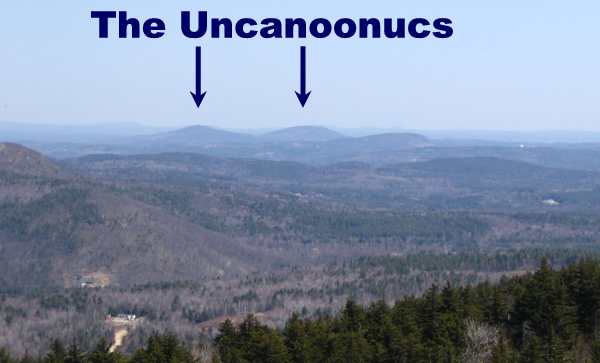 ...and about 3/4 of the way up there's the spot for lunch (at South Cliff). It comes with its own view of Mt. Monadnock to the west

and South Pack, Watatic, and Wachusett to the south.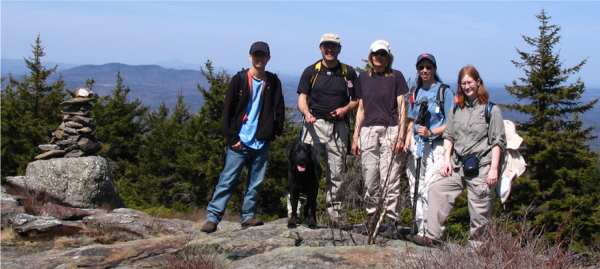 Summit
Great day, good hike!
Tuckerman Ravine Hike-n-Ski - April 10, 2005

Activity, photos, and trip report by Randy C.
The weather was too perfect for some, so the only GONewEnglander who showed up was GONewEngland Motivator Kathy Kelly. Weather was a sunny, 45 degrees and rising at the bottom.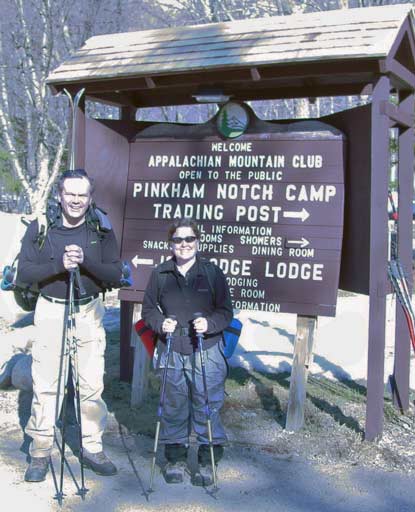 Testament to weather – there was a bull moose sunning himself in a field next to Route 115 in Whitefield – at least 5' tall laying down. (Where's my camera when/while I'm driving). The parking lot was full by 8:30. Perfect temperatures for an uphill hike in shirtsleeves and water in a MaiTi bottle.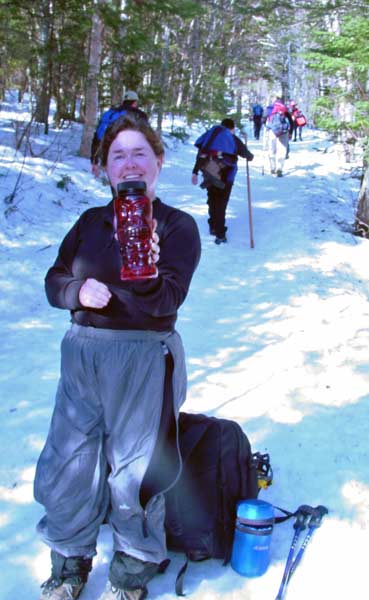 There's a party at Hermit Hut with 1750 visitors to the notch this weekend.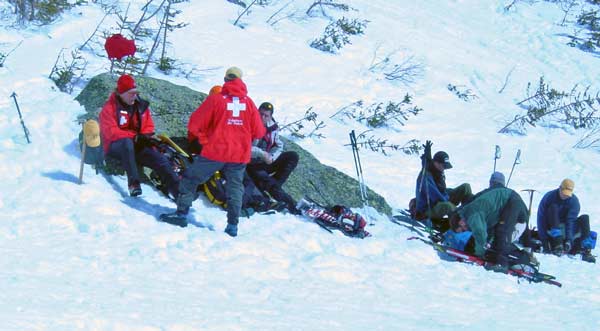 WMNFS Safety Patrol – Live free, but live to tell about it. These guys and girls give it up for our peace of mind.


Hillmans Highway
The bowl was so white that it confused my camera filter and overexposed most of the roll (chip).

| | |
| --- | --- |
| | Kathy soaked up the rays and made friends on lunch rocks. Randy hiked up "Chute" for a schuss. The top was cooler, windier and starting to crust. Randy caught a tip near the rocks and did a third of a run "off skis". Rolling snow buried a pole permanently – no more runs this weekend. |
| | |
| --- | --- |
| The action in the bowl was nonstop including several runs over the cliffs - 30' of controlled freefall to wild cheers. Falls were hailed throughout the bowl – everyone got back up. The John Sherbourne was open but our group left Hermit Hut as a unit for a gravity enhanced stroll to the base. Sunset followed shortly. | |
Joe English Hill Hike - March 5, 2005

Activity by Pam F.
Good luck finding Joe English Hill! It's a shame nobody knows where it is---it's a nice hike, steady, but short. You can wander around at the top to create your own 360 degree view that takes in the White Mountains, Mount Monadnock, a few ski areas to the west, Boston, and the Uncanoonucs. There's also a little picnic spot for you.

Before the hike, GONewEnglanders Randy, Pam, John, and Diane prepared for the pre-snowshoe worship ritual...


GONewEnglanders Randy, Pam, John, and Diane show proper reverence for their winter gear
and bow down in thanks to the sun gods for such a nice March afternoon
We wandered onto the trail, which is a steady uphill climb---not too long or too high, though. It was a gorgeous day with full March sun and a little bit of wind that chilled things slightly. The trail is on private land, and there they are mining for flagstones

. As we went along, we began to get the views---great for a short hike!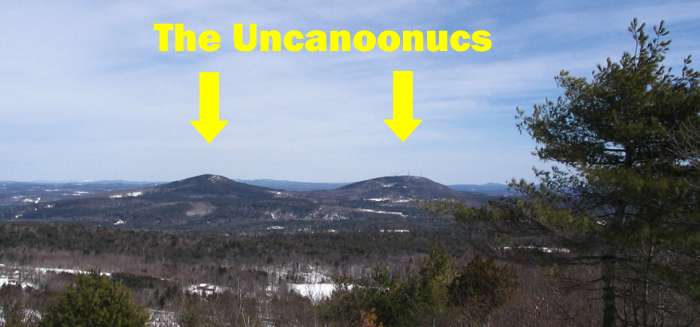 Pam---These are the Uncanoonucs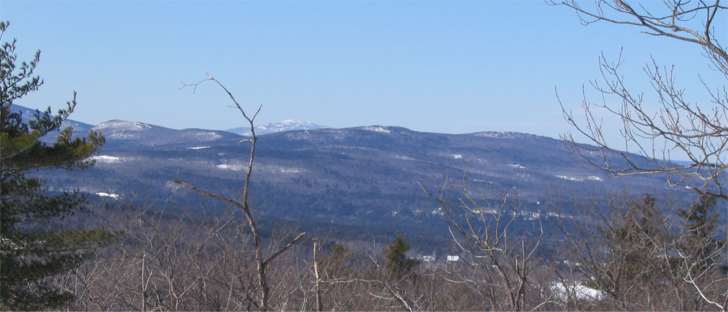 Mt. Monadnock just left of center


Boston, MA
We took a break at a great picnic spot.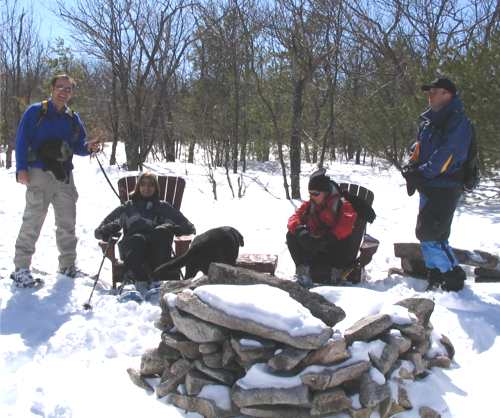 Randy, Pam, Shadow, Diane, John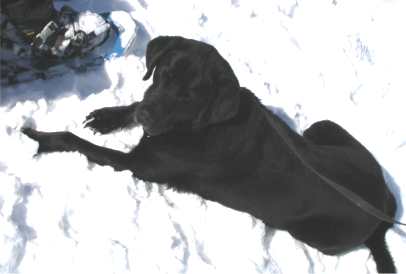 Shadow loves the snow!
After our picnic stop we wandered back down to a tavern in New Boston, NH for some brews and chow. But before we left, I grabbed some more scenery shots looking north. Can you pick out anything? Randy thought he saw South Kearsarge, Moosilauke, and part of the Presidential Range. I'm not so sure what I'm seeing whenever I look anywhere, so don't ask me! :-)


NH's middle...and are those some of the White Mountains??