Skatutakee and Thumb - July 17, 2005

Activity by Ken L.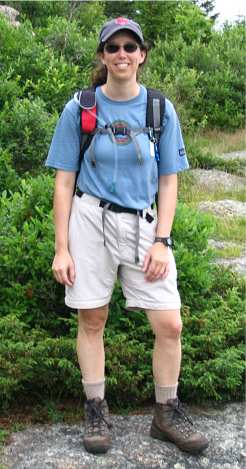 It was a misty July day when Michelle M. and I wandered over to Skatutakee and Thumb in southern NH. It's not a difficult hike from the Harris Center, and the views of Mt. Monadnock are great...well, when you can see anything.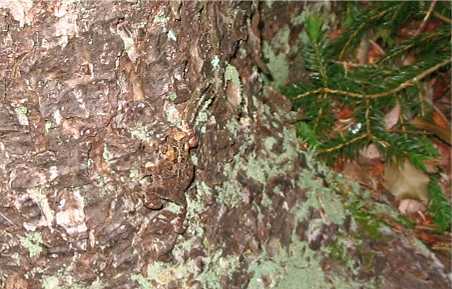 Can you see the toad attempting to climb the tree?
As soon as I took the photo, gravity got the better of the little bugger.
And he tried it again.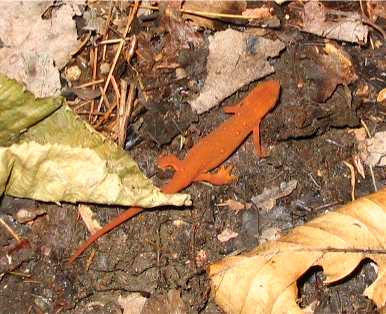 Red eft.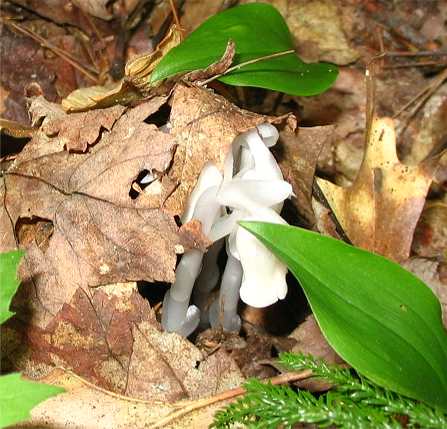 Indian Pipe appearing.


click for larger/wetter image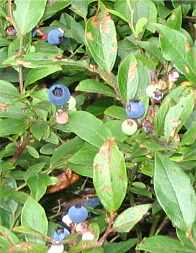 Blueberries! Along the trail we found some blueberries to munch, and there were some at the tops of both Skatutakee and Thumb. They'd been picked over, though, so not too many were left, but there were enough for a bit of blue lunch.
Atop Skatutakee we noticed that some trees had been cut down. We had no idea why, and all I could think of was the fate of hills like Watatic. Then I joked that wouldn't it be ironic if someone started cutting down trees to improve the view. Sure enough, some local residents hiked by and told us that's exactly what it was - clearing out some trees to preserve the view.
Over at Thumb we got a great view of...fog. But there is a spot to sit and have some lunch, and Michelle and I talked about the Sox and how she met Johnny Damon before he became well known (little did we know what would eventually become of him in late 2005). Anything you want to know about baseball? Ask Michelle.
By then we encountered a bit of rain, and it was light but steady on our way down. No matter. It was a warm day and good to be out.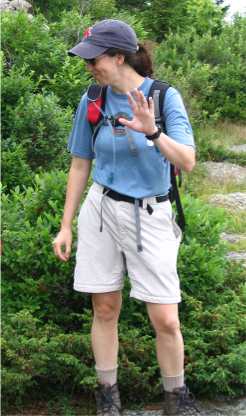 Respect for Your Webmaster? "Talk to the hand!"
The hike from the Harris Center to Skatutakee and Thumb can be done as a loop and is highly recommended. It's not very long or very steep, but it'll give you just enough of a workout to some nice views...when it's not foggy!


click for larger/spookier image