Bald Mt. Hike - April 14, 2007

Activity and Photos by Dawn S.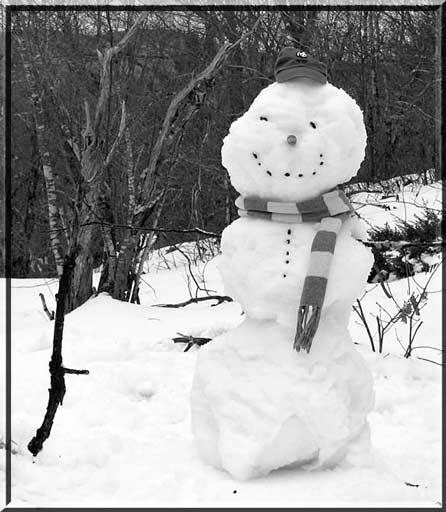 Bald Mt. is in the Monadnock area of New Hampshire. The loop trail taken (Tudor Trail, Bald Mountain Trail, Tamposi Trail) is about 4 miles with 900 feet of elevation gain.

Jen met a new friend.

Jen would have had another new friend
if she was there when the moose was!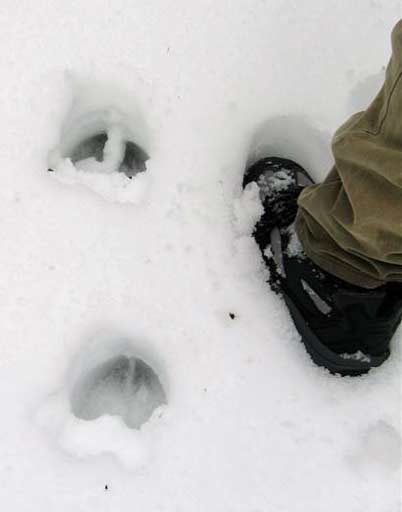 ...and the moose probably wasn't too far away!
X-C Ski at Waterville Valley - February 25, 2007

Activity by Deb S.
Photos and trip report by Ken L.

Wide, nicely groomed trails

Finally! Your Webmaster gets out onto some cross-country skis!

Deb S. originally thought of heading to Northfield Mt., but Waterville Valley had more snow, so we hopped into the car and drove up I-93 to exit 28 to get over to the Nordic Center at Waterville Valley.
The weather was great--very bright and sunny. Trail conditions were also pretty good, just a little bit of melt here and there. Later on in the day some of the trails got a little icy. We made our way onto the trails at around noon, did about 6 1/2 miles, and were back at the car a little after four. Nope, we were not in a rush, and we had tons of skate-skiers zooming past us all day. The trails we took were wide, and there was plenty of room for everyone.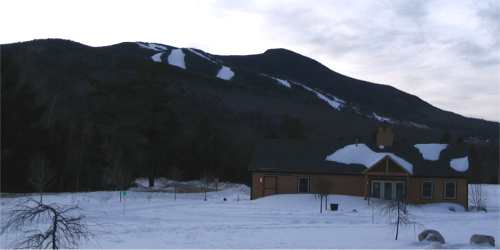 You'll notice the lack of bright blue sky and sunshine in the photos. Well...ummm...Your Webmaster kinda left the camera in the car. The view from the yurt where we paused for lunch was great...and unfortunately all I can do is tell you about it! I guess you'll have to visit there yourself! The photos were taken near the Nordic Center (not out on the trail), and it was pretty late in the day.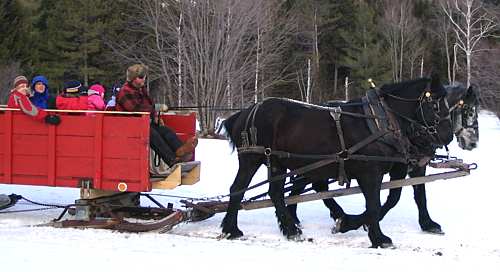 Sleigh ride

The sleigh passes in front of the Nordic Center
(click for a larger image)
This was a good outing for Your Ol' Webmaster and Deb. It was nice to stretch my legs and chug along, but I wasn't doing any steep downhills---yeah, it's been way too long. Deb practiced her snowplows nicely, except on the last big hill, which was very steep and had a road at the bottom. We both walked that one.
After skiing we drove back down Rte. 49 to the Mad River Tavern and grabbed some chow before the long ride back home.
GONewEngland's Tenth Anniversary Pot Luck and Games Night - February 10, 2007

Activity by Pam and Randy
Trip Report and photos by Ken L. and Dawn S. (using Ken's camera)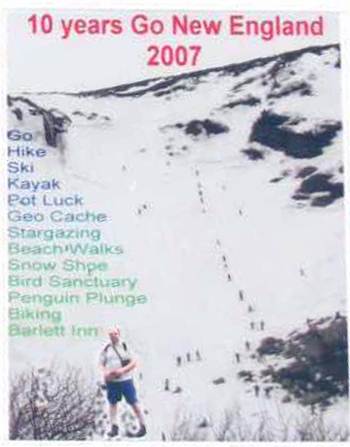 Five years ago Your Webmaster got the tile, and for our 10th it is neatly printed and in a frame. And it has Your Webmaster's worst picture from the entire web site on it! :-)
| | |
| --- | --- |
| | But I think Pam and Randy got it about right -- we've done a lot of things in 10 years, and Pam and Randy (and Shadow) were their usual gracious hosts at our little Pot Luck and Games gathering at their place in Goffstown, NH. |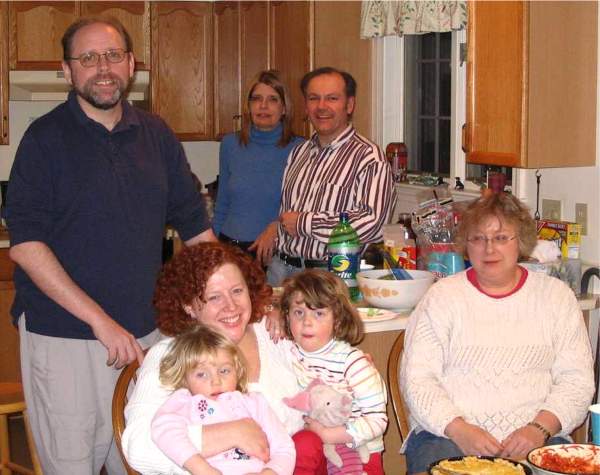 Back: Pam and Randy
Front: Your Webmaster, Lindsey, Leighann, Ashley, and Jan
It was good to see long-timers Eric and Leighann come by with their two daughters. Jan, too. And, oh, look here:
<-- Anyone recognize this guy? Probably not.

All the way from the Dark Side, that's Alan, our Social Director!

Yeah, OK, good to see you, too, Alan.


George, Jen, Dawn
Folks brought along some good food, and we had a few laughs.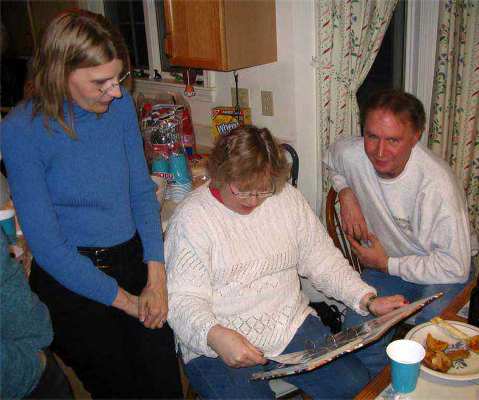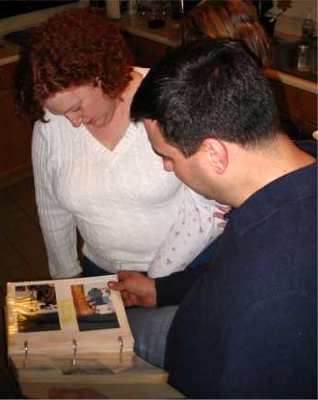 Pam, Jan, Alan, Leighann, and Eric have a peek at the photo albums
Alan brought out some old photos from the days before digital cameras. He's got one more photo album somewhere, and that'll probably turn up in time for our next one of these get togethers.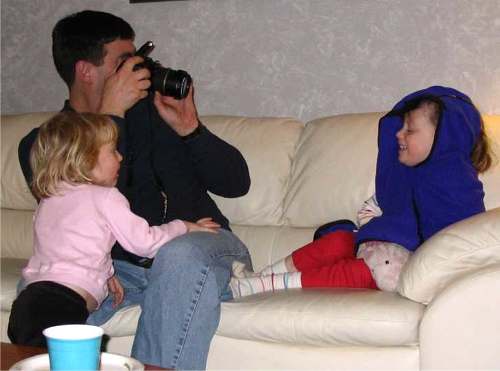 Second generation GONewEnglanders mug for the camera

Shadow always mugs for the camera
Later on Jen broke out Cranium, which is a game that combines Trivial Pursuit, Pictionary, and charades. Jen likes games that require a bit of thinking or creativity. Rules changed frequently, resulting in the guaranteed win by the women in attendance.

That's OK, because we guys know what a French manicure is...now.
"G" is for GONewEngland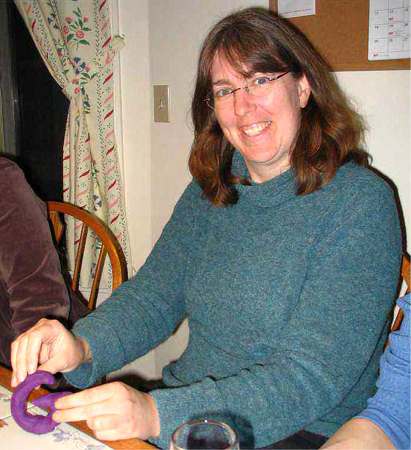 Thank you, Pam and Randy, for a good PL&G night and to those who came out to say HELLO.
And I'd like to thank everybody out there for a wonderful TEN YEARS of Getting Outdoors and Making New Friends!
...kl...