Starr King - Waumbek Snowshoe - December 30, 2007

Activity, photos, and trip report by Barbara D.
The snowshoe to Mts Starr King and Waumbek was postponed from Saturday to Sunday due to weather, and it turned out to be worth the wait.
GONewEnglanders joining for a snowshoe hike in the NH North Country on this fine winter day were Arnie, Kathy, George, Michael, and Barbara (behind the camera).




The group took their time ascending the Starr King Trail,
stopping frequently to admire the lovely winter forest
(and catch a breath).
(click the thumbnail above for a larger image)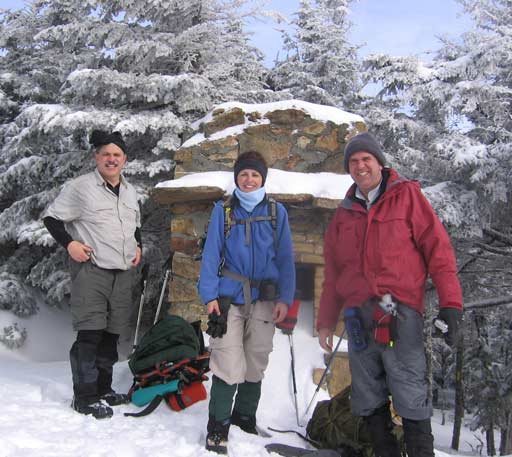 All that remains of the shelter atop Starr King is the old chimney, and its welcoming committee, a group of overly friendly Gray Jays.
| | |
| --- | --- |
| Although Mt Starr King had the best views of the day, some of the group continued another mile along the ridge to Mt Waumbek. | |


Back to Starr King for one last peek at the Presidentials before returning to the trailhead,
and aiming for home ahead of the next snowstorm.
(click on the thumbnail for a larger image)
New Boston, NH Rail Trail Walk - December 8, 2007

Activity by Randy and Pam C.
Photos and Trip Report by Ken L.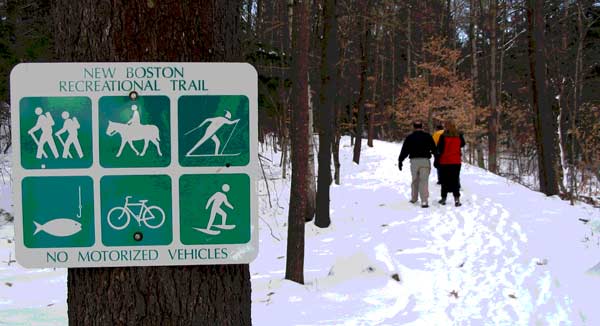 New Boston, NH is a quiet town a bit west of Manchester. Pam and Randy live one town over and invited GONewEnglanders out for a walk along the rail trail. The plan was to start at the Lang Station State Forest parking lot across the river from Rte. 13 and wander 3 miles along the flat trail to the tiny center of New Boston to get some coffee. Sounds like a plan!

John, Melanie, Pam, Randy, and Your Webmaster

What is Geocaching?

Click here and scroll down to "GEOCACHING" to find out!

Joining Pam, Randy, and Your Webmaster were John and Melanie. Some of you know Melanie as "Meldy Spud" on geocaching.com, the main geocaching site. Melanie is an avid geocacher and had a list of caches for us to find.

Grrrrr...As it turns out, most of the geocaches on the list were on the road, not the rail trail, but we had fun looking for the ones on our side of the river---and we did find three of them!

Geocaches Found:

oops, the other two geocaches are visible only to "premium members" of the geocaching site (Melanie is a "premium member"). If you're a "premium member", click below to see the other two what we found that day.
| | |
| --- | --- |
| Along the way to New Boston we passed by the fairgrounds where 4H and other groups have exhibitions. | |
We were rewarded for our efforts at the end of the trail at the A&E Custom Coffee Roastery in New Boston, NH...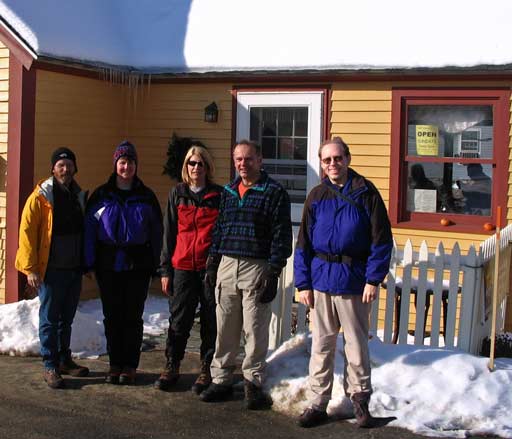 ...then it was time to head back down the trail to the cars, picking up three geocaches along the way.
The weather was just great, and the start of the trail had great conditions---for X-C skiing! But it wasn't too deep to hike, and snowshoes weren't needed. At the fairgrounds we took a dirt road that was plowed all the way to New Boston, so that part of the walk was pretty easy.
Our buddy Shadow wasn't able to make it, though. He's getting a bit on in years, so he stayed at home for the day.
Pam and Randy have not been out in a while due to bicycling injuries, so this light walk along a flat trail was just what the doctor ordered...as long as Pam didn't slip and fall. :-) Amazingly that didn't happen, so it turned out to be a mellow but very enjoyable day between a nice walk and the geocaching.
Westford, MA Trails and Roads Biking - October 13, 2007

Activity and trip report by Don V.
Photos by Dave J.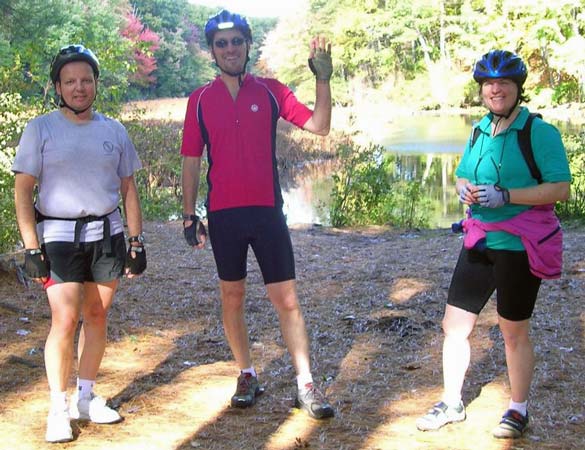 Wonderful weather greeted our four participants (Dan, Dave, Don and Mary Ann) for this event, which at unanimous consent became more trail riding than road biking. The enthusiastic group even decided to extend our time together to three hours, during which we covered a little over 10 miles of varied trails and a few roads.
| | |
| --- | --- |
| | Through stringing together a series of trails from Westford's comprehensive network, we were able to circumnavigate from the town center through several of Westford's villages and back again with barely any time on paved roads and little exposure to vehicle traffic. |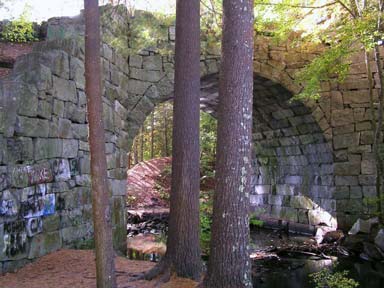 Dave's photos from the Stone Arch Rail Trail capture some of the beautiful scenery and good spirit of the folks participating -- too bad Dave was behind the camera for all the shots!
Acadia Camping Trip - September 13-18, 2007

Activity and photos by Alan F. and Dan L.
GONewEngland: The Ritz Carlton of Car Camping!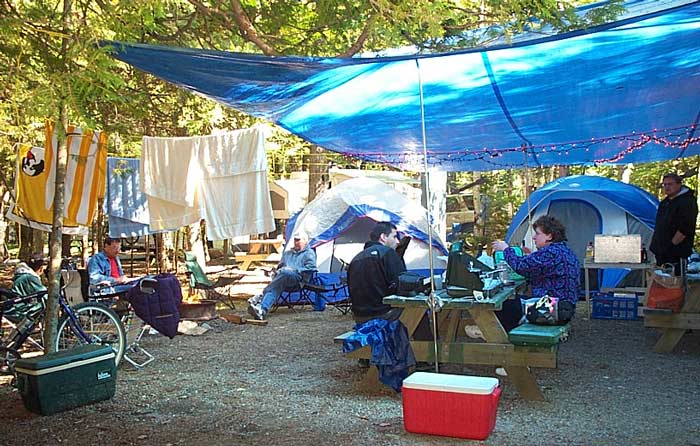 Just a simple camping scene with Dan enjoying dinner?

Look again...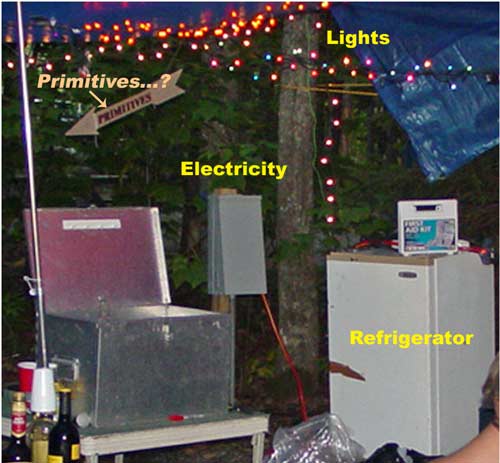 :-)
Acadia is a special place. You owe it to yourself to visit there.
And Alan and Dan put on some great trips!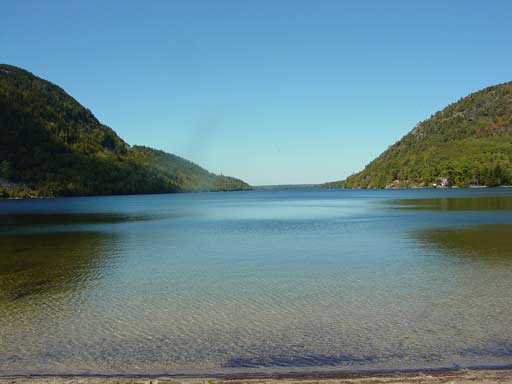 <-- Long Pond
Echo Lake -->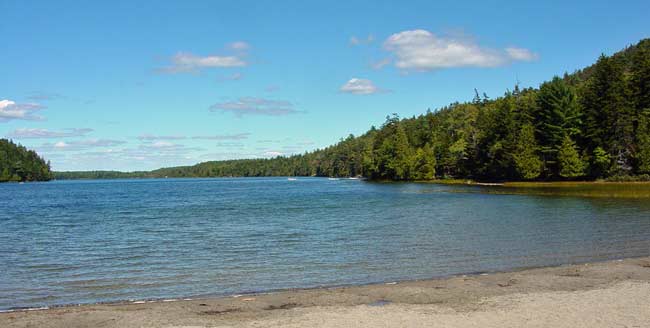 <--- Perry and Alan visit Thunder Hole. It's called that because when the tide is right, the waves create an air pocket in a cave, and it sounds like thunder or cannons firing.

Alan isn't exactly short, and Perry is even taller than Alan! We can barely spot KK in the picture above! :-)
And back at camp...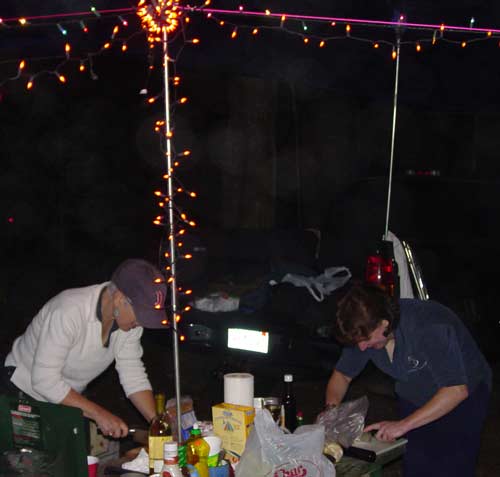 ...Deb and Maryann prepare dinner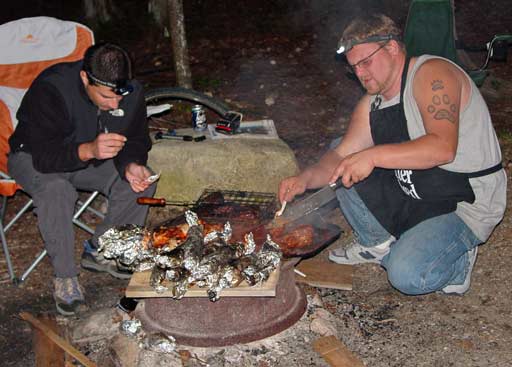 ...Martin and Dan do a little cooking over the open fire...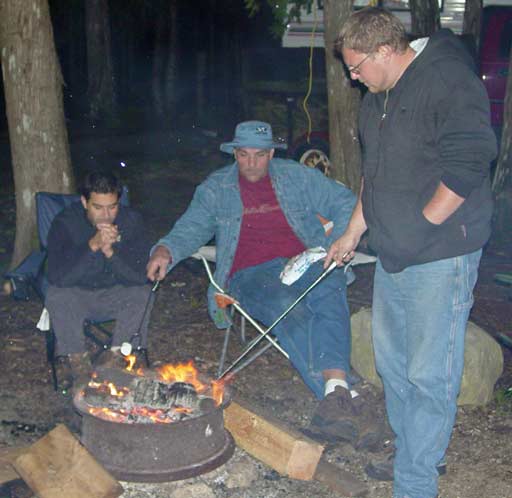 ...and for dessert Martin, Perry, and Dan roast marshmallows!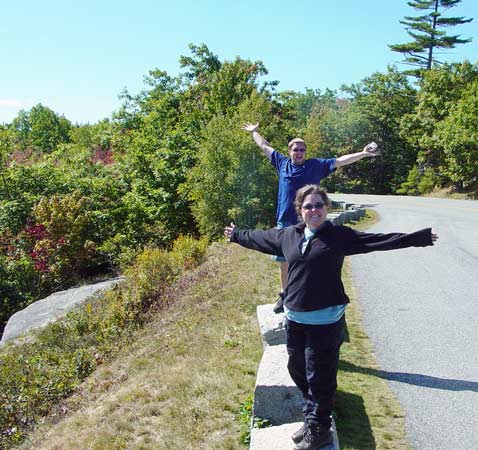 Our Welcoming Committee/Motivator Kathy K.
and Dan L.
'til next time...
Beaver Brook - September 3, 2007

Activity and photos by Ken L.
Christine met up with Your Webmaster (and his snazzy new hat) for a walk around the one and only Beaver Brook in Hollis, NH.

Never been to Beaver Brook? Plenty of trails to hike, ponds, a big beaver dam, and flower and herb gardens.

The weather was great! We paused for a while watching the frogs and the fish in a small brook.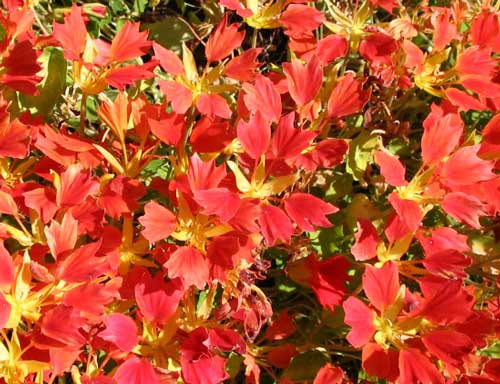 Lots of summer color!
Ted's Trail - North Pack - August 5, 2007

Activity and photos by Ken L.
It was back to Ted's Trail to the top of North Pack for Dawn S., Nancy C., and Your Webmaster. We've had some good weather this summer, and this was no exception.
For the uninitiated, Ted's Trail is a wonderful hike to the top of North Pack. It's on Mountain Road in Greenfield, NH not far from the Wapack Trail, which is a tad shorter to the summit, not quite as interesting, and a bit more crowded. So don't tell anyone about this little jewel of a trail, OK? :-)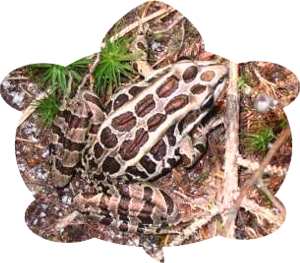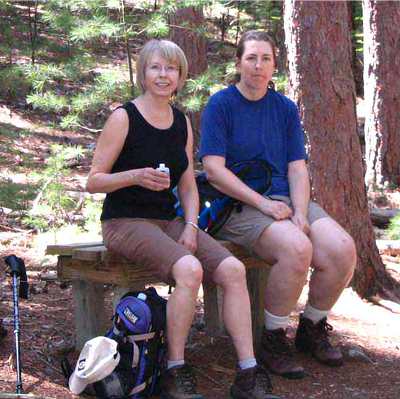 Nancy and Dawn paused a minute while I got a picture of...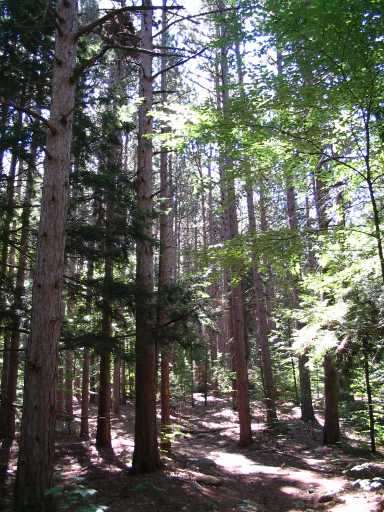 ...Ted's Trees.
The weather was certainly nice, but the small creek that runs alongside the trail had no water. This cheery little waterfall was eerily empty.

The trail wanders around the falls and continues up to a second set of falls, again empty.

Climbing beyond that, Nancy took the lead. A few minutes after the falls, Nancy heard a few choice words loudly uttered by Your Webmaster. A few seconds later Dawn added a few words of her own...rather loudly.

Yowch! Some kind of wasps or hornets were in a temporary home right on the trail. Nancy somehow got by them, but that probably riled them up, just in time to snag Your Webmaster (ow!). Before I even realized what happened, one of them got Dawn.

It was just an ouch, and no permanent damage was done, so we continued on with the hike.
The bee incident well behind us, we buzzed along the trail to a trail junction. Taking the South Ledge, we ran into one of our favorite places to chow down.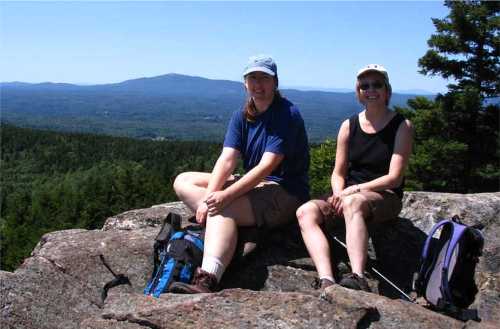 Mt. Monadnock, Dawn, and Nancy at the lunch spot
After we had a bit of lunch and caught a few rays, it was off to the summit of North Pack.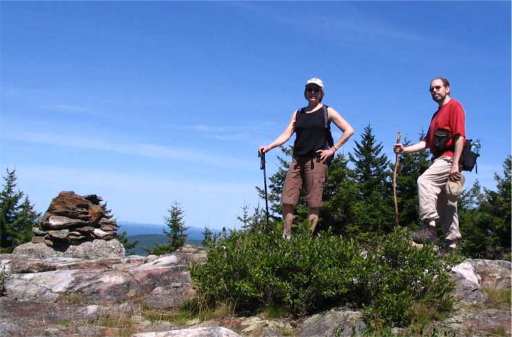 Conquering North Pack!
We took Ted's Trail back off the summit and took a sharp left onto Carolyn's Trail for a different path on the way down. The view from the start of Carolyn's Trail is stunning (see the background in the top picture). Carolyn's Trail joins up with Ted's Trail as you get closer to the trailhead.

The creek near the trailhead was quite dry. (Click for a larger image.)
After the hike we went back to Milford for a late afternoon repast.
Ted's Trail is not all that far from the Nashua area and is a decent hike on the light to moderate side with nice views. Recommended! (Well, except for the stinging insects...ouch!)