Pawtuckaway State Park - May 15, 2010

Activity, photo, and report by Ken L.
Activity was cross-posted with the HikeNewHampshire YahooGroup
Flower identification by Kris.


The wind...and the bugs...made the jackets necessary at times for Your Webmaster and Sara

The only way I'll post an activity at Pawtuckaway during the spring/summer is if it's going to be breezy. Pawtuckaway is a big bowl (or "ring dike"---a former volcano, actually) with dense woods and plenty of water. In the warmer months, it's buggy! The expected weather for our hike was for mild temps and lots of wind...thankfully.


Sara heading up North Mt. (1011')
Our jaunt took us from a parking spot on Reservation Road, out over North Mt. to the Boulder Field, and back with a side trip to the South Mt. fire tower. In total it was roughly 7 miles of mostly flat walking with the exception of the climbs up North and South Mts. That's what nice about Pawtuckaway: if you don't want to climb anything, don't. You can still see interesting things like the Boulder Field, Balance Rock, and some nice ponds. If you're lucky, you'll spot some old cellar holes and some of the cemeteries located throughout the state park.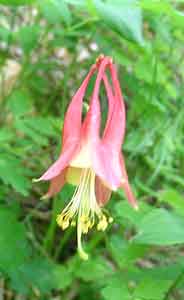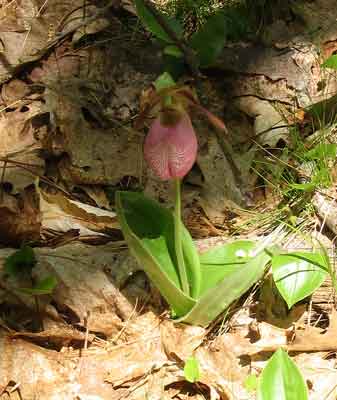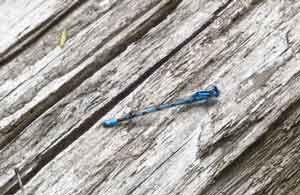 We saw a few patches of Columbine Aquilegia canadensis along the way,
but it was a surprise to see a lady slipper atop North Mt.
The beautiful blue dragonflies were buzzing around us near the ponds all day.
| | |
| --- | --- |
| Near the top of North Mt. is the big green thing. Nope, we don't know what it is, although we suspect it is some kind of radar reflector for target practice, perhaps related to activities at nearby Pease Air Force Base. | |
Once over North Mt., it's down through some spooky woods to the Devil's Den and then time for a stop near a pond for a snack. Sorry, no pics of the Devil's Den this time - you'll need to head out there and see it!
A little while from the pond is the Boulder Field...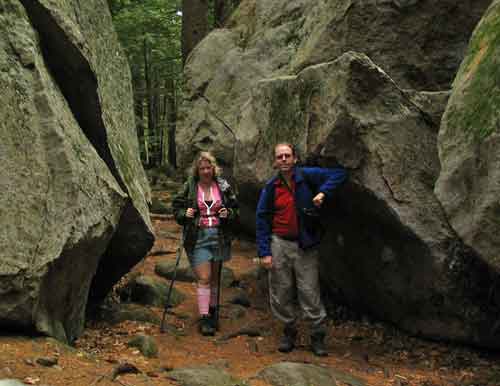 ...a collection of massive glacial erratics---some as big as small houses. They're a fave of rock climbers.
Not far from the Boulder Field is a delightful pond...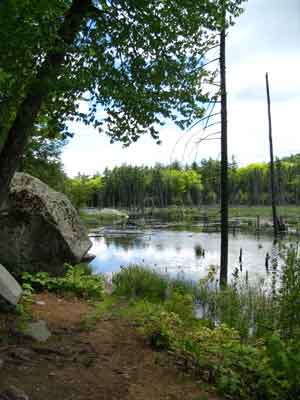 ...and a bit further along is this little oddity: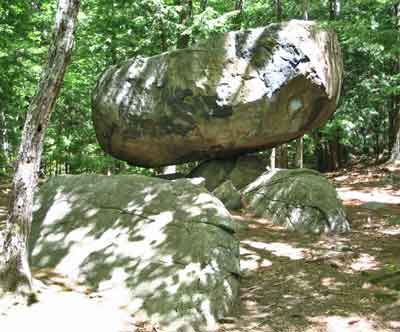 Balance Rock
Yep, one huge rock balanced atop a smaller rock. Really amazing!
The pond near Balance Rock was our next stop. It's so nice to sit there in the sunshine.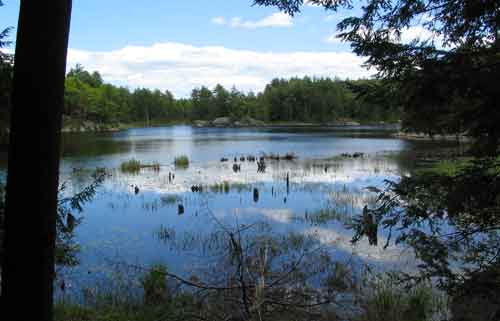 Leading around the pond is the trail to South Mt. and the fire tower, but at a trail junction we took the road instead so we could get a peek at one of the cemeteries. Then it was up to see the fire tower and the really nice view: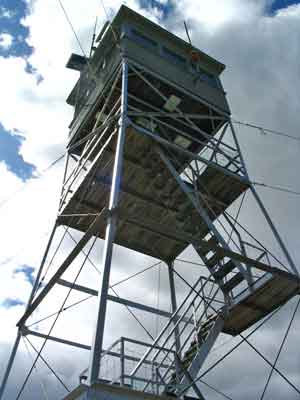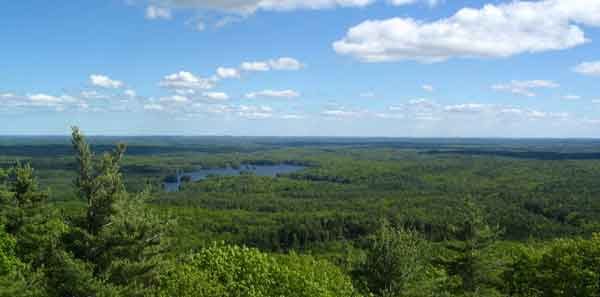 Heading down South Mt. we met up with a family bushwhacking from somewhere looking for the trail. The dad told us they were on a trail with white blazes but lost them (most trails at Pawtuckaway have white blazes, some yellow). They had little water and no map, and they were at least 3 miles from where they started (the side of Pawtuckaway with the official state park buildings and the campground). I showed the dad the map, and we told them they were joining up with the trail and needed to head down and take a left to get back on their trail to get back. He acted as if he didn't know what I was talking about or wasn't all that interested and insisted they wanted to see the fire tower. I told him it was up the trail we just came down, and iterated to them that they needed to head down and turn left at a particular trail junction to get back to their car. He still didn't seem to care, so we gave up and continued on our journey. Pawtuckaway is a huge area at over 5000 acres, and until you know the area, you really need to be careful. I hope these people remembered what I told them and found their way out (they had plenty of daylight left and the trail was somewhat busy with hikers, mountain bikers, and photographers, thankfully).
After we got down from South Mt., Sara and I made our way back along Reservation Road to the car. There's a huge cemetery along that road, but with the bugs making a charge at us, we didn't stay long to look at anything. Perhaps in the fall.

We finished the day with a stop at an Asian restaurant in Bedford, NH.

It was nice to hit many of the "highlights" at Pawtuckaway in one circuit.

And thank goodness for the breeze!
Ted's Trail - North Pack - May 2, 2010

Activity, photo, and report by Ken L.

The big cairn at the summit of North Pack

Winnie is camera shy

It was time to revisit Ted's Trail and North pack after that winter slog in March!

Sara, Beth, and Winnie joined Your Webmaster for a hike up Ted's Trail, a nicely kept secret in Greenfield, NH. Unlike last time, there was no snow or ice anywhere. The weather forecast back on that warm March day was for the 70s, but this day's forecast was for a bit more warmth and humidity...and it certainly delivered on that, topping out with a humid 93 degrees!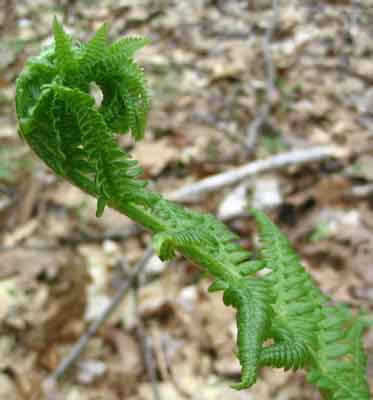 But, unlike March, the plants were bursting forth, and we saw a few harmless snakes. Beth spotted a rabbit. Black flies? Oh yeah, got those big time!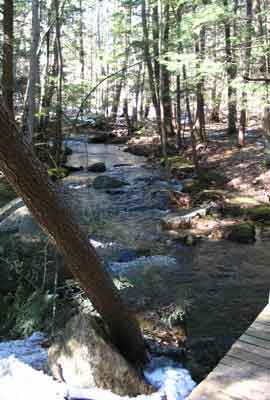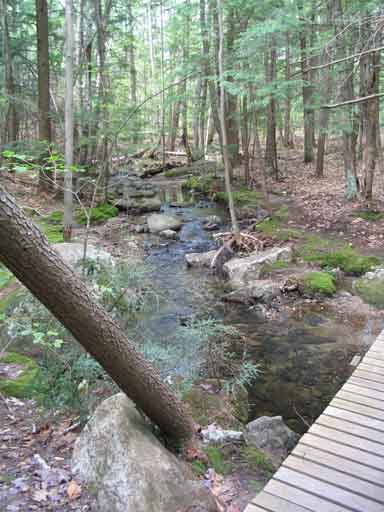 Stream near the trailhead - March and May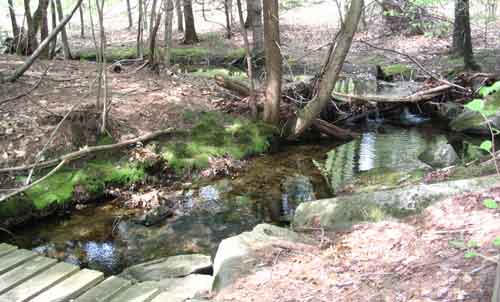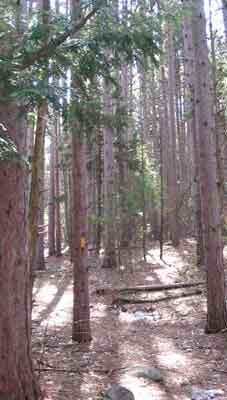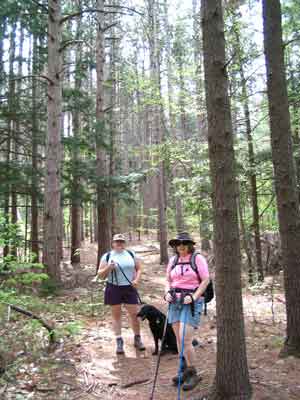 Ted's Trees - March and May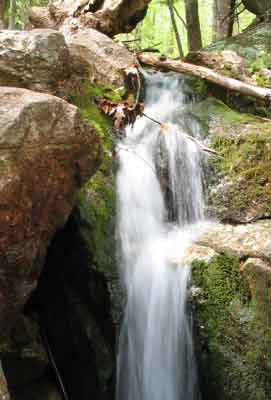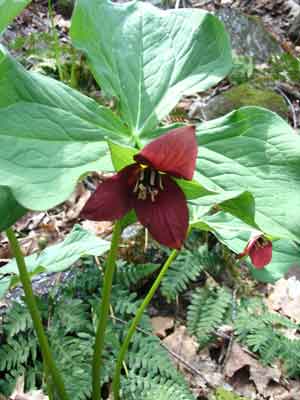 The trek up to South Cliffs was a bit tedious. Nope, no snow to slog through. Instead it was the heat and humidity that made it a bit more difficult than usual. It didn't exactly feel as hot as it turned out to be, but it was certainly draining. Staying hydrated became an issue.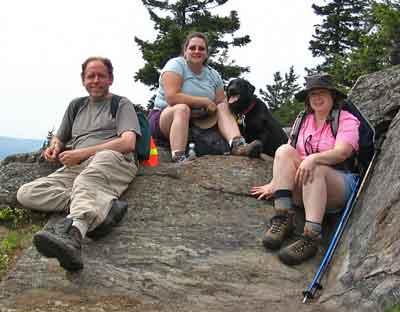 We stopped at the customary lunch spot for a while (of course!), cooled down a bit, then made our way over to Carolyn's Trail, where Sara, Beth, and Winnie decided to head down. Your Webmaster made it to the summit, which was very quiet. I rejoined the other hikers and the pooch about halfway down Carolyn's Trail.
Good fortune was smiling on us, as we made it to the Black Forest Café just before closing time for some good eats before heading on home.

<-- Click for more info about the Wapack National Wildlife Refuge, which Ted's Trail enters