Geocaching at Indian Ridge - September 17, 2006

Activity and Trip Report by Ken L.
Geocaching: A game in which you attempt to discover hidden items by means of a GPS receiver, clues, and your wits.
Indian Ridge: A wonderful conservation area in Andover, Massachusetts.
There are three geocaches at Indian Ridge and the two other conservation areas that border Indian Ridge. It makes for a great walk and a fun find!
Dave, Dawn, and Your Webmaster arrived at about 10am to the maintenance lot on Red Spring Road in Andover, Massachusetts. The lot is right next to Indian Ridge.

At Indian Ridge and its two co-located conservation areas are three geocaches. You can read about them by clicking on the links here:
Your Webmaster had already found the caches, so the intent of the day was an intro to geocaching. It turns out that Dave and Dawn have done some geocaching in the past, so we just wound up with a very nice walk in the woods (and we did find the geocaches).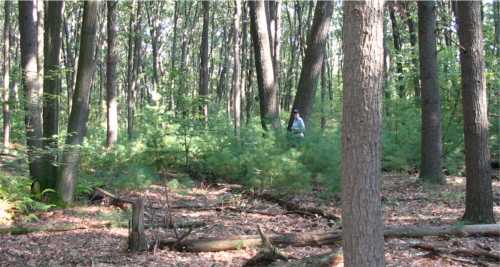 Where are you going, Dawn?
The first cache was fairly easy, although Dave's GPS and my GPS hardly ever wanted to agree. That's not so unusual in that consumer GPS has only so much accuracy, and the tree cover does affect how good it is (as you can see we were in the woods).

Dawn went right up to where the cache was hidden but didn't spot it---right away anyway. Eventually she realized where it was.

Dave signed the logbook and left some foreign coins he had handy.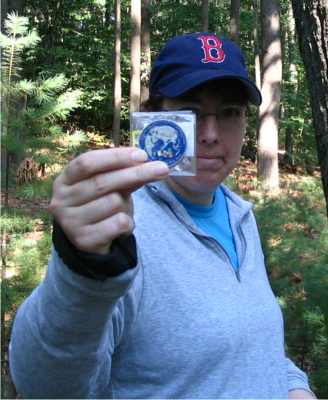 A "geocoin" is a big coin that has a mission.
This one's mission is to visit many caches
around the world. If you're out geocaching and find this one,
grab it and take it along to another cache somewhere...anywhere!
On our way to the second and third caches we got to check out Indian Ridge, Baker's Meadow Reservation, and West Parish Meadow Reservation. Nope, none of us had any idea all this was here. It's a very nice area not far from the busy Rtes. 133 and 28 in Andover.
The ridge (of Indian Ridge) is an esker. This is a long hill of debris left behind by the glaciers thousands of years ago. In these conservation areas you'll also find a nice pond and some meadows.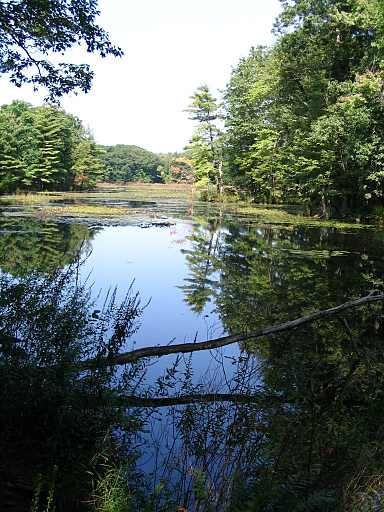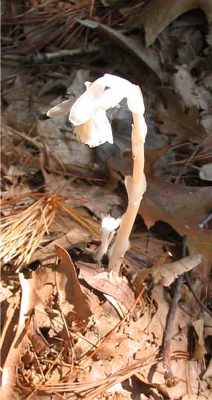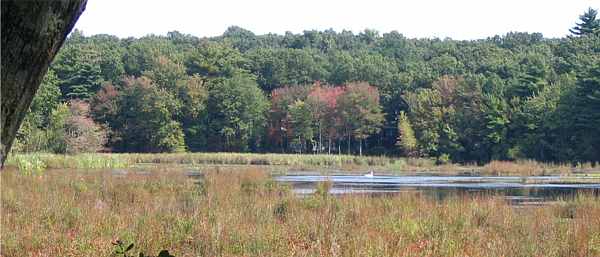 Yes, that's a swan. A BIG swan. There were two of them.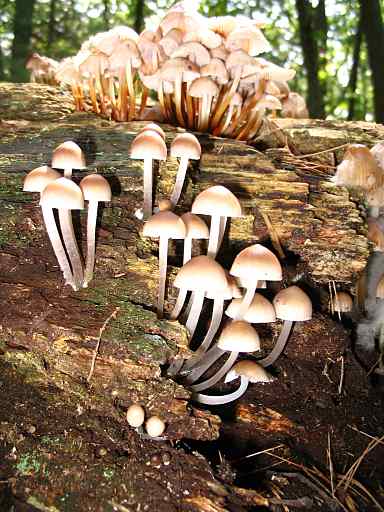 We crossed the meadow to get to the final cache...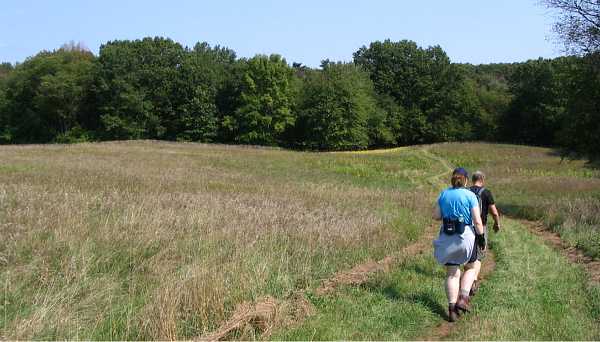 And up onto Indian Ridge to get back to the cars. There was a bench along the way.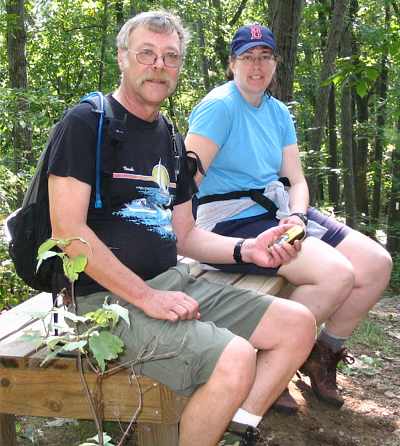 We got the three caches for the day and were out of the woods by early afternoon. TFTC!